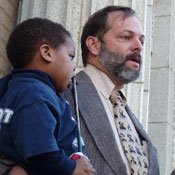 Les Riley started the Personhood petition.
Stories this photo appears in:
Personhood
As Mississippi voters rejected a proposed personhood amendment last November, Personhood USA and other supporters of the measure already had plans underway to promote similar initiatives in other states.
Personhood
Jackson Attorneys Robert McDuff and J. Cliff Johnson will stand before the full Mississippi Supreme Court today at 1:30 p.m. and explain why a ballot initiative giving rights to microscopic ...
Personhood
The outcome of a lawsuit over a 2011 ballot initiative asking voters to define when life begins will come down to whether the initiative requires modifications to the state Constitution.