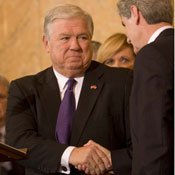 Gov. Haley Barbour said he was fine with missing a critical budget deadline if it meant reducing the state's spending.
Stories this photo appears in:
A session extension or a special session is on the horizon after the Mississippi Legislature went past a critical March 26 budget deadline without adopting a budget. House leaders refused ...
Business
A Houston-based company manufacturing a crude-oil substitute from timber has picked Mississippi to locate its first three production facilities, Gov. Haley Barbour announced at a press conference this afternoon. Barbour ...
Business
Federal health-care reform will burden Mississippi with higher Medicaid costs, Gov. Haley Barbour told business leaders at a summit yesterday. Barbour claimed that the legislation would cost the state $230 ...
Read Barbour's letter to Hood
Capitol
More Mississippians could qualify for unemployment insurance under a bill the Mississippi House of Representatives passed Saturday. The Senate adjourned hours before the vote, meaning the Legislature will not bring ...
Health Care
Gov. Haley Barbour yesterday asked Mississippi Attorney General Jim Hood to challenge the constitutionality of the health-care reform legislation passed by the U.S. Congress on Sunday. If Hood refuses to ...
Domestic Violence
Both chambers of the state Legislature spent the past week considering bills from the opposite chamber. The House amended Senate Bill 2923—a bill that expands domestic assault to include strangulation ...
Editorial
One way politicians get their constituents to vote against their best interests is to play into already existing fears. It's a time-honored, if not somewhat dishonest way of keeping people ...
Politics
It's political deja vu all over again. In his new role as chairman of the Republican Governors Association, Gov. Haley Barbour is playing a key role nationally again—strategizing about how ...
Hurricane
Despite pleas to reconsider his earlier decision to divert money from funds designated for rebuilding housing on Mississippi's Gulf Coast, Gov. Haley Barbour told reporters yesterday that he's not changing ...
Business
State lawmakers remain deadlocked on a budget for the 2010 fiscal year beginning July 1, raising the possibility of a special session to settle the matter.