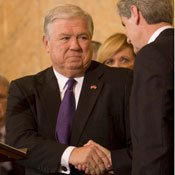 In a letter to Attorney General Jim Hood today, Gov. Haley Barbour said he will hire outside legal counsel to stop the Mississippi Band of Choctaw Indians from building a casino on their land in Jones County.
Hood wrote a memo last week stating that there are no legal grounds for the state to take action against the casino.
The state would not regulate the casino because it would be on tribal land. The tribe, therefore, would not have to pay the gross gaming revenue tax the state imposes on other gambling facilities.
Barbour accused Hood of violating legal confidentiality by releasing his memo to the public and the "anticipated litigation adversary."
"You have chosen to side with the spread of gaming that is contrary to state policy by supporting a slot parlor offering no amenities other than a snack bar that will provide scant benefit to the local community," Barbour wrote. "Therefore, because the disclosure of your advice to the MBCI prevents you from representing the state of Mississippi in this action, I plan to hire outside council."
Previous Comments
ID

158845

Comment

It's tribal land. The state has no authority over this. Barbour sure seems to find money to file lawsuits, but cuts money for everything else.

Author

golden eagle

Date

2010-07-27T09:30:04-06:00
ID

158847

Comment

I agree Golden Eagle. It appears Barbour wants to file lawsuits that are popular with the public even though there is no legal standing to his suits. Just like the health care reform suit the facts are clear.The state has no legal justification for these law suits. If public funds are used to pay for this law suit then we the people should file a law suit against Barbour for misappropiation of public funds.

Author

wellington

Date

2010-07-27T11:38:37-06:00
ID

158848

Comment

Wouldn't that be the textbook definition of "frivolous lawsuit"? I thought he was the king of tort reform?

Author

DonnaLadd

Date

2010-07-27T12:08:52-06:00
ID

158851

Comment

It's only frivolous when it doesn't meet one's purpose.

Author

golden eagle

Date

2010-07-27T13:05:05-06:00
ID

158861

Comment

I wonder who's running the numbers on the Indians banking this thing out to force Barbour into a private suit.

Author

write2richie

Date

2010-07-27T18:31:00-06:00
ID

158866

Comment

Interesting to see Barbour's approval rating at 70% this morning.

Author

RobbieR

Date

2010-07-28T07:50:30-06:00
ID

158871

Comment

Leave the Indians alone!!!!!!!!!! Hasn't enough physical, emotional and financial damage been done to these people already?

Author

justjess

Date

2010-07-28T08:59:00-06:00
ID

158872

Comment

I remember Schwarzenegger tried to tax the Native American casinos in California. Didn't work. Here's the story from the O.C. Weekly.

Author

golden eagle

Date

2010-07-28T09:07:47-06:00
More like this story
More stories by this author