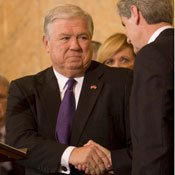 Gov. Haley Barbour yesterday asked Mississippi Attorney General Jim Hood to challenge the constitutionality of the health-care reform legislation passed by the U.S. Congress on Sunday. If Hood refuses to sue, however, Barbour intends to file suit himself, according to a statement from his office.
The bill has serious constitutional problems, Barbour asserted in his statement, starting with the fact that it forces individuals to purchase health insurance.
"The federal government is clearly overreaching its authority by forcing Mississippians and all Americans to buy a product simply because he or she is alive," Barbour said.
In Mississippi, more than a half-million people are insured, according to the Kaiser Family Foundation with the majority in working families.
The governor has requested Hood's answer by noon Thursday.
More like this story
More stories by this author