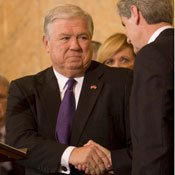 A session extension or a special session is on the horizon after the Mississippi Legislature went past a critical March 26 budget deadline without adopting a budget. House leaders refused to agree to Gov. Haley Barbour's plan to cut more than $100 million from the state's K-12 public education funding, and from mental health and other state services.
"He wanted $280 million in the reserves. Last night, we cut $37 million out of our budget, and we have $211 million in reserves, plus another $47 million in the Katrina fund. That's $258 million in reserves," Mississippi House of Representatives Appropriations Committee Chairman Johnny Stringer, D-Montrose, told the Jackson Free Press March 25. "He rejected our proposal, said that we spent too much on K-12 and mental health."
At stake is $30 million that the governor wants allocated to the state's savings account, but that House members want allocated to K-12 education. Stringer and House 
Education Committee Chairman Cecil Brown, D-Jackson, say legislators don't want to have to explain the cuts to their constituents. Barbour allowed for sufficient funding of the Mississippi Adequate Education Program, which levels state funding for public schools, but wants schools to surrender money from other areas, including funds for classroom teaching materials, and building and bus maintenance.
"People are not stupid," Stringer said. "They've learned that if we don't fund school on the state level, it's going to have to be funded back home."
Barbour also wants to cut funds from the State Department of Mental Health by about $17 million, which Central Mississippi Residential Center Director Debbie Ferguson said could close her mental-health facility and many others.
"These endangered mental-health facilities are all small facilities which don't use much money. We're only getting $6.6 million in funds this year," said Ferguson, whose Newton facility provides an adult day-care program for Alzheimer's patients as well as quarters and treatment for the mentally ill. The facility gets most of its funding from the state.
Arizona Outtah-here
Local and state law enforcement will not be legally stopping Latinos and inquiring about their residential status this year. A bill forcing state and local law enforcement to adopt federal immigration duties died this week when Mississippi House of Representative members and Mississippi Senate members could not hash out their differences.
"The only point of contention I know of was the fact (House members) wanted monetary fines against employers," said Sen. Joey Fillingane, R-Sumrall, who authored the bill, adding that states may not legally impose fines upon businesses for employing undocumented residents.
Mississippi Immigrants Rights Alliance Executive Director Bill Chandler called the death of the bill "a great victory for the people of Mississippi, particularly immigrants," and said its death will hopefully stem what Chandler described as a slight increase in statewide racial profiling of Latinos by police.
Consistent Mental-Health Care
Mental health in Mississippi might get some consistency this year if the governor signs on. The House and Senate passed a bill creating a new statewide program for offering mental-health services to patients. Senate Bill 2836, the Rose Isabel Williams Mental Health Reform Act, creates a program to oversee the state's many mental-health facilities.
Mary Troupe, executive director of the Coalition for Citizens with Disabilities, said the state currently provides no consistency of services between its mental-health facilities. "People have to travel across three or four counties to get their proper care, and they can't afford it," Troupe said. "... People throughout the state need consistent care."
Troupe added that the bill could mean that all state-financed mental health facilities will have to offer a wider variety of services or risk getting shut down and their services contracted out to private companies.
The Museum That Wasn't
A plan to build a civil-rights museum is dead after senators and representatives failed to agree in conference on its location, among other things.
House Bill 1463 would have funded construction of a national civil-rights museum, a museum of Mississippi history and a related parking garage in Jackson, although legislators appeared somewhat divided on where the civil-rights museum should be. One legislator attempted to locate the museum on Jackson's Mill Street, while a second tried to place the building in Leflore County.
The governor personally restarted the effort to build the museum this past January, weeks after critics spanked him for describing the white-separatist Citizens' Council merely as an "organization of town leaders" who 
opposed the Ku Klux Klan, and described 1960s civil-rights problems in Yazoo as not "being that bad."
Previous Comments
ID

162936

Comment

A "Special Session" means more money for Legislators. This is so unfair to the tax payers of Mississippi. Barbour claims that the State can't do anything but cut, cut, cut; however, there are funds to pay for jobs that could have and should have been done during the regular session. While he was out of the state testing the waters; the business of the State of MS was boiling with neglect. With mental health, education and other programs being on the chopping block, I knew that the museum would be a no-go. I never thought that Gov. Barbour was serious about supporting it: The tone for me was political, only. I don't understand the rationale for hiring a group to "oversee" mental health programs. What is this all about? Does anyone know or understand the issues with this decision. "Arizona - Outtah Here" is an appropriate title. Immigrants and other people of color would not have a chicken's chance on Sunday had that bill passed. Just saying.

Author

justjess

Date

2011-03-30T19:01:31-06:00
ID

162937

Comment

Jess- Mississippi legislators make $10,000 a year whether they are in session or not and $91 per diem when they are is session, they are really making a killing.LOL

Author

BubbaT

Date

2011-03-30T20:21:03-06:00
More like this story
More stories by this author