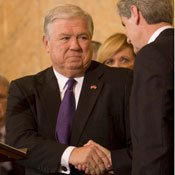 It's political deja vu all over again. In his new role as chairman of the Republican Governors Association, Gov. Haley Barbour is playing a key role nationally again—strategizing about how to beat Democrats in races around the country, as well as fighting for redistricting in other states that can help Republicans win races.
"The RGA has an important task over the next two years," Barbour said in an RGA statement after accepting the mantle. "I am committed to seeing it through, and confident we will succeed."
Barbour's new role seems similar to what he used to do as head of the Republican National Committee before he returned to Mississippi to run for governor. He gets to decide how best to spend money for the most promising races around the country to help defeat Democrats. The state of California and Texas are next up for a new governor next year. Barbour, as chairman, can choose to either steer the brunt of resources to a prospective candidate in the prized state of California—recently reclaimed by Republicans under Gov. Arnold Schwarzenegger—or dedicate resources to a more secure governor's race in Texas.
The RGA is not the kind of association that limits its work to helping Republican governors hash out a means to deal with state budget shortfalls, however. Barbour's new role puts him in a position to tweak politics in other states to try to make a Republican comeback a reality.
The association's Web site explains that Republicans "won't become America's majority party again until we reclaim the majority of governorships," and claims the party can retain dominance in some blue states like New Jersey through the use of redistricting.
"The results of the 2009-2010 elections will have an even bigger than usual political impact because governors and state Legislatures will be redrawing legislative districts in 2011," the association states. "In many states, governors have tremendous influence in determining redistricting."
The RGA, under Barbour, is funding a strong campaign for New Jersey gubernatorial candidate Chris Christie, who is running against Democratic incumbent Jon Corzine. "The RGA is running an effective, independent expenditure campaign that will make sure New Jersey voters know Jon Corzine's true record," the Web site explains.
The Mississippi Republican is also working hard to influence the governor's race in Virginia by launching numerous television ads favoring Republican gubernatorial candidate Bob McDonnell, even as the state of Mississippi battles to deal with severe shortfalls in both education and health care.
The governor also immediately picked a fight with Democratic President Barack Obama over his push to overhaul the national health-care system. Obama wants to produce a government-funded insurance option to compete with private insurance companies in hopes of making insurance more affordable, but Barbour characterizes the reform as "a government takeover of our health-care system, that relies on unfunded mandates" which would raise taxes and "stifle job creation and economic growth."
Barbour is taking his political tort-reform weapon national in his new role. He argues that more tort reform will lower health-care costs, and followed up a September RGA statement with the myth that doctors in Mississippi "were fleeing the state because of junk lawsuits that were driving up their insurance premiums" until the state enacted tort reform to reduce malpractice insurance. Figures from the American Medical Association, however, show doctors were increasing in the state both before and after Mississippi's 2004 tort-reform laws.
Mississippi NAACP President Derrick Johnson accuses Barbour of diluting his service to the state with his many nationwide political obligations, especially after the governor made a huge stink about cutting funds to ACORN, even though the group doesn't even exist in the state any longer.
But even frequent critics of the governor agree that Barbour's political abilities make him a natural for the job, but with a caveat. "If he decides to take on the role of a behind-the-scene campaign strategist, there's none better," said Mississippi political author Jere Nash. "If he's in meetings with consultants helping to figure out campaign messages and strategy and the allocation of budget resources, you couldn't ask for someone with more skills in all of those jobs."
Barbour played a crucial role in the Republican Revolution of 1994 as chairman of the Republican National Committee. He worked with House Speaker Newt Gingrich to unite antagonism against then-President Bill Clinton to increase the Republicans' presence to 54 seats in the House, and up the Republican count to eight seats in the Senate. And he's seen nationally as an expert at the use of the "southern strategy" to gain supporters.
Nash said as Barbour may prove useful on fund-raising and organizing, but added that the party may suffer in some states under his figurehead.
"Whether you want a Haley Barbour out front being the face of the Republican Party in November 2010 is a completely separate question. It's a state-by-state question as to whether or not Haley can go in there and help you. It'll depend on the mix of candidates and what audience he's talking to. Obviously, if you bring in Barbour to wrangle funding from the party base, he's your guy."
Mississippi Republicans are thrilled over the idea of Barbour again playing a strong role in the national party. Barbour's many philosophies, such as largely unfettered capitalism, a near absence of government regulation and the dismissal of any artificial economic influence such as minimum wage laws, solidly matches the largely anti-union and anti-regulation Republican base in Mississippi. Barbour does not disappoint in his home state.
But Barbour's political leanings, according to some of the more moderate voices in the Republican Party, is too limited to appeal to most younger voters outside of the South. Voters in other parts of the country appear to straddle the political fence on more issues than the Mississippi governor. Gay marriage, for example, is not so divisive an issue among younger voters, according to Log Cabin Republicans, an organization working for the equal rights of gay and lesbian Americans. Conservatives in other states, particularly conservatives under age 30, are also growing more sympathetic to preserving the environment.
Jim DiPeso is the policy director for Republicans for Environmental Protection, a group whose Web site proclaims, "Nothing is more conservative than conservation."
DiPeso admits that Barbour has "incredible political skills," and will serve the party well regarding fund raising, but parted ways with the governor on some philosophies.
"As far as Mississippi goes, Barbour was certainly the right governor for the right time, but in terms of the issues we care about we think Barbour still has a way to go," DiPeso said.
"We're not convinced he gets it yet in terms of the need to reorient our country's energy policy to move away from our high dependence upon foreign oil and the need to develop new and cleaner forms of electricity generation."
DiPeso acknowledged that Barbour could heavily influence what kind of personality seeks the governor's seat in upcoming races, but remained convinced that local voters will be concentrating on local issues, and that Barbour's preferences "will be fairly secondary" when voters vote.
Mississippi Republican Party Chairman Brad White references Barbour's success as head of the RNC as proof that the governor can be a success as RGA head. "He's been one of the most, if not the most successful Republican National Committee Chairman the party has ever had," White said.
"He helped increase the number of Republicans in Congress as well as Republicans over state government. He's got strong contacts all over the country that he draws upon, and he's one of the most widely respected and admired political figures in our country. Right now he's over in Malaysia taking part in a CEO conference where he's one of the featured speakers. The man has far-reaching political abilities."
Previous Comments
ID

152392

Comment

OK, this tickled. Someone tried to post an expletive-filled, name-calling comment under this story accusing Adam Lynch of being in Haley Barbour's back pocket. Obviously, it violated the user agreement and doesn't get through, but I will offer this more tame part of it for everyone's amusement: After reading the piece, I was left with the question, is Mr. Lynch a lifelong Republican, a member of the Haley Barbour fan club or just a sycophantic ass kisser? Inquiring minds want to know. You can't make this up. Has Adam been a Barbour plant all along!?! LOL.

Author

DonnaLadd

Date

2009-10-01T15:59:08-06:00
ID

152393

Comment

Adam? In Barbour's pocket? Funniest thing I've heard in a long time.... No offense, Adam. :)

Author

Ironghost

Date

2009-10-01T16:17:54-06:00
ID

152426

Comment

I continue to feel a sense of awe at the skill and use of resources in Adam Lynch's reporting. Barbour is behaving just as we knew he would. He no longer has to answer to Mississippians in elections and is not effectively checked in his worst excesses by the preponderance of timid Democrats in the legislature. So he builds his national machine on our time and enthusiastically makes the cuts he's always wanted to make in essential state services without making the merest move toward raising revenues. I'd also like to know just how much effort has been going into collections and enforcement of tax receipts. We cannot dismiss the possibility Barbour is purposely hamstringing the collectors so that the monthly reports on incoming revenues can be low enough to justify the cuts his ideology dictates be made.

Author

DeltaLitProf

Date

2009-10-02T13:42:27-06:00
ID

152427

Comment

[quote]We cannot dismiss the possibility Barbour is purposely hamstringing the collectors so that the monthly reports on incoming revenues can be low enough to justify the cuts his ideology dictates be made.[/quote] We can however wait for proof. Otherwise, it's idle speculation.

Author

Ironghost

Date

2009-10-02T14:29:20-06:00
ID

152428

Comment

Barbour is doing exactly the same thing that Rahm Emanuel did for the Democrats. What's wrong with that?

Author

aliciastone

Date

2009-10-03T21:05:11-06:00
ID

152429

Comment

Barbour is just emulating Democrat Rahm Emanuel's action plan for the last 4 years. What's good for the goose...

Author

aliciastone

Date

2009-10-04T09:47:20-06:00
ID

152432

Comment

Was Emanuel a full-time governor of a state with problems like ours has? It's not the playing-politics that bothers me; it's moonlighting on the taxpayers of Mississippi that is more concerning. Of course, he seems to get away with anything in this state: I mean, look at those pardons of violent domestic killers. Where is the outcry from his tough-on-crime supporters? Is it OK because those men brutally murdered wives and girlfriends? I can't even imagine how Pardon-Gate would play on a national stage should he try to run for national office. His supporters here are so blind about how he would play outside the Forgive-Barbour-Anything brigade he has in these parts.

Author

DonnaLadd

Date

2009-10-05T09:54:22-06:00
More like this story
More stories by this author