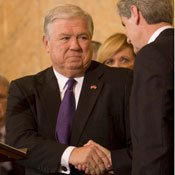 State lawmakers remain deadlocked on a budget for the 2010 fiscal year beginning July 1, raising the possibility of a special session to settle the matter.
House and Senate negotiators have been unable to agree on figures for a proposed hospital tax and Barbour's request that they carry over stimulus funds from 2010 to 2011, when the governor anticipates an even greater budget shortfall.
A House attempt to extend the regular session failed Friday, and legislators instead decided to recess until June 3.
Barbour did not commit to calling a special session at a June 1 press conference, saying that he didn't want to call legislators down to "twiddle their thumbs."
"I'm not going to call a special session until the conferees have come to an agreement or, through some other mechanism, an end is in sight to the budget impasse," the governor said.
Barbour would determine the agenda for a special session, though, and he repeated his support for two additional revenue measures, while warning about further revenue shortfalls. The state's revenue shortfall could exceed $400 million if tax collections stay depressed through June, Barbour said. He reiterated his support for a tax on smaller cigarette manufacturers, to match the 50 cents-per-pack increase legislators passed this session, and for a tax on smokeless tobacco tied to volume rather than weight. These measures, he said, could bring the state an additional $20 million.
Rep. Cecil Brown, D-Jackson, one of the House negotiators, said that he is still skeptical of Barbour's plan to reserve $93 million in Medicaid funds from the federal stimulus package for 2011.
"He's not told us that he has authority to do that, and I don't think he does," Brown said. "We've got a long way to go."
Spokeswoman Mary Kahn of the Centers for Medicare and Medicaid Services, which oversees state Medicaid programs, could not comment on Barbour's request.
"At this point we could not comment other than to say we are reviewing the issue of whether such a plan would meet the ARRA's (American Re-investment and Recovery Act's) rainy-day fund requirements," Kahn said in an e-mail response.
More like this story
More stories by this author