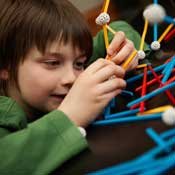 State budget cuts are forcing Jackson Public Schools to scale back its gifted-education classes to the bare minimum required by state law. With their emphasis on hands-on learning and critical thinking, classes for "gifted" students are among the highlights of any school district. As Jackson Public Schools has discovered, along with districts across the state, those classes are gifts themselves, dependent on state education funding.
State law requires districts to provide special classes to students designated "intellectually gifted" in grades two through six. For years, JPS has offered gifted classes beyond that basic requirement, though, into seventh and eighth grade and for each of the four years of high school.
Starting in the 2009-2010 school year, cuts to the state education budget have forced JPS to roll back its gifted offerings. The district eliminated the seventh- and eighth-grade gifted programs at all middle schools except one, Blackburn Middle School near Jackson State University. It also limited high-school gifted offerings only to Forest Hill High School.
Now, with Blackburn poised to move into a brand-new building next year, the school's gifted program is also getting cut back to the bare-bones requirement of sixth grade only. Forest Hill's ninth-grade through 12th-grade gifted classes are also on the chopping block. Vicki Davidson, director of the district's Office of Advanced Academics, said that the reductions were necessary to save teaching jobs after the state Department of Education reduced funding for gifted-education teachers.
"For the upcoming school year, we were funded at a reduced level, which means essentially that if we want to save jobs, we have to no longer offer those services at those two sites," Davidson said. "In order to secure jobs for our full-time gifted education teachers, we can no longer offer programs at those two sites."
JPS is doing all it can to retain its gifted-education teachers, Davidson said.
Often, teachers of gifted classes are also leaders of extracurricular activities and coaches on academic teams like quiz bowl, said Susan Womack, executive director of Parents for Public Schools of Greater Jackson.
"Everybody stands a chance of losing if those teachers go away, Womack said.
In fact, the district's decision to preserve Blackburn's seventh- and eighth-grade gifted classes for the past two years was, in part, recognition of the special role that the school's gifted teacher, Bridget Harkins, plays there.
In a statement, Davidson said that Harkins "is a pivotal part of the school's leadership team" and helped plan the move to a new building.
When state funding loosens up again, JPS will return gifted programs to middle schools and high schools, Davidson said. In December 2009, the school board adopted a policy stating its intention to provide gifted programs beyond sixth grade "based on the availability of program funding."
Offering gifted classes in more grades is a worthy goal, Womack said, but an even greater one would be to apply the curriculum and teaching techniques of gifted classes to all students.
"All children should be taught like gifted children," Womack said.
Previous Comments
ID

163579

Comment

Educating our children should be one of the top priorities for the state. Blueprint Mississippi has stated that it is one of the things we can do to attract more high-paying jobs to the state. I watched a TED talk that seemed very interesting as a learning/teaching process. http://www.ted.com/talks/sugata_mitra_the_child_driven_education.html

Author

BobbyKearan

Date

2011-05-19T08:11:26-06:00
ID

163582

Comment

State Lottery. Do it.

Author

RobbieR

Date

2011-05-19T10:06:01-06:00
ID

163583

Comment

I take that back. State lottery funded charter schools in the metro area. One specifically for gifted kids would probably work phenomenally well.

Author

RobbieR

Date

2011-05-19T10:12:24-06:00
ID

163585

Comment

As the parent of a gifted child in JPS, I cannot say enough about the gifted teachers in the district. My daughter blossomed under the gifted program at Davis Magnet, but everything fell away when she got to middle school, so I sincerely hope that they can keep the remainder of this program intact.

Author

833WMaple

Date

2011-05-19T10:36:46-06:00
ID

163587

Comment

I was in the gifted program at Boyd and moved on to APAC afteward. My 12 yrold niece was in gifted class at North Jackson as well and has become quite the formidable chess opponent. It saddens me that the program would be cut. Hell it saddens me that education is not HANDS OFF when it comes to cuts of any kind. Seems to me that's the one place government should realize needs every dime and THEN some. Teachers need to be making six figures...and then some. Frustrating.

Author

Kamikaze

Date

2011-05-19T13:26:56-06:00
ID

163592

Comment

RobbieR, I remember when 'education funding' was a major selling point for bringing casinos to Mississippi; I'll let you draw your own conclusions as to where that went.

Author

jamesparker

Date

2011-05-19T18:01:30-06:00
More stories by this author
Support our reporting -- Follow the MFP.