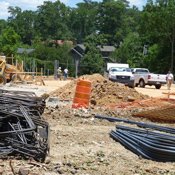 Belhaven mainstay Keifer's Restaurant is set to move to a new building in late September. Assistant general manager Jeff Stricklin told the Jackson Free Press today that the restaurant is aiming for a Sept. 24 opening at its new location in a new building being constructed on the opposite side of Poplar Boulevard.
The lot previously held StudiOm Yoga, which has moved to Duling Avenue. Demolition of that building is complete, and Stricklin said that he expected construction to begin this week.
Architectural plans for the new Keifer's location are on display in the restaurant. The new building will accommodate 244 tables, like the current location. The one-story building will also have extensive porch seating.
Keifer's move is part of a larger redevelopment shuffle precipitated by Baptist Medical Center's plans to construct a mixed-use development there, incorporating apartments, a parking garage and a five-story office and retail building. Demolition on the current Keifer's location will not proceed until the restaurant has relocated, though, ensuring that it stays open throughout the move.
"We won't be closed a day," Stricklin said.
Ballet-Style Fitness
A rising trend in fitness has a new home in Jackson. Pure Barre, which offers ballet-inspired workouts for women, opened a new location in the Highland Village shopping center May 12. According to the company's website, students at Pure Barre use the barre, a wall-mounted rail that lines ballet studios, to "to perform small isometric movements set to fantastic music."
The new location is Pure Barre's second in Mississippi. A Ridgeland location at the Township at Colony Park opened in February.
Class schedules and pricing are available at Pure Barre's website. Pure Barre Jackson is located in Suite 235-A of Highland Village shopping center, 4500 Interstate 55 N. Call 769-251-0486 for more information.
New Chef for Museum Cafe
A former chef to Mississippi governors is taking the reins at the Mississippi Museum of Art's Palette Cafe. Luis Bruno, a native of Bronx, N.Y., began working in his brother's pizzeria in upstate New York at 13. He studied culinary arts in Florida, where he met his wife, Kathleen, a Jackson native.
The couple moved to Jackson three years later, and Bruno took a position as executive chef at the governor's mansion for then-Gov. Kirk Fordice. In 2001, Bruno left to open his own restaurant, Bruno's Eclectic Cuisine, serving Spanish and Caribbean-influenced dishes. Bruno closed the restaurant two years later to address his own health problems.
In 2004, his health regained, Bruno again took on the executive chef role for Gov. Haley Barbour. At the Museum of Art, he oversees catering and special events as well as the Palette Cafe's regular operations.
Open Houses for Entrepreneurs and Allies
Venture Incubator is reaching out to professionals who want to help entrepreneurs. In May and June, the downtown business incubator will host free open house events for attorneys, accountants, bankers, business coaches and other professionals interested in helping its clients. The informal, drop-in events will include opportunities to meet Venture Incubator CEO Wes Holsapple.
The free and informal open house events are from 5-6 p.m. every Monday and from noon-1 p.m. every Wednesday. Offices are at 200 S. Lamar, 10th floor of the south tower (across from the Planetarium on Pascagoula Street).
For more information, contact the incubator at 601-414-0140 or [e-mail missing].
More stories by this author
Support our reporting -- Follow the MFP.