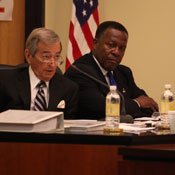 Jackson Public Schools Superintendent Lonnie Edwards has made major improvements to the school district but still needs more time, witnesses in the hearing on Edwards' contract said today. Vicki Davidson, the district's director of advanced academic programs, praised Edwards "hands-on" managerial style, which she said was responsible for the improved morale and greater collaboration she sees among district staff.
"It's not a top-down approach," Davidson said of Edwards' leadership. "He relies heavily on people to get the job done. In my opinion, that's what a superintendent should do."
Davidson, who took her position in 2006 under previous Superintendent Earl Watkins, said that she meets with Edwards one-on-one roughly twice a month to discuss her specific job duties. Under Watkins, she had few one-on-one meetings and mostly saw Watkins in monthly meetings for administrators, she said.
She also credited Edwards with expanding the district's notion of success. Measuring the district's success solely using student test scores was "misleading," and success should incorporate school buildings, operations and fiscal management, Davidson said.
Edwards' contract expires June 30. The JPS Board of Trustees voted 3-1 Dec. 7 not to renew the contract. Edwards appealed the board's decision, however, and requested the public hearing to make his case for an extension.
Today was the second day of testimony from Edwards' witnesses, following three days of witnesses for the school board. In testimony earlier in the hearing, board members Kisiah Nolan, Monica Gilmore-Love and George Schimmel said that they voted against renewing Edwards' contract because of JPS' poor performance on statewide tests, as compared to the rest of the state.
Davidson said today that she believed Edwards hasn't had the time to show the benefits of his administration.
"Education is a cycle, and it takes time for any type of reform to take effect," Davidson said. "Whether we change leadership or not, we're still going to be in that cycle or revolving door. It takes a lot of time, but it takes a lot of effort and investment in a school district as a system. And Dr. Edwards has begun that investment, but we have not seen all of the positives from that investment because we haven't had the time to do so."
James Richardson, a spokesman for the group Parents 4 Better Play, agreed that Edwards has not had enough time but also praised Edwards' accomplishments.
"He's done more in the two and a half years he's been here than the last four (superintendents) combined," Richardson testified.
Richardson said that he has met personally with Edwards "dozens of times" and that Edwards has also heard several presentations from his group, which consists of 30 to 40 parents of current or former JPS students.
Parents 4 Better Play does not have in-person meetings but discusses issues by phone, Richardson said. The group advocates for improvements to athletic facilities in the district, which Richardson said would help the district address academic performance, dropout rates and teen pregnancy.
Edwards has helped secure transportation for girls' softball teams that practice off school grounds and negotiated with parents who were threatening to file lawsuits against the district over the condition of its athletic facilities.
Richardson was one of the plaintiffs on an August 2009 complaint against JPS over inequities in facilities for girls' sports teams filed with the U.S. Department of Education's Office for Civil Rights. While Edwards was superintendent at the time, he worked to avert further lawsuits, while previous superintendents ignored athletics, Richardson said.
"Everybody else ran away from the community," Richardson said. "Dr. Edwards has done everything he could to speak for the community."
Previous Comments
ID

163549

Comment

I had to read this article twice to make sure I was reading it correctly. I am flabergasted that Vicki Davidson the JPS Director for Advanced Academic Programs would pubically state that judging the school district on the students test scores was "misleading". If this is the kind of person we have overseeing the acedemic performance of the students, the school district is in more trouble than I knew. When a graduate from the JPS district attempts to go to college or technical school how much do you think it will help the student be accepted if he/she says: Well my test scores are not that great but the morale and collaboration among the district staff is greatly improved. These hearings are ridiculous and need to come to an end. Lonnie Edwards should be terminated immediately and Vicki Davidson should go with him. And for those trying to make this a black and white issue I am as black as can be. However, I do not believe in condoning or acepting incompetence in anyone, no matter what their skin color. These school children are the future of Jackson. They deserve the best we can give them in a superentindent, not medioricity.

Author

wellington

Date

2011-05-16T19:38:54-06:00
ID

163552

Comment

Agreed Wellington!! And as has been the case all along, most of Edwards' success stories are related to athletic programs. And how can Richardson speak to the records of the previous four superintendents? What type of proof do you base that statement on? And to what extent can Richardson speak beyond recreation (athletics again) which is what his group is involved with?

Author

833WMaple

Date

2011-05-17T08:14:16-06:00
ID

163558

Comment

I know that test scores are the popular thing to weigh in determining the effectiveness of the instruction and leadership of a district. But, it is a dangerous game to play to assert that the only thing, or even the main thing, that matters about schooling is test scores. There are too many factors at play that effect test scores to consider them the main thing in evaluating teacher or leader effectiveness. JPS faces challenges that no other district in the state faces considering its size and level of concentrated poverty in its student population. I am not saying that Edwards can't be held accountable for student achievement, but I will be very cautious to say that test scores alone or even mainly should determine his fate. If we go down that road, we may as well end the educational enterprise altogether and just start testing and attesting and testing students until they are blue in the face. That is not what we spend billions of dollars every year for our children's education.

Author

Renaldo Bryant

Date

2011-05-17T14:26:52-06:00
ID

163562

Comment

Vicki Davidson is off her rocker. And people wonder why the middle class is leaving Jackson? Because JPS is led by incompetent people, therefore the schools are not fostering the learning and challenging environment people want for their children.

Author

RobbieR

Date

2011-05-18T07:58:20-06:00
ID

163564

Comment

Robbie, I normally don't do this, but considering the sweeping remarks you're making about Jackson and education and JPS, I must. Do you have any idea how bad this sentence is? Because JPS is led by incompetent people, therefore the schools are not fostering the learning and challenging environment people want for their children. Where did *you* go to school?

Author

DonnaLadd

Date

2011-05-18T09:26:23-06:00
ID

163565

Comment

That's fine Donna. I went to Davis Magnet and Power APAC before I was moved to a private Christian school in the metro area. I was born and raised in Jackson, but after 5th grade, my parents thought the best opportunity for me to excel would be elsewhere. And for what it's worth, we had to finance my secondary schooling. But it paid off as I was awarded a full scholarship to engineering school at college.

Author

RobbieR

Date

2011-05-18T10:24:26-06:00
ID

163569

Comment

*ding ding ding* "Private Christian School" is the winner! It was unfortunate that most parents in the South didn't realize that private school didn't necessarily mean "better education". It just mean "education with more Jesus and no Blacks". (But, I can't say anything. The Damn Catholics educated me. It just seems they know a little more about education than the Protestants. Or, nuns are better at beating children into submission.)

Author

Lori G

Date

2011-05-18T12:06:27-06:00
ID

163570

Comment

As a Catholic, I rather resent your use of "Damn Catholics" above.

Author

bill_jackson

Date

2011-05-18T12:31:35-06:00
ID

163571

Comment

Lori, I'm not sure if you noticed, but the Christian schools around the metro area are more diverse than the JPS schools. Many of the MAIS schools are attended not only by many african americans, but a broad cross sections of races, and religions. Just as Donna posted in her editors note that MS in changing re: the Fairview, so have the private schools. This wasn't meant to be a private vs public discussion. The topic was the JPS leadership and how it affects the city of Jackson.

Author

RobbieR

Date

2011-05-18T12:36:19-06:00
ID

163572

Comment

@bill As a Catholic, I rather resemble that statement myself. @Robbie--Bless you. I hope they are. I was raised in The Delta. They haven't.

Author

Lori G

Date

2011-05-18T13:33:24-06:00
ID

163576

Comment

Lori- Have you been to any of the private schools in the Delta lately? Bayou,Indianola,Washington,and Pillow have or have had black students attending them. Not many, but a few. They aren't going to turn away anybody's money. ;)

Author

BubbaT

Date

2011-05-18T15:57:56-06:00
ID

163584

Comment

Back to test scores... I am aware that test scores are not the end all to everything, however.... surely you are not suggesting that they ignore the scores when evaluating Edwards, especially when the entire district is on academic watch. What was Edwards hired for? To foster a learning environment that produces competent students and decent test scores. It's the world we live in... sorry. BTW, I wouldn't exactly pat these "christian schools" for their diverse enrollment..

Author

833WMaple

Date

2011-05-19T10:29:55-06:00
ID

163597

Comment

@833WMaple, I am not saying that we ignore test scores, but that we indict more than just Edwards because of them. Too much is carried on the back of test scores, when in reality; a quality education is more accurately measured longitudinally, as students use their education to propel them to future academic, economic, and civic success. A more responsible measure of education would be the quality of life graduates enjoy 5, 10, even 20 years after they graduate. To have Edwards lose his job over perceived ineptitude because test scores didn't rise is short sighted and misses a grand opportunity to holistically consider all of the factors that contribute to student academic success (learning environment, opportunities for enrichment via museums, apprenticeships, and other experiences, the literacy of the parents, and support for the civic and business community for the school).

Author

Renaldo Bryant

Date

2011-05-20T14:52:06-06:00
ID

163600

Comment

the literacy of the parents That is a key point that keeps getting overlooked in JPS and in the Mississippi Public education system in general. Quality of work/life of student parents is another thing that is being ignored when compilling information for these kinds of matters.

Author

Duan C.

Date

2011-05-23T11:51:23-06:00
ID

163607

Comment

Edwards' ineptitude apparently is not perceived but rather is obvious to some on the school board, and many in the community. I am a concerned parent not a casual bystander. I have long been an advocate of educating the "whole child" and I'm in total agreement with you about the quality of education. What is apparent to me and many others is that Edwards does not have the skills, expertise or vision to create that environment for JPS.

Author

833WMaple

Date

2011-05-24T08:26:23-06:00
More like this story
More stories by this author