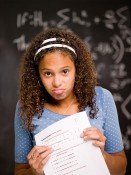 A budget shortfall is forcing Jackson Public Schools to scale back its assistance to students taking Advanced Placement tests in May. While the district has previously covered AP exam fees for all students regardless of financial need, this year it will only provide aid to those who meet federal requirements for free or reduced-price lunch.
Currently, 571 JPS students are enrolled in AP courses, which offer a more challenging curriculum than regular classes and the possibility of college credit with a passing score on a final exam. With 89 percent of its students qualifying for the federal lunch program, JPS will have most of its AP testing fees covered by state Department of Education funds and a waiver from the College Board, which administers the AP program.
JPS officials were unable to provide a specific figure for the number of students enrolled in AP courses who received reduced-price lunch, but Bonita Potter, Deputy Superintendent for Instruction, said the figure likely mirrored the overall student population.
"The large percentage of students who are in AP courses are also children who come from impoverished environments," Potter said.
Each AP exam costs $86, and the tests can become prohibitively expensive, even for less needy families, when students take multiple exams or take one exam more than once.
For several years, JPS extended financial aid for test fees to students who do not qualify for reduced-price lunch. Those funds came from the district maintenance budget, Potter said.
"I would go to the (school) board every year and ask for an allocation for testing fees," Potter said. "We just weren't able to do it this year because we're looking at a $3.2 million shortfall" in the city budget.
Assistant Superintendent Vicki Davidson said that the district warned parents in a January letter that it might not be able to cover all AP exam fees. A month later, it sent another a letter confirming the reduced coverage, along with an eligibility form for the federal lunch program.
"It was fortunate that JPS could pay for exams in the past," Davidson said. "That was something that most school districts in the area have not done."
AP students in the Hinds County School District receive financial assistance if they meet need-based requirements, but the district does not pay for all exams, according to Public Relations Director James Mason.
The ailing economy has also kept the Barksdale Foundation from offering its usual $500 scholarship to all JPS students scoring a 3 out of 5 or higher on an AP exam.
"Everyone's being affected by the economic stress," Davidson said. "We've been seeking additional funding, with no luck."
Potter said she was unaware of any students dropping AP courses because they could not afford the exam, and she emphasized that the classes held educational value apart from the advantage they gave when starting college.
"A couple of years ago we started this push … to really increase the numbers of children who are participating in those courses," Potter said. "Traditionally AP has been for the very 'bright' children, but we knew … that even if children weren't getting A's and knocking the top out of the AP course, they actually fared a lot better academically from being in those courses."
Previous Comments
ID

145698

Comment

If the money is there, it's just not there; however, I'm sure that the number of participants will drop because many who do not quality for federal aide have parents who can not afford the cost of the test. I heard that the fee was around $200.00. Someone with more information, please correct me if this cost is not in the ball park. Great article, Ward. It really makes me sick when I hear of educational opportunities being cut from young people who are trying, yet, this governor does not want to take stimilus money.

Author

justjess

Date

2009-04-08T13:15:14-06:00
ID

145701

Comment

Sorry, I read the article initially without my glasses. I missed the section that gave the cost of each exam ($85.00). Most students take more that one class so I know how the expense can really escalate.

Author

justjess

Date

2009-04-08T13:46:06-06:00
ID

145702

Comment

My daughter is taking 2 AP classes next year. As long as I know ahead of time that I have to pick up the cost then I can prepare for that. But don't wait until the last drop dead moment to let me know that - that's what I hate about JPS, they will wait until the last minute to let you know some procedure or policy has changed....

Author

lanier77

Date

2009-04-08T13:57:45-06:00
ID

145703

Comment

JPS isn't the only school system that does that, believe me.

Author

Lady Havoc

Date

2009-04-08T14:15:24-06:00
ID

145731

Comment

I'm a senior at Murrah High School, and I'm enrolled in two AP courses, one of which has two AP tests that go with it. At the beginning of the school year, I took the classes not to increase my knowledge, frankly, but to not have to take the course in college, which in essence means I took the class for the exam. If I had known I would need to pay for these exams, I would not have taken the classes. It was rude of JPS to put this burden on their students, particularly as many of us come from lower-income backgrounds. Also, while JPS has decided that they won't pay for the 521 students in the AP program, they WILL pay for the significantly smaller number of students in the IB program. What is different about these two things? Why choose one over the other? If they cut funding for one, they ought to cut it for both. At Murrah, AP is a higher level of APAC. In fact, APAC and AP are budgeted on the same line in JPS' budget. Students in APAC are able to, if they complete the entire curriculum of AP courses, receive a scholarship. By requiring APAC students to PAY to continue their education and therefore receive this scholarship, they are making null and void the idea of a public education. Finally, JPS' response to the question, "Why are you doing this?" is that their budget can't handle the extra expenses that AP tests bring. This is STUPID. By cutting funding for AP exams, JPS would gain less than 1% of their budget. However, because JPS is STILL PAYING for those students who are on the Free and Reduced Lunch Program, they're actually only gaining around .01% of the budget! JPS has no reason to cut AP funding so late in the year. It's caused many hardships, and students have dropped out of the AP courses because of it. Yes, Dr. Potter, they have. Trust me. I was under the impression that JPS was proud of the number of AP students they had who took the exams and did well on them. How is this cut in any way whatsoever constructive to their reputation in that regard or to the students, of whose interests JPS is supposed to hold highest? And why is JPS paying for those students who are on Free and Reduced Lunch? It's blatant discrimination to do so, and impedes my civil rights, frankly. Point blank this is ridiculous and unfair.

Author

Katharine

Date

2009-04-09T09:37:04-06:00
ID

145805

Comment

Dear Katharine, Thanks so much for the detailed post. My sister has a daughter at Murrah who also takes two AP classes and she was also upset at how and when the news was given to students and their parents. I would like to acknowledge the tone and spirit of your post. While so many adults worry about the youth of MS, it is no doubt in my mind that you are among the talents that will succeed. When I hear people say, "Those kids can't even write," I will challenge them to read your post. Not only can you write, but, you can also think. You can contact the president of the School Board and get on the docket to have your issues heard. You have made a very strong and interesting case. You also make us very proud!

Author

justjess

Date

2009-04-13T10:15:28-06:00
ID

145809

Comment

Katherine, I agree it's rude to have the rug yanked out from under you when you expect something to be done that people have said they will do. It's also discriminatory by definition to choose one over another to receive a certain benefit. But financial means testing is well established to deny certain benefits to those earning more than a certain amount. For instance, I make too much money to qualify for almost any federal or state benefits. This is certainly discriminatory but it's also proper. I can provide for myself and therefore don't have to draw off limited resources for those who truly need them. I fail to see, however, how denying you the $258.00 to take the tests you want to take impedes your civil rights or makes the promise of a public education null and void. Those are hyperbole that have no place in a well reasoned argument like the one you started to make. You can use that kind of tactic if you want to, I do it all the time ;-), but it makes an easy target to shoot your argument down. I know it's not a lot of money we are talking about for the tests but with the budget shortfall they are talking about for this year and next the money just isn't there. No matter how small the percentage might be. Have you thought about a part time job? A bake sale? Car wash? Asking for donations? I would hate to see your class give up a whole years worth of work because of a few dollars.

Author

WMartin

Date

2009-04-13T12:39:58-06:00
ID

145812

Comment

Wmartin, do you really know what $258.00 will do to the average household budget? This youngster is talking about the timing and the dissimination of info. concerning the issue. Seasoned adult workers are finding it hard to find even part time work. We should complement this student for her ability to identify a problem and to be able to share her feeling which are neither right or wrong: They just ARE and because they ARE, we must deal with them. She is doing this. He approach to the problem sounds healthy. Let's support these kids who are doing the right thing. You WMartin, asked if she has asked for donations? Does that mean that you are a willing camper?

Author

justjess

Date

2009-04-13T13:11:21-06:00
ID

145822

Comment

jess, Yeah, I think I do know what $258.00 will do to the average budget. My budget was pretty average for a long time and still is by national standards. I also agreed with her point that it was rude the way they waited until the last minute. She certainly has a right to be PO'd. I would be if I was in her situation. But you can get PO'd and give up OR you can be PO'd and work towards a solution. Calling it a civil right doesn't help because it's not a civil right. I don't have a civil right to collect benefits I don't qualify for. Thinking or even feeling that I do is not part of a solution to the problem. I would even assert to lead someone to believe it is would only cause more frustration as they figure out that it isn't. Let's support these kids who are doing the right thing. I agree and I would support anyone who does the right thing. As far as donations? I can't think of a more deserving cause than to support our young people who have worked hard toward such a worthy goal. I am always willing to put my money and effort where my mouth is. It's why I asked.

Author

WMartin

Date

2009-04-13T13:47:57-06:00
ID

145996

Comment

I agree. For some people, $258 isn't a large amount to pay. However, I am the oldest of four and am about to go to college. My apps alone cost over $300. My SAT and ACT cost was $45 and $46, respectively. I took each twice. My family income is under $60k per year. I am your average public school student. And I have been steadily employed for over two years, at times I've had two jobs. It is mildly rude to assume that I haven't done all I could to help myself and my fellow students. WMartin, it is because of ME that this article was written, as I gave the JFP the tip and a few contacts, because I discovered while I interned in his office that the GOVERNOR has no idea about this, because his policy advisor doesn't. True, the civil rights is a stretch. However, it's true that it impedes the basic idea of equality set by the Constitution. That does not, as you've said, necessarily make it a valid argument, as technically under the Constitution, the Civil Rights Act is unconstitutional. You're right, too, about the lack of activism. Few of my classmates have tried to relieve our problem. No one has even attempted to fundraise, and now it's too late. We're students in an inner-city school district. Most of us are grievously poor. All we want to do is what is right for us. All we want is what's best for us. It may be selfish, but we're teenagers. That's our prerogative. I love my school. I wouldn't go anywhere else, even though I have in the past. I want to support public schools, and I want to support MY school, but actions such as this make me lose hope in our government and our schools. It's sad.

Author

Katharine

Date

2009-04-16T19:31:46-06:00
ID

146010

Comment

Katherine, it is sad. Of that, there is no doubt. I know this doesn't help your immediate plight but as sad as the current situation is at the moment, I am heartened by the fact that you are so eloquent and obviously quite intelligent. You certainly make your parents and the community proud. And with those kinds of smarts these little setbacks can't stop you. I didn't intend my suggestions to be rude or to assume that you haven't done anything but only as ideas for possible solutions. I'm male. I try to fix problems, it's in my nature. Sort of like the selfishness of teenagers ;-).

Author

WMartin

Date

2009-04-17T08:07:11-06:00
ID

146024

Comment

Way to go Katherine! Young people like you give us hope for the future.

Author

FreeClif

Date

2009-04-17T10:03:14-06:00
ID

146034

Comment

Thank you. It means a lot to me that the JFP and Jackson is rallying behind the public schools. It seems as though they care more than the district. Y'all have made me feel like I can make a change, though. That's something. :)

Author

Katharine

Date

2009-04-17T13:19:38-06:00
ID

146319

Comment

What bothers me is the district - thus, the taxpayers - paying for student to take the AP exam multiple times. Most genuinely advanced students should not have to re-take the exam. In my opinion, a true scholar would not drop a course and give up the opportunity for advanced course work just because he isn't getting the exam free. There are some MS schools that don't even offer AP coures, although they are supposed to. Many classes across this nation are filled with very academically low and disruptive students who basically ruin learning for everyone else; to give up the chance for REAL education suggests to me that those students are not really that interested in learning. I, too, am very impressed by Katherine's superior writing and thinking skills.

Author

attala

Date

2009-04-26T16:38:47-06:00
More like this story
More stories by this author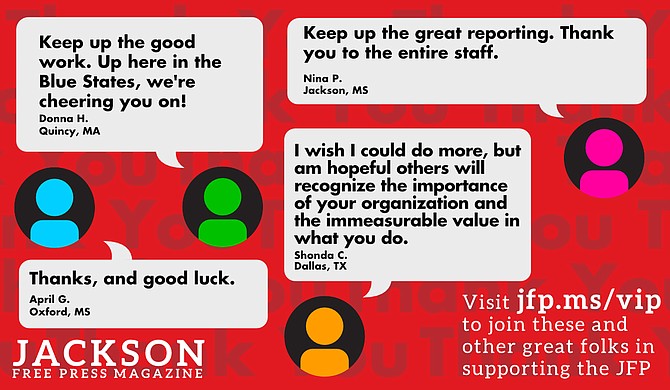 Thanks to all our new JFP VIPs!
COVID-19 has closed down the main sources of the JFP's revenue -- concerts, festivals, fundraisers, restaurants and bars. If everyone reading this article gives $5 or more, we should be able to continue publishing through the crisis. Please pay what you can to keep us reporting and publishing.