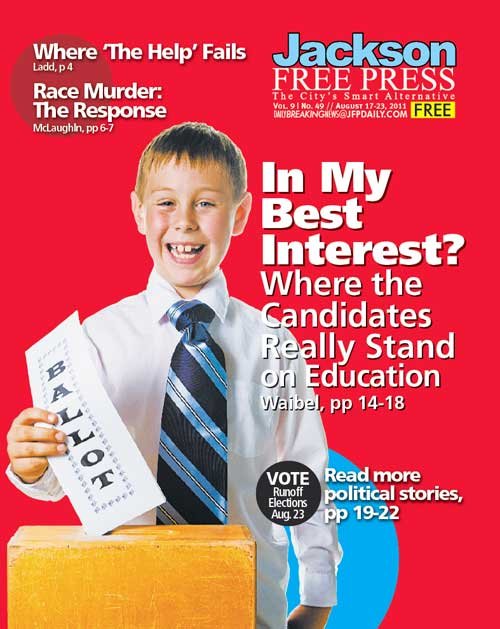 School is beginning at Timberlawn Elementary School. Here, and at other schools in the Jackson area, younger children bounce nervously and excitedly through the front doors, swinging bright, empty backpacks decorated with cartoon characters, while older children slump sleepily over their desks, reluctant to see the end of summer.
Along the roads that yellow school buses are just beginning to frequent, red-and-blue campaign signs are reminders that this is also a political season. Many of the signs are for Johnny DuPree or Bill Luckett, Democratic candidates for governor who will face each other in a runoff election Aug. 23.
DuPree (interview) is the mayor of Hattiesburg, where he served as a school board member, and holds a doctorate degree in urban education. Luckett (interview) is an attorney who has opened two successful businesses in Clarksdale and served in the National Guard. Both support fully funding education and partnering with nonprofit organizations to expand pre-kindergarten programs.
Pledges of support for public schools are welcome news in a state where getting children up to the national average academically is an uphill struggle. The state is also burdened with higher-than-average rates of poverty and unemployment. As the lingering effects of the recession continue to dominate the state's budgetary—and political—debates, schools are feeling the effects of repeated cuts.
The candidates' support of public education weighs heavily on many voters' minds as they go to the polls to decide between Luckett and DuPree in the Aug. 23 Democratic primary runoff, and it will again when the Democratic winner faces Phil Bryant in November.
Campaign rhetoric aside—all candidates say they "support education"—just where do these men who might lead the state stand on education?
Help Wanted
Susan Womack, executive director of Parents for Public Schools' Greater Jackson chapter, said that as far as education is concerned, funding has to be the next governor's top priority. She said the state has an obligation to sustain or increase the quality of education, even in tough economic times.
One of the key issues that comes up in almost every conversation about the next governor's role in the educational system is funding the Mississippi Adequate Education Program. MAEP is a formula the state uses to figure out how much money each school district needs for its students to be successful. The Legislature passed the program in 1994; it is intended to ensure that poorer school districts with fewer local resources, but often more needy students, get enough money to operate well. State law requires fully funding MAEP, but the Legislature has only fully met MAEP's budget requirements three times in the last decade.
The Parents' Campaign, an education advocacy group, says that MAEP is currently underfunded by $243 million, and the 2012 budget will underfund it by more than $230 million. More than 2,000 people working for public schools in Mississippi have lost their jobs over the past three years due to lack of funding. Since 2008, general-fund allotments for K-12 education have been cut by 10 percent—or $220 million—according to the Mississippi Economic Policy Center.
Womack said the budget cuts have forced school districts across the state to lay off hundreds of teachers, assistant teachers, bus drivers and other employees—all of which trickles down to the students.
"For the last few years we've heard over and over, 'We can't keep throwing money at education,' but education costs," Womack said. "It's a very costly endeavor. ... We have to make a commitment to put the resources there that are needed."
Womack said the state should look at new sources of revenue as ways to fully fund education. Equality of education is also a problem, she said. Communities with fewer resources end up with worse schools than those with strong economies and more local revenue to give adequate resources to its schools. It's exactly the situation MAEP was designed to alleviate.
"We can't just keep cutting spending in education and expect to get a different result or a better result; we'll just keep going backwards," Womack said.
Jim Barksdale, founder of the Barksdale Reading Institute, said he thinks it is reasonable to ask that MAEP is fully funded within the next governor's second or third year. He suggested taking money from other programs, such as junior-college football, and putting it into MAEP. The money is there, Barksdale said, but people will have to care enough to make sure MAEP is funded. He said Tate Reeves' promise to fund MAEP is encouraging. Reeves, the present state treasurer, is running for lieutenant governor.
"Nobody has ever said that money alone is sufficient, but certainly it is essential," Barksdale said. "We're one of the lowest-funding (states) per child in the nation, so nobody can argue we're spending too much money on public education."
Mississippi ranked 46th out of 51 in per-pupil spending in the 2008-2009 school year, the last year for which figures are available. During that year, Mississippi spent $8,075 per student on education, $4,719 of that on teachers' salaries and other costs related to instruction. But that was before Mississippi failed to fund MAEP three years in a row—four if the upcoming fiscal year 2012 is included.
Gov. Haley Barbour has said that education makes up more than 60 percent of the state budget, but the Parents' Campaign says that only accounts for the state's general fund—about two-thirds of the total budget—and does not include money that is diverted to other areas. If those are added into the governor's equation, public education makes up only 26 percent of the state's budget. If federal funds the state receives are also included, it makes up only 17 percent of the budget.
Luckett has promised to fully fund MAEP, but said that just provides for adequate levels of funding.
"Education is not something you can make a quick fix with; it's going to take a generation or more," he said. "William Winter started it years ago; it's been fits and starts."
As governor of Mississippi, Winter waged a campaign to get the Legislature to pass drastic education reforms in 1982 that, among other things, established public kindergartens and compulsory school attendance.
"We have got to get involved with it and catch up with the rest of this country and the rest of the world," Luckett said.
In 2009, 45 percent of fourth-graders in Mississippi scored below the basic reading level on the National Assessment of Educational Progress test. Although Mississippi students are doing significantly better than in years past, they are still behind their peers; in the nation as a whole, 34 percent of fourth-graders scored below the basic reading level.
Mississippi's fourth-grade reading scores on NAEP tests are about nine points behind the national average. A 10-point difference equals about a grade level, the Southern Education Foundation reports.
Mississippi is improving, though. Barksdale says that the number of fourth-graders reading at or above grade level has accelerated dramatically since 2005. Mississippi's annual rate of change from 2005-2009 was more than 12 times higher than from 1998-2005, and it is 75 percent higher than the nation's overall rate of change, Barksdale says. In 2009, Mississippi tied for 43rd place in fourth-grade reading scores, up from 50th only four years before.
Nancy Loome, executive director of the Parents' Campaign, said Mississippi needs to recruit its best and brightest into the teaching field, which means an elected leadership team in the state that will make sure resources are available to pay teachers well.
Luckett emphasizes the need for good teachers and the pay to attract them.
"We've got to reward our teachers in some way for being in the trenches and doing a good job," he said.
DuPree wants to exempt all teachers with at least three years of experience from paying income taxes on their salaries and introduce $50 tax rebates for parents of public-school children to help them buy school supplies. He has proposed a four-phase education plan that he calls the Mississippi Education Restructuring Plan. He said that despite budget cuts, some departments can become more efficient in spending to make sure things that need funding—like education—will be funded.
The Hattiesburg mayor has also said he will make funding MAEP a priority. School districts should be required to submit three-year budget projections that the Legislature can use in planning the state budget, he says, in hopes of reducing the "chaos" that he said comes with planning year-to-year.
Ready to learn
In Angela Jones' pre-K class, new students sit quietly on colorful rugs, flipping pages in picture books or fidgeting with toys, exploring their classroom for the next year. It's orientation day at Lake Elementary School, and Jones and Sonya Woods, another teacher at the school, are explaining to parents what their children will learn that year.
"Some parents think pre-kindergarten isn't serious school; they think it's daycare," Woods said. But the teachers assure parents that, in addition to playing, their children will be learning, doing homework and developing skills that will help them be ready for kindergarten next year.
Lake Elementary has two pre-K classes with 20 children in each. Ella Holmes, pre-K coordinator for Jackson Public Schools, said children with the greatest economic and academic needs are placed in those classes. Research has found that low-income children come to school knowing fewer words than their peers, she said, and kindergarten classes may move too fast for them to catch up. If students are ready for coursework at their age level, Holmes said, they are able to have more successes throughout their school career and will have more options when they graduate from high school. Both pre-K classes at Lake are full and have a waiting list.
Barksdale said the next governor should continue to develop, implement and fund a pre-K program to increase children's cognitive skills from the time they are 6 weeks old up to 2 years. A report from the Southern Education Foundation reported that in 2008 one out of 14 kindergarteners and one out of 15 first-graders in Mississippi schools had to repeat their grade. The report said that if children are not ready academically when they enter kindergarten, they are more likely to do poorly in school and are less likely to graduate. The same report found that almost half of 3- and 4-year-olds in Mississippi do not go to preschool.
"Recognizing that it's a tight budget, it's going to be difficult, but I think in time it can be done," Barksdale said.
"Maybe not in the first year, but I think that should be their goal."
Mississippi already has some early childhood education programs, such as Building Blocks, which uses existing child-care centers. Using child care that is already in place is much more cost-effective than adding another grade, Barksdale said, and the state is applying for grant money to continue testing and improving the programs.
Luckett has said early childhood education is a necessity, and he wants to implement it using existing resources and partnering with nonprofit organizations, including Building Blocks and Excel by 5.
"Our budget will not allow us to add more bricks, more mortar, and ... two or three more classrooms to every elementary school, but we can do this with partnerships," he said.
DuPree's education plan echoes Barksdale's praise for programs like Building Blocks and Excel by 5 and also calls for partnering with private organizations. He supports providing incentives to facilities that perform well. He says literacy is the backbone of early childhood development programs.
Long-term investment
Research has repeatedly shown a connection between a good education and better economic standing in adulthood. The Southern Education Foundation reported that in 2008 the adult poverty rate in Mississippi for people who had dropped out of high school was 32.2 percent—almost twice the rate for people who had graduated from high school. Statistics from 2009 showed that unemployment rates in Mississippi for high-school dropouts were also much higher than average—15.7 percent—while the unemployment rate for people with a high-school diploma or GED was 10.6 percent.
One of Luckett's campaign slogans is "the best job program is a good education," and he has repeatedly emphasized the link between education and a healthy economy. He said schools should focus on getting students high-school diplomas, which allows them to begin a career, go to a community college for job training or to attend a four-year college.
Community colleges face problems, he said, when students are not academically prepared and have to take remedial courses.
DuPree said his four-phase plan for education is what makes him stand out from the other candidates. He says education needs to be restructured, not reformed. As governor, he would work with the school system, the Legislature, teachers groups and other agencies to plan the best way to implement changes. In January 2013, he would submit that plan to the Legislature.
In addition to early childhood education, DuPree's plan calls for raising the mandatory school age to 18 years old instead of 17. He would also require college students majoring in education to spend three semesters training in school classrooms and implement a universal literacy program.
DuPree's plan also calls for a Commission on Gifted and Vocational/Technical Education to study current programs and find ways to improve them.
Luckett said, as governor, he can lead the way with vision, and build consensus to get things done. He has emphasized the role of education in reducing poverty, and said Mississippi needs volunteers to coach students and teach parents the value of an education. "We're last in education and first in poverty," he said. "That's no coincidence. When you're last in education you're going to be first in poverty."
Luckett said improving education in areas like Mississippi that struggle with poverty calls for more parental involvement, better teachers, more discipline in classrooms and longer school years. He also said children need after-school mentors and volunteers to tutor.
Lt. Gov. Phil Bryant, the Republican nominee for governor, did not respond to requests for an interview, but he said in a survey posted to the Parents' Campaign website that he supports fully funding MAEP to the extent that existing revenues will allow.
Barksdale says that nearly 500,000 children are in Mississippi's public schools—90 percent of the young people in our state. Getting children to graduate from high school is an investment, he said, and the state's biggest economic development opportunity.
Related Links
[Dish] Making Amends
[Dish] Lynn Fitch
Previous Comments
ID

164620

Comment

And at least one of the two other candidates who will be on the ballot November 8th were not even contacted about an interview and neither was mentioned - another fine example of media's selective coverage of political candidates.

Author

BobbyKearan

Date

2011-08-18T07:32:21-06:00
More stories by this author
Support our reporting -- Become a JFP VIP.
The news business has changed dramatically in the past two years, and we need your help more than ever to keep bringing you important stories about Jackson and the Metro. Become a JFP VIP with an annual membership or you can Sign up as a monthly supporter. Thanks for anything you can do to empower our journalism!