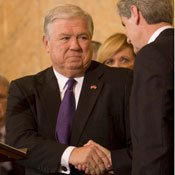 Despite pleas to reconsider his earlier decision to divert money from funds designated for rebuilding housing on Mississippi's Gulf Coast, Gov. Haley Barbour told reporters yesterday that he's not changing his mind. The $570 million will go toward expanding the commercial Port of Gulfport instead.
Widely lauded for his handling of Mississippi's recovery after hurricanes Katrina and Rita ripped across the Gulf Coast in 2005, Barbour proposed diverting the funds last year, and then-U.S. Housing and Urban Development Secretary Alphonso Jackson signed off on the proposal. Now, House Financial Services Committee Chairman Barney Frank, D-Mass., and Rep. Maxine Waters, D-Calif., have sent Barbour a letter asking him to hold off on the diversion because housing availability in the Gulf Coast region hasn't kept pace with the need, according to a story on Forbes.com.
But Jackson also cited the lingering unmet housing needs, a problem exacerbated by increased insurance and rental costs in the aftermath of the storm.
The letter from Frank and Waters is the latest attempt to block the diversion that has drawn criticism from Democrats on Capitol Hill and housing advocates across the country. A lawsuit was filed in December on behalf of Hurricane Katrina victims who have been unable to acquire permanent housing four years after the storm.
…
Waters and Frank said they also sent the letter to HUD Secretary Shaun Donovan "to ensure that he is aware of the serious reservations we still have regarding Mississippi's use of housing funds for the Port of Gulfport."
More like this story
More stories by this author