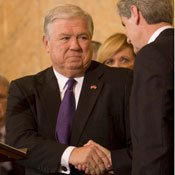 UPDATED
A Houston-based company manufacturing a crude-oil substitute from timber has picked Mississippi to locate its first three production facilities, Gov. Haley Barbour announced at a press conference this afternoon. Barbour has called a special legislative session tomorrow to authorize an economic incentive package for the start-up company, KiOR.
Appearing with KiOR President and CEO Fred Cannon, Barbour said that KiOR has committed to locating its first three facilities in timber-rich Lowndes, Newton and Franklin counties. The company has also pledged to build two of its next five facilities in the state. In return, Barbour said, the state will loan KiOR $75 million, $30 million of which the state Legislature has already approved. Barbour is asking legislators to authorize the remaining $45 million in a bond issue during tomorrow's special session.
Cannon explained that KiOR's manufacturing essentially speeds up the natural process by which biomass turns into petroleum, using a proprietary catalyst system. The company's demonstration plant near Houston uses 20 tons of woodchips daily to make up to 15 barrels of a crude-oil substitute that can be refined into gasoline for cars. Cannon said that he expects the Columbus plant to produce roughly 800 barrels per day, while the Newton and Franklin County locations could produce more than twice as much. Production could begin next year, Cannon said.
Barbour said the three plants combined would employ roughly 1,000 people directly and indirectly.
At the press conference Barbour also maintained his position that Jackson should seek alternative forms of funding to repair its water infrastructure. Yesterday, members of Jackson's legislative delegation urged the governor to use his influence to approve $6 million bond issue that lawmakers had promised the city, and criticized the governor for his willingness to provide the out-of-state company with a $45 million bond issue.
"The city of Jackson can borrow $80 million from the Health (Department) revolving fund and $80 million from the DEQ revolving fund, versus $6 million is all they can borrow from the state bond. The $6 million from the state bond costs more per year to pay off than if they borrowed two and a half times as much from the revolving fund," Barbour said.
In an Aug. 16 letter Jackson Mayor Harvey Johnson Jr. wrote to the governor, he said the city has already borrowed $14 million from the state's revolving fund in the past, but would continue to seek alternative funding solutions in addition to the $6 million interest-free loan from the legislature.
Previous Comments
ID

159572

Comment

Here is a perfect example of the way the political leadership in the State thinks. Barbour is calling special sessions to take risks with state (read "house") money, on a bio-fuel company that will promise "1,000 jobs directly and indirectly". Most of these jobs no doubt are more low skilled, sub-living wage scale jobs that further entrench the state in "brain drain". Yet, at every turn leadership is willing to cut social programs that invest in human development, like education and healthcare, because they are "inefficient". In reality, the leadership resents these programs because they don't benefit them directly like "investing" in corporate ventures (see beef plant). What is the use of tying economic development to job creation that won't sustain communities mainly because the populous is ill educated and unhealthy? If you invest in human capacity and development, you can attract a higher caliber of industry and have better sustained economic growth. The answer is that your goal isn't really economic development, it is "supply side" enrichment of economic elites that is sold as "1,000 jobs, directly and indirectly" that are really just ways to sustain the further concentration of wealth in too few hands. How rich do the elites have to get before the masses can live a humanely decent lifestyle through the "trickle down" that never happens? Wake up Mississippi, time to rethink our "values"!!!!!

Author

Renaldo Bryant

Date

2010-08-27T08:25:25-06:00
ID

159574

Comment

Blackwmatch, while I am not completely sold on this 'trees to oil' deal just yet, I must take issue with your assumptions of "sub living wage" jobs. If this process works as it has in the Houston demonstration plant, then most of the direct jobs will be decent wage jobs. And the plant will need trees and plant parts, which will support already huge industries in MS, pulp wood cutters, tree farm owners,farmers of all sizes and colors ..... This company already has venture capital from a major VC firm in CA that backs alternative energy deals, which does suggest some validity.

Author

Hamlet

Date

2010-08-27T10:00:50-06:00
ID

159577

Comment

Hamlet, According to the Living Wage Project at Penn State University, a living wage for a family of 4 (2 adults, 2 children)in MS is $23.95/hr. I am not aware of precisely how much the average plant worker will make in these bio-fuel plants, but I can tell you that if someone is working on an assembly line in MS and making that kind of money, they would have to be either a very tenured worker or they are making some very expensive products. If this substitute crude is very expensive, then I wonder how profitable it would be to try and refine it? My main point, though, was that it seems the State leadership is very eager to invest in corporations but not in people. And in MS, the people are our greatest asset.

Author

Renaldo Bryant

Date

2010-08-27T12:40:57-06:00
ID

159579

Comment

Seems to me that creating good jobs for people in areas where they're scarce is one heck of an investment in the people.

Author

kudzuking

Date

2010-08-27T13:55:16-06:00
ID

159581

Comment

Kudzuking, Providing for people who are ill educated and low-skilled, jobs that are below living wage does help to meet immediate needs, but it does not help to create sustained economic growth that allows these same people to become independent and creative and therefore help to transform their community. It does just enough to put a feather in the cap of leadership in that they can say they are for "economic development" while at the same time provide more wealth for business and corporate elites. A true investment in these people would be a world class educational and healthcare system, safe roads, and safe communities, which a $12/hr job won't provide. A healthy, educated workforce has proven to create more sustainable economic development better than anything in the "supply side" thinking has ever produced. Heck, it propelled the U.S. to world economic super power status after WWII (check the effects of the GI Bill in helping to create the baby boomer generation).

Author

Renaldo Bryant

Date

2010-08-27T14:35:07-06:00
ID

159586

Comment

While Mississippi desperately needs jobs, I have to agree with the comments made by Blackwatch. To me, this project sounds like another visit to the failed ethanol boondoggle.

Author

Jeffery R

Date

2010-08-29T08:28:43-06:00
More like this story
More stories by this author