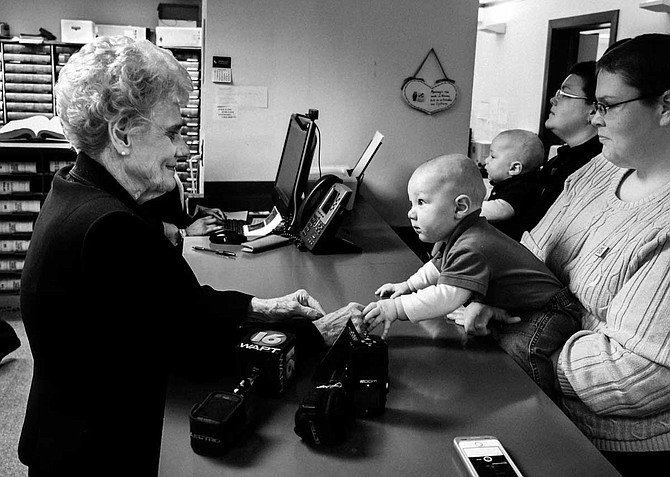 Baby Owen reached his tiny hand across the counter, his blue eyes meeting Hinds County Circuit Clerk Barbara Dunn's, as he wrapped his thumb around her wizened index finger.
Owen's mother, Andrea Sanders, held the 8-month-old, while his other mom, Becky Bickett, stood to their right holding his twin brother, Adrian.
The couple of 10 years had marched along with five other same-sex couples from their meeting place at the Old Capitol Museum in Jackson to the Hinds County Courthouse to apply for marriage licenses. But that was March 25, 2014, and equal marriage rights for gay couples in Mississippi were more than a year away.
They had come as part of the "We Do Campaign," a series of direct actions reminiscent of Civil Rights-era demonstrations meant to highlight the human indignity of state bans on marriage rights.
The North Carolina-based Campaign for Southern Equality, or CSE, headed the project.
'A Punch in the Gut'
Bickett thought about how Dunn reminded her of her grandmother as she watched the woman in the black jacket babytalk and make googly eyes at her little boy. One of Dunn's employees was processing the marriage application at a desktop station nearby. The results came back: Becky and Andrea were not eligible.
"When the law changes, I'll change," Dunn told them, as if to soften the blow. It was one thing to know they could not get married, but another to officially hear it.
Becky Bickett recalled how that day felt in a recent interview with the Jackson Free Press. She had known Dunn's hands were tied, but it still felt like "a punch in the gut," she said on June 7.
"In that moment, it felt like somebody just took you out at the knees and told you that you don't matter," she said. "And that's heart-wrenching. You can't live life thinking you don't matter and that your family doesn't matter, because family is everything. Your family, your kids, your dogs, whatever you have, that's your purpose—whatever shape or makeup it is."
Exactly one year, two months and a day after their visit to the Hinds County Courthouse, Bickett was driving down a Florida interstate en route to her family reunion when Sanders lifted up her smartphone and suddenly screamed from the passenger seat. The U.S. Supreme Court had just declared marriage a constitutional right, striking down all remaining state bans across the country.
'The Honor of a Lifetime'
Back in Mississippi, Brandiilyne Mangum-Dear, a Hattiesburg-area pastor, rushed to the Forrest County Chancery Court. She arrived, along with several couples eager to marry, within minutes of the Washington, D.C., court handing down its landmark Obergefell v. Hodges ruling. Mangum-Dear and the couples had planned for this moment, ready to sprint to the circuit clerk's office whenever the ruling came down.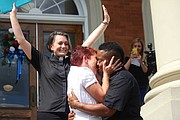 On the steps of the courthouse, Mangum-Dear performed the first legal marriage of a same-sex couple in Mississippi history for Amber and Annice Smith, an interracial lesbian couple who, prior to the U.S. Supreme Court's 1967 Loving v. Virginia ruling that struck down bans on interracial marriage, could not have married in Mississippi even if they had been opposite sex. That ruling served as the basis for the Obergefell decision.
"It was the honor of a lifetime," Mangum-Dear said in June.
She married two more same-sex couples on June 26, 2015, but just as the third completed their application, Mississippi Attorney General Jim Hood's office called and told the clerk to stop issuing marriage licenses, because he was not sure they were legal, yet.
Fresh off the phone with Hood's office, the clerk held up Amber and Cam Stewart's marriage license.
"This may not be legal, do you still want it?" the clerk asked the couple.
"Yes, we do," they answered, and Mangum-Dear married them, another interracial couple, on the courthouse steps moments later.
All three marriages turned out to be legal, but those were the only three performed anywhere in Mississippi that historic day.
"We got the victory, and then they took it back, and that's been kind of the theme of living in Mississippi and being gay," Mangum-Dear said.
In Hinds County, Dunn had been in the middle of processing the first legal marriage license for a same-sex couple when Hood issued the directive to stop. Jackson couple Knol Aust and Duane Smith would have to wait, she said.
Two months earlier, Mangum-Dear and her wife, Susan, had traveled to California to marry, still unsure how the court would rule. In the weeks after Obergefell, the minister kept her clerical shirt and collar in her car as she tirelessly crisscrossed Mississippi, sometimes marrying two or three couples a day.
'Beneath the Religious Elite'
"I know we're going to get backlash from the state," Bickett told one of her attorneys by phone on the day the Obergefell ruling came down. They would wait, she said, until circuit clerks in every county in Mississippi were marrying.
Besides, she said, she was not going to turn the car around in Florida with two toddlers. On June 29, Hood told clerks there had been a misunderstanding, and that they could begin issuing marriage licenses immediately. Clerks across the state, including Dunn, did just that. After the Bicketts returned to their home in Pass Christian, they considered driving to Jackson to reapply at Dunn's office.
"She was sweet. I felt so bad for her, too," Becky Bickett said, recalling the day they first applied at her office in 2014. "It was kind of like she was a pawn in our game of chess to get where we could all be kings and kings and queens and queens."
After the trip to Florida, though, they did not have enough money to travel to Jackson and pay for a hotel for the night, so they applied for a marriage license at the Harrison County Courthouse instead, with Becky scratching out the "Husband" and "Wife" designations that were still on the applications then. 
 They married July 5 at the University of Southern Mississippi's Gulf Coast campus, where they had held their commitment ceremony five years earlier when marriage rights seemed like a fantasy.
The battle for their family was not over, though. Before marriage was legal, Becky had to adopt Owen and Adrian as a single parent; Andrea only had limited guardianship rights.
A Mississippi law remained on the books that banned gay couples from adopting. The Bicketts joined a lawsuit, which CSE spearheaded, to challenge it.
On March 31, 2016, a federal judge struck down the adoption ban, and on May 5, the Bicketts adopted a third child. Their daughter, Regan, was the first child in Mississippi that a same-sex couple adopted with full legal rights.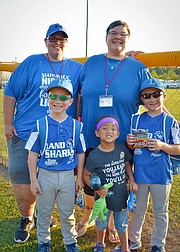 Just five days after the ruling and exactly one month before her adoption, though, Gov. Phil Bryant signed House Bill 1523—a law that makes it 
legal for businesses to refuse to serve LGBT people if they cite a religious belief about marriage or gender identity.
"We had to remove our celebration attire and put back on our battle attire and return to war," Mangum-Dear said in June. CSE once again went to court, with Mangum-Dear and her wife as plaintiffs, they lost the case this time. HB 1523 took effect in 2018.
"They made sure to let us know we are still beneath the religious elite," Mangum-Dear said. "We may have acquired marriage that day (in 2015), but we certainly didn't get equality."
Unlike many other states, LGBT people still do not have protections against discrimination in employment. Last month, Congress passed The Equality Act, which would grant the same protections on the basis of sexual orientation and gender identity that Americans already enjoy under the 1964 Civil Rights Act when it comes to race, sex and religion. All three Mississippi Republicans in Congress voted against it.
Granting LGBT people the same protections religious people already enjoy, U.S. House Rep. Steven Palazzo said in a May 17 press release, would threaten "our religious liberties." Only U.S. House Rep. Bennie Thompson, the state's lone Democratic congressman, voted for it.
'My 4-Year-Old Is Stressed Out?'
For the Bicketts, the ongoing war for equality is more of a social battle in their own community and less about the law these days. Becky sees signs of progress in small things, like the young man at the store who felt comfortable asking them for advice on how to find a relationship as "awesome" as theirs, or the "backwoods country girl" who talks openly with her about her marriage to Andrea, noting that it does not sound that different from her own.
It is not all positive, though.
The Bicketts pulled Owen and Adrian, then 4 years old, out of pre-school after just two months. Adrian had been bullied, she said, and the teachers looked the other way when another boy would knock him off the playground slide or steal his snacks. The teacher, Becky said, ignored her and Andrea when they would come to the school, brushing their concerns aside and saying she "didn't see anything." She thinks it had something to do with the teacher's discomfort with their family.
Adrian had begun wetting himself at school, even though he, like Owen, had been potty-trained for years. He had also developed seizure-like "neurological tics" in which his eyes would dart side-to-side.
"Our pediatrician thought he was having seizures, so we went through all this bloodwork, EEG tests (which are used to find problems related to the brain's electrical activity), heart tests, and everything, just for the neurologist to tell us, 'His brain is fine. He's stressed out,'" Becky said. "I'm like, 'My 4-year-old is stressed out?' And it all started from preschool."
Within a week of pulling the boys out of pre-school, Becky said, Adrian's eyes stopped darting around, and he stopped wetting himself.
The boys, now 5, just finished kindergarten. From the start, the Bicketts had spoken to school administrators and teachers to let them know about the twins' pre-school experience, seeking assurances that this time, school would be different.
Sure enough, it has gotten better for the boys, Becky said.
"They understand our family is different," she said. "They've had a couple of kids say, 'I wish I had two mommies.'"
On the last day of school, the boys' teachers hugged Becky and Andrea.
"They came to us crying, saying, 'I'm going to miss your boys so bad,'" Becky said in June. "Everybody comes to us telling us that the boys are awesome, that we do a great job as parents. Everybody just loves them. That's a proud mom moment, too, you know?"
Not long ago, Owen posed a question that the Bicketts had been long expecting.
"Whose tummy did I come out of?" the 5-year-old asked.
"You didn't come out of either of our tummies," they explained to all three kids, pointing to movies with characters who had been adopted. "You had a tummy mommy that held you in her tummy, and she couldn't take care of you. She wanted someone to take care of you, and we wanted a baby, so she let us bring you home and take care of you."
The children accepted it, Becky said, but they still have questions about their biological mom.
Sometimes, she said, she'll read them a story at bedtime, and they'll give her a big hug, and tell her how glad they are that she and Andrea are their moms.
"I'm glad my tummy mommy gave me to you, mommy," they'll say. "I'm glad you're my mommy now."
Follow State Reporter Ashton Pittman on Twitter @ashtonpittman and see more of his photojournalism work on Instagram @ashtoninms. Send story tips to [email protected].
Support our reporting -- Follow the MFP.