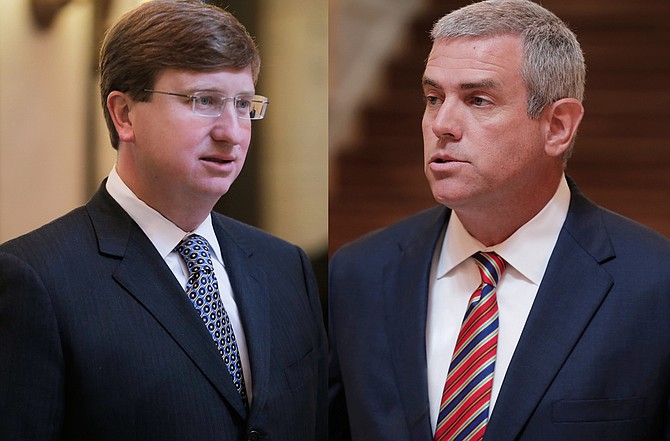 JACKSON — Efforts to provide additional funding for roads and bridges are dead in the 2018 legislative session after Senate and House leaders could not come to an agreement on exactly how to divert more funding to the state's infrastructure on Friday.
Senate Bill 3046 is technically in conference between the two chambers, but negotiations will not progress beyond today. House Speaker Philip Gunn told reporters "all that is dead," referring to the proposal.
Lt. Gov. Tate Reeves said both chambers had a lot of positive discussion about infrastructure funding in the past week, but said the House and the Senate continue to disagree on "sticking points."
"I think we are at a point at which barring some major breakthrough…," he said, pausing short of saying the measure is dead. "We'll just see what happens."
The measure is subject to the Saturday night deadline for revenue bills this weekend.
The House jumped out front of the infrastructure funding issue early in the session in January, passing a series of bills that diverted state tax revenue to be used exclusively for roads and bridges. House Bill 722 would have redirected 35 percent of state use tax revenue to cities, counties, and a grant program for roads and bridges. The measure passed the House with bipartisan support, despite the budget holes such a proposal could have created.
The Senate killed that bill, however, and Reeves introduced the "billion dollar" BRIDGE Act close to deadline day in February, which included some bonding for infrastructure. The measure also contained potential new revenue for roads and bridges, if revenue estimates met certain trigger points. A part of Reeves' proposal would have allowed cities and counties to apply for grants for state funds, if they could provide matching funds.
This part of the bill ended up being the sticking point and the ultimate fallout for infrastructure funding this session. Gunn was not amenable to the idea that cities and towns around the state would have to find additional funds to spend on roads and bridges in order to receive a match under Reeves' proposal.
"It's just not a realistic solution in our minds. You're saying you're giving them an opportunity, but it's like telling my son he can have $20 if he can pick it off the basketball goal, you know, and he can't jump 10 feet," Gunn told reporters today. "… And that's the way this was: here's a pot of money out here, but the little cities and the towns, they weren't ever going to get there. It's just not a realistic solution."
Gunn said he ran Reeves' match proposal past a few mayors who told the speaker they would rather have no additional funding bill than an inadequate one. Reeves said his proposal would have given flexibility to municipalities but acknowledged that the match option was the fallout.
"We have not been able to reach an agreement on that. I think there's been productive conversations—there's been a lot of discussion around it," Reeves told reporters as Gunn walked up behind him at the press scrum after a committee meeting Friday. "I think there's general agreement, but it's just a matter of how to get it done."
The lieutenant governor said infrastructure funding hopefully would be a conversation that continues if no measure passes Saturday night's deadline. Gunn said disagreements on proposals to fund roads and bridges went beyond the match idea, however.
"There were other areas of contention, but that was the one that we started at, and that was the big one," Gunn said Friday afternoon. "… And when we couldn't reach an agreement there, we didn't even try to go down the road to try to solve the others because there's no point."
The Legislature heads into budget weekend with one less item to debate, as all budget and revenue bills must be filed by 8 p.m. on Saturday. Today, the Joint Legislative Budget Committee adopted a new revenue estimate higher than previously forecast. Leaders plan to set aside 2 percent of state revenue into the Rainy Day Fund, as of now, and will have $5.65 billion to spend for the fiscal-year 2019 that begins on July 1, 2018.
More revenue does not mean a surplus budget process, however.
"We are seeing growth, but it's going to be a very conservative estimate," Reeves told reporters Friday. "But it's also going to be a very conservative budget, and we're not going to see many significant increases—if any—increases in very many agencies."
Follow state reporter Arielle Dreher at the Capitol this weekend for live updates on Twitter at @arielle_amara. Email her at [email protected]
More stories by this author