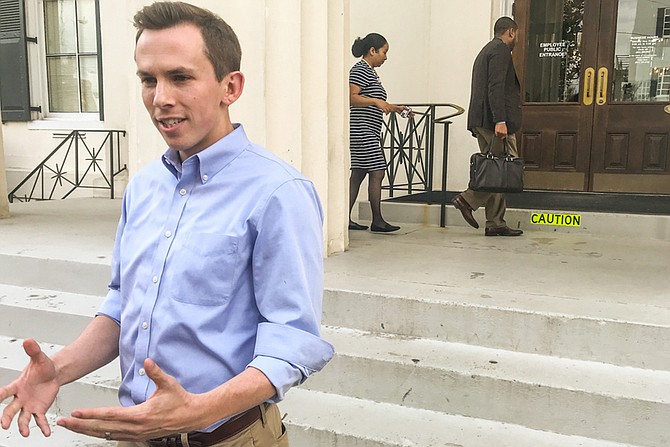 JACKSON — In one of his more assertive and direct public statements, Mayor Chokwe Antar Lumumba refuted an ethics complaint from a branch of a local conservative think tank accusing the City of Jackson of destroying immigration records called detainers. But he left it unclear whether or not they receive those documents in the first place.
On Monday, Shadrack White, director of the Mississippi Justice Institute, filed a public-records complaint with the Mississippi Ethics Commission after asking for all records concerning any Jackson Police Department detainer or immigration hold requests back to January 2014. In a Jan. 31 letter responding to the records request, JPD said it neither keeps nor maintains such records. White and the MJI took that to mean the JPD "simply throws requests to hold illegal immigrants in the garbage."
Immigration Customs and Enforcement, called ICE, sends detainers to local law enforcement when it arrests someone believed to be in the country without proper documentation so the agency can take custody of detailed immigrants when released. White had requested copies of the detainers the City of Jackson had received, arguing that if the City no longer has them, it must have destroyed them.
"This is a meritless, baseless, senseless, waste of time, and this is an out-and-out lie," Lumumba said at the press conference. "It is alternative facts, if you will. This administration has not destroyed anything."
Lumumba likened the accusations to what would happen if he tried to withdraw a million dollars from his bank account. "Well, I will never get the million dollars out of my account because I don't have a million dollars, right?" the mayor said. "I can't provide what we don't have; I can't provide what we don't take in. I can't destroy what we don't collect. So that is why it is a baseless accusation, and it is political in nature."
The mayor, however, did not make it clear where the "million dollars"—in this case, the detainers—are at this time.
White asked the Mississippi Ethics Commission to require the JPD to release records about immigration detainers requested in January, call witnesses from the JPD to testify about departmental policies for ICE detainers, require any documents that speak to said policy, and to grant an oral argument for MJI's request. He told reporters after the mayor spoke that this complaint is about preserving government transparency and public safety, especially after the U.S Department of Justice under President Donald Trump's tenure named Jackson as one of the sanctuary cities around the country.
"The goal of getting the information is to make sure every citizen in Jackson knows just how bad this problem is, just how many people have been arrested by JPD and then released back onto the streets without being turned over to ICE," White told reporters. He added that every taxpayer in Jackson deserves to know what's going on, and then they can pressure on the City to fix the problem.
"Sunshine is a really good disinfectant in these places, and that's what we need, we need sunshine," White said.
In late January, the Department of Justice sent a letter to Jackson officials asking for all documents, instructions, and guidance to law enforcement employees pertaining to how they "may or may not" communicate with ICE and the U.S. Department of Homeland Security.
Lumumba said in January that documents showing its communication with ICE do not exist.
Under a 2010 city ordinance that cements anti-profiling protections, Jackson police officers cannot ask about a person's immigration status unless it is in the course of a criminal investigation or necessary to assist federal law enforcement. The Justice Department took issue with this aspect of city code.
"Racial profiling is patently illegal," Lumumba told reporters in January. "... Furthermore, racial profiling is ineffective. It alienates communities from law enforcement, disrupts community policing efforts, and causes law enforcement to forfeit credibility and trust among the people they are sworn to protect and serve."
White told reporters Monday the end goal is for the City to say exactly what it does with the ICE detainers and to start maintaining them, and if the City wants to change its sanctuary-city policy, that would also be a good thing.
Recently appointed U.S. Attorney Mike Hurst formerly directed legal efforts at the MJI when it was created two years ago.
Email city reporter Ko Bragg at [email protected].
Support our reporting -- Follow the MFP.