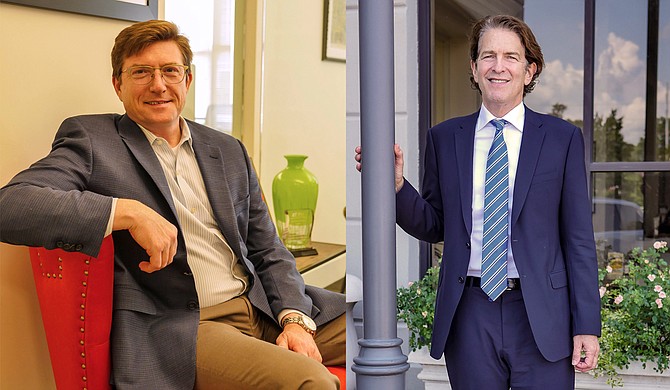 Democratic U.S. Senate contenders David Baria and Howard Sherman share a common interest in basketball, at least for campaign metaphor purposes.
Speaking after a campaign lunch June 11 with state Democratic lawmakers at the King Edward Hotel in downtown Jackson, Baria compared the run-off election to the first game of the NBA finals, which turned the interaction between J.R. Smith and Lebron James into a meme overnight. The Cleveland Cavaliers and the Golden State Warriors were tied with four seconds left, and Smith caught an offensive rebound. Instead of going back up to shoot and possibly end the game, he dribbled out of traffic and prompted the Cavs to take an off-balanced shot, forcing the game into overtime. The Cavs went on to lose the game.
"Did you see the first game of the NBA finals? One of the Cavs took a play off and it cost him, right?" Baria said speaking to reporters after the lunch. "Mississippians, you cannot afford to take a play off or a day off, so June the 26th is an opportunity for you to get out and vote for the right person for this job. Don't take a play off, OK?"
Sherman uses NBA basketball coaching to explain why he is running for office.
"I talk about it like a sports analogy, like the Cleveland Cavaliers before they got Tyronn Lue. Or the Warriors before Steve Kerr became the coach. Steph Curry and Klay Thompson were there," Sherman told the Jackson Free Press.
Lue joined the Cavs as head coach in 2016; Kerr became head coach at Golden State in 2014. Since 2015, the two teams have traded off being NBA champions, 
until this year when Golden State clinched its third championship in four years.
"When you put (in) the right leaders, you can re-shuffle the parts," Sherman said.
The June 26 run-off election is a bit like the final playoff game in a tied series. Both candidates are vying to be the Democratic challenger to Sen. Roger Wicker, who holds a strong 11-year grip on his Senate seat and is now the ranking Mississippi senator since Sen. Thad Cochran's retirement.
In the June 5 primary election, Sherman brought in 713 more votes than Baria. Both candidates received 31 percent of the total votes cast, however, forcing the two to a run-off. This means that 37 percent of voters who did not choose either candidate initially can sway the election on June 26.
The Making of a Run-off
Turnout in the June 6 primary was higher than it was in 2014 by about 2,000 votes with 87,931 Mississippians casting a Democratic primary ballot. Baria and Sherman are working to swing voters who account for the nearly 32,000 ballots cast that were not for either candidate.
Rep. Omeria Scott, D-Laurel, had filed her candidacy papers just before the deadline on March 1. Scott, a longtime lawmaker from Laurel, Miss., and former chairwoman of the Legislative Black Caucus in the Mississippi Legislature, came in a solid third place in the June 5 primary, receiving more then 20,000 votes. Scott, a colleague of Baria's in the House, endorsed Sherman just a few days later.
Scott, flanked Sherman and wife, Sela Ward, outside the city hall in Laurel called on Democrats to unite around the California native in the run-off election on June 8, Facebook live recordings show.
"Howard has met the criteria that has been articulated by the Democratic leadership in the state," Scott said, listing off some members by name who want a candidate who can raise money and who is electable.
"He (Sherman) came from the bottom to leading in the first leg of the primary," Scott said.
She endorsed Sherman on June 8, but when asked to elaborate on her decision for this story, she declined, deferring to the Sherman campaign's press release.
Many of the Democratic House members endorsed Baria early rather than Scott. His Twitter account was laden with photographs of lawmakers and their endorsements in the days leading up to the primary. On June 11, several Democratic state lawmakers met in downtown Jackson to strategize about getting their delegations to vote for Baria in the upcoming run-off. Baria leads the Democratic caucus in the Mississippi House of Representatives.
"I think it's fair enough to say that there are people who may not have been involved, even some members," Rep. Robert Johnson, D-Natchez, the vice chairman of the House Democratic Caucus, said on June 11. "The first time we had another member running. This time we have one member running. This time I think there's going to be a more cohesive group of people working and doing it with a whole lot more energy."
The Legislative Black Caucus endorsed Baria before the end of that week.
Chairwoman Rep. Sonya Williams-Barnes, D-Gulfport, said she is working hard to ensure record-breaking turnout numbers for the run-off on June 26. 
Williams-Barnes' district is also on the 
Mississippi Coast, where Baria lives and is from originally. Williams-Barnes endorsed Baria personally as well.
"David is a man of his word. If he says he's going to do something, he does it, and if he finds out he can't, he's man enough to come back and say things will be different," she told the Jackson Free Press.
After the Legislative Black Caucus endorsed Baria, the Associated Press called Scott, who said no one asked her about the group's endorsement.
The Businessman ...
The two candidates share some qualities: Both have had long, successful careers as an entrepreneur and a trial attorney, respectively. Both candidates are good at politicking, using their influence whether that be in the statehouse or Hollywood to gain ground in an election. The two candidates diverge, however, at their approach to the senator's job based on their experiences.
Sherman, 63, is a venture capitalist and entrepreneur who has made his career in the health-care technology business. He brings his business mentality into the room with him. When he met this reporter for an interview at Banner Hall, he walked right in to Lemuria and asked to use a private office for the interview, citing his relationship with the owners. Sherman worked with a Nobel Prize winner on technology to help prevent American soldiers in Iraq and Afghanistan from overheating in desert temperatures. Then he worked with a Michigan-based company on technology to keep bodies warm during surgeries, without pumping hot air over them, as is common practice.
"I get asked all the time what's the number-one trait of an entrepreneur, and it has to be great peripheral vision," he told the Jackson Free Press. "I was trying to help my friend get funding to help us all (stay) safe. The next thing you know I'm in the health-care business."
Born and raised in California, the son of an Eastern European immigrant mother was raised in a Democratic family, going with them to knock on doors for JFK.
Sherman voted as a Republican in California elections around 2000, because California Democrats got "anti-business," he said. He continued to vote as a Democrat in national elections during that time, however, and after he moved to Meridian, Miss., full-time, he disagreed with Mississippi Republicans. He drafted a 100-day plan he released this month and his anecdotes shared in his full interview (see jfp.ms/sherman) indicate that he understands the business side of politics. That has included giving campaign donations to candidates in order to seal funding for research and projects he was involved in.
The entrepreneur, who said he prefers jeans and a T-shirt to his campaign suit, does not believe being a Mississippi native is an important component of the campaign.
"The voters voted a week and a half ago, and they said we're going to pick the guy who wasn't born here because his ideas are better," he said. "(Voters said my) view of the future is better, and if they vote for him because he was born here then you're not going to wind up with these ideas."
Sherman has access to a network of Hollywood powerhouses, demonstrated by Robert de Niro and Alec Baldwin hosting a New York fundraiser for him in May. He also has access to his own personal funds. He has loaned his campaign $650,000 and hired the Doug Jones campaign team of Joe Trippi and Giles Perkins (Jones' campaign manager) to run his own. They are also running Democrat Mike Espy's campaign to fill Sen. Thad Cochran's vacated seat.
... vs. The Lawmaker
David Baria, 55, is banking on his experience as a lawmaker and his track record to secure the Democratic spot on the November ballot. When Baria met with this reporter for an interview in his glass-walled Baria-Jones law firm in Jackson, he was finishing up emails for what he calls "dialing for dollars" for the campaign.
His success as an attorney only translates to a certain point when it comes to raising campaign finances. Baria, who has a long history of donating to the Democratic Party and PACs in federal elections, lives on the Gulf Coast where he lost his home during Hurricane Katrina and soon his first son to an unexpected illness. 
 As leader of the House Minority Caucus, he has had to wage losing battle after losing battle against a staunch Republican supermajority.
"I'm not telling anybody that we have been successful with our requests of the speaker (Philip Gunn) because we haven't, but we get heard. We do have input from time to time, and what I have learned in my time as leader is what (former U.S. Sen.) Trent Lott said is right. It's like herding cats because you have 47 individually strong personalities. You have to have a strong personality and an ego to get elected," he told the Jackson Free Press.
Winning several narrow elections in both the Mississippi Senate and House with Republican finances and endorsements against him, Baria is no stranger to being the underdog. His approach to the job is informed by his experience leading the minority caucus, his full interview with the Jackson Free Press (jfp.ms/baria) shows.
"My style of leadership is not to say, 'Here's what I think we ought to do, what do you think?' I say, 'Here's the problem, let's discuss,' and I take what folks say to me and try to synthesize it and then I try to make the best decision going forward," Baria told the Jackson Free Press.
As the career lawmaker in the run-off election, he is reliant on his political experience and knowledge of policy matters from the Capitol. He has raised about $250,000 in donations and is working with Chism Strategies for his campaign. His law partner, Brandon Jones, is his campaign manager.
About the Tax Cut
Sherman and Baria agree that the recent GOP tax cut in Congress benefitted corporations and the wealthy the most—and that it did little to stimulate the U.S. economy. The two candidates have differing views on what could be done next, though. 
 Sherman, who studied economics at Claremont McKenna College, says all fiscal policy is designed to achieve an objective. The only one that the GOP tax cut achieved, he said, was to benefit corporations.
"So if they had said, 'What do we need? Where do we want them to direct that money?' Because a lot of (corporations) just bought their stock back. A lot of them bonused out CEOs, and they bought yachts from Italy—well that didn't help the economy at all," Sherman said.
He said that if lawmakers had specifically targeted places that companies had to locate businesses—like the Delta—then they could have given them the tax cut.
"Had they said ... 'Pick a plighted part of the state, if you put a plant there in the Delta where unemployment is high, we will give you a tax cut.' But if you just are simply going to rebuy your stock back, it didn't do anything for the economy. I'm not saying I'm anti the tax cut; I'm anti an unfocused tax cut," Sherman said.
Baria sees the GOP tax cut as "nothing more than a payback for Republican donors who donated to the president." He noted that the tax cuts for the middle class are temporary, while the corporate tax cuts are permanent.
"I think if you want to do real tax reform that will stimulate our economy, then you give a big tax cut to middle-class America," he said. "Those folks will take that money and improve their lives by buying a new refrigerator, buying a new car, buying a new house, and that stimulates the economy," he said in his interview.
Baria said that rolling back the tax cuts for the wealthy would free up funds to use on transportation or education.
Immigration in Focus
As the Trump administration continues to separate children from their parents at the southern border, immigration is increasingly becoming an issue that Congress might act on in the future. Both Democratic Senate candidates believe that Deferred Action for Childhood Arrivals, or DACA, immigrants deserve a path to citizenship or an extension of their status.
Sherman said immigration should be a focus point.
"If we have a shortage of nurses, then let's say, 'Hey, guess what? We'll bring in 10,000 nurses.' But if we have an over-abundance of construction workers and there are already people having a hard time finding (a job), then maybe we don't bring in a ton of construction workers," he told the Jackson Free Press. "I want to bring in—I don't know what the right number is—if it's 100,000 or whatever, but maybe we can do it in a way where we don't create a problem by trying to solve a problem."
At one point, Democrats in 
Congress were considering a compromise that allowed a path to citizenship for DACA recipients in exchange for Trump's border wall. Sherman noted the budget deficit when speaking about the wall.
"And the border wall, you know, we're in such a deficit to begin with. I haven't seen the data that shows me that that's going to really keep us safe," Sherman said. "We do need to be kept safe; all it takes is one person getting through, and we're in jeopardy."
Baria said the concept of the border wall is ridiculous, however.
"What we need is an effective means of securing our border with a combination of wall, fence, live security, cameras—a combination of those things, which I think pretty much already exists," he said. "Could it be improved? Yes. But the Great Wall of China along our southern border is a ridiculous expenditure of money, and it is nothing more than a political ploy."
Baria says the U.S. needs to revamp the entire immigration system and expressed concerns about the cost-effectiveness of locking people up or deporting those who are not criminals.
"... I don't think that it is cost-effective to deport every single person who is here without proper documentation," he said. "If someone is here without proper documentation and we pick them up because they have committed a crime, I'm for deporting them. ... There should be probably some level of crime that we define above which they get deported, below which they do not, (like) speeding."
Doug Jones Effect?
What will matter more in the June 26 run-off could come down to money and people-power—or both. Pam Shaw, political director of the Baria campaign, emphasizes their ground game with Mississippians.
"One of the things we're confident of is that people trump dollars. We will have the people; we will not have the dollars," Shaw said in Jackson on June 11. "But this election cannot be won by dollars alone."
Sherman hired the Doug Jones team to run his campaign, which helped Alabama elect a Democrat to the Senate in a solidly red state. His victory is seen as a part of the wave of candidates and seats "flipping" around the country in the wake of President Donald Trump's election. So far, Sherman has paid Trippi's team more than $490,000 for media and political consulting services, FEC filings show.
In an interview with Ezra Klein of Vox after the Jones victory, Trippi talked about the campaign's strategies.
"Trump's creating energy among the Democratic base that wants to come out and wants to make the change and wants to do something to fight back against what's happening. At the same time, he's creating enough chaos and divisiveness and hostility that Republicans who would never ordinarily vote for a Democrat say, 'OK, well, I've got all the chaos and hostility I can handle right now. I'll vote for somebody who wants to try to find common ground and get things done for me, even if they're a Democrat,'" Trippi told Klein.
Giles Perkins, who ran Jones' campaign, is also running Sherman's. Perkins was not made available to the Jackson Free Press for an interview by press time.
Rickey Cole, the former chairman of the Mississippi Democratic Party, says turnout is typically very low in non-presidential election years for federal primary elections. Cole said often times voters will not select a candidate they have not heard of or turn out to vote unless they are given a reason to do so.
While Cole is not privy to either Sherman or Baria campaigns, he said it appeared that the Sherman campaign did a good job of identifying likely voters in the primary election. Baria or Scott could have had the best shot at name recognition going into the primary, but Cole, who is supporting Baria, pointed out it would be limited at best.
"There are 122 House seats, and so, at best, David and Omeria had been on the ballot for 1/122 of the population in the state of Mississippi," he said. "... (That's) less than 1 percent state ID-recognition."
"I think a successful campaign has to overlay the geography with the virtual in order to be successful," Cole said.
Perhaps to that end, Baria was hosting a livestream Q&A Facebook event as this story went to press.
The role of money and voter turnout could determine the outcome on June 26, and voters who voted in the Democratic primary or did not vote at all can go to the polls to cast a ballot next week.
To read full interviews with Baria and Sherman visit jacksonfreepress.com/2018elections.
More stories by this author
Support our reporting -- Follow the MFP.