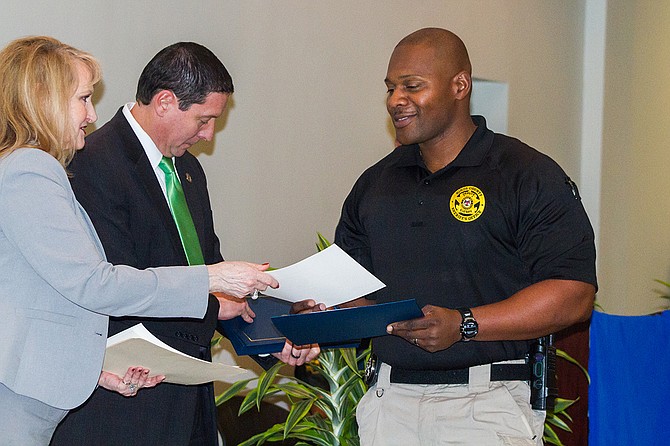 JACKSON — The celebration was small, but the impact is likely to be large. On Friday, Jan. 26, nine local law enforcement officers who work in Hinds County graduated from week-long mental-health training to help them on the job.
Crisis Intervention Team training, or CIT for short, is an intensive program. Officers heard from professionals, learning about mental-health disorders, specific illnesses and how treatment works. They also learned de-escalation techniques and tools to use when confronting a person having a mental-health crisis, which can escalate into deadly encounters if handled poorly.
On the last two days, the graduates ran through live-action scenarios to practice what they learned. Hinds County sheriffs, Jackson Police Department officers, and several college campus and other police officers in the Jackson-Hinds area trained last week, as well as a handful of Mississippi Department of Corrections staff members.
This is the first group to graduate from with CIT certification in Hinds County. Law-enforcement officers in Lauderdale County and in Meridian have used CIT training for a while. Chief Deputy Ward Calhoun from Lauderdale County spoke to graduates before they got their certificates and pins last week. He told them CIT had to be a team effort, using a stool he brought with him to illustrate that local mental-health centers, organizations like National Alliance on Mental Illness and law enforcement must coordinate for CIT to work.
"In the long run, I think something really unique happens. Not only do you become a better CIT officer, you just become a better officer," Calhoun told the graduates. "You become a better person—that's what we're supposed to be doing. ... We ought to be the folks that the community turns to for a solution."
The ceremony officially marks a shift in how law enforcement and the mental-health sectors intersect in the city and county. In Hinds County, when any law-enforcement officer encounters a person she or he suspects is having a mental crisis, they call the mobile crisis team from Hinds Behavioral Health, the county's community mental-health center, to come to the scene.
Officers responding to calls or mobile crisis teams can now call a CIT-trained officer to help de-escalate the situation for a person in crisis, too. American Medical Response, the city and county emergency medic and ambulance provider, will be called to the scene to take the person to St. Dominic's Hospital to stabilize.
Merit Health Central agreed to provide overflow beds if needed.
In other words, Hinds County now has a flow chart and a single point of entry to coordinate mental-health care for those experiencing a crisis instead of that person spending a night or longer in jail when they need to be receiving care instead.
JPD Commander Herman Horton said Jackson has about eight CIT-trained officers and reminded the graduates of the oath they took as a part of the program.
"Bear in mind that when that phone rings, you're going to have to come because that's what you swore you would do when you graduated from this class," he said.
More Training Statewide
Attorney General Jim Hood is hoping training for law-enforcement officials expands statewide to prevent men and women with these issues from being incarcerated. He told the state mental-health task force last week that he wants for law-enforcement officers and professionals to get to know each other in communities.
"We're not only trying to de-escalate the situation but get law enforcement at those trainings (with) mental-health people ... so they can call once the situation is calmed down so they (people having crises) don't have to go to jail and cost the county or city money to house them, and they are put in a bed where they need to be," Hood said.
The problem for many Mississippians already charged with crimes who want to plead insanity or need mental evaluation is that only a handful of stabilization beds are available for them. The State has a 35-bed forensic unit at Mississippi State Hospital. Of those beds, 15 are used for men and women charged with crimes who need to be assessed for their competency to stand trial. The other 20 beds are for those Mississippians judges have deemed incompetent to stand trial. The building these people are held in is out of the last century.
"It's an antiquated facility with Yale locks on the doors," Hood said last week. "It's like you're walking back in the 1920s era. It's eerie."
Hood's experience echoes what psychiatrist Tom Recore told senators earlier this month when Sen. Hob Bryan, D-Amory, held a hearing about the state's forensic unit. Recore told the Senate Judiciary B Committee that the unit needs a new building, and the Mississippi Department of Mental Health is working on locating a new space or seeing how much it will cost to renovate the current building.
Sen. Briggs Hopson, R-Vicksburg, authored the Forensic Mental Health Act, which the Senate could consider next week. The legislation would allow more providers to examine men and women charged with crimes who need mental-health evaluations. Currently, few providers besides the forensic unit at Whitfield can provide the courts with mental assessments. This legislation would allow courts to contract with more providers, certified by DMH, in addition to ensuring men and women with those needs maintain their constitutional rights.
'Elephant in the Room'
The state mental health task force is working to find ways to standardize the system of mental health care from county to county, but Hood emphasized the difficulties the committee will face without funding. The U.S. Department of Justice sued Mississippi in 2016 for its over-reliance on institutions to treat people with mental illnesses instead of treating them in the community. The lawsuit is still ongoing, and if federal and state officials cannot reach an agreement soon, the case will go to trial in early 2019. Hood blamed the Legislature for underfunding DMH for the lawsuit.
"I did end up getting to that point of addressing the kind of elephant in the room with all of us here, and that is funding," Hood said. "I don't anticipate having it. They're not going to do it because some federal court order is going to do it, and I got to defend the state until we get to that point."
DMH has not asked for additional funding in fiscal-year 2019, however, and the department has said it will move $10 million of its funds to community-based services if the amount it receives is the same as last fiscal year. Whether or not the Legislature will fund DMH at the level DMH requested remains to be seen.
Email state reporter Arielle Dreher at [email protected].
More stories by this author
Support our reporting -- Follow the MFP.