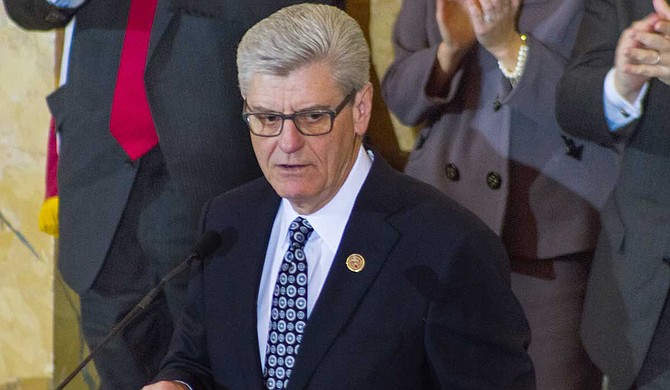 Leah Ferretti found out her son had dyslexia once a doctor diagnosed him with the condition. He had already been retained in kindergarten for a year at that point, and Ferretti asked the school district to offer him dyslexia therapy.
"We took that to our district with full faith that he was going to be given the right services. We took it to them, and guess what, (they said), 'We don't say that word. We don't say the 'd' word,'" Ferretti told the Senate Education Committee Jan. 9. "Do y'all know what the 'd' word is? Dyslexia."
Ferretti, an educator, decided to return to college to get her master's degree in dyslexia therapy after the school district refused to offer her son therapy. By then, she told senators, her son hated school and would try to come up with excuses to not go.
"A 6-year-old should not have a negative connotation of school. Every morning he would say, 'Mommy, my stomach hurts, don't make me go back there, can you home school me?'" Ferretti told lawmakers as she emotionally recounted her experience.
Once Ferretti had the dyslexia therapy training, she asked the school district if she could come in and give that therapy to her son. The district said no, and Ferretti opted to remove her son from the school district, sending him to a private school.
"We pulled him and put him in a private choice. We had to pay out of pocket on top of the (ad valorem) taxes we were already paying so that my child can get that customized education for him," she said. "Because I know what's best for my baby. I know what he needs: a school that allows me to come in and provide that therapy for him day-to-day."
Ferretti's son likely qualifies for a dyslexia therapy scholarship, which she did not know about at the time she removed him from public school. Last year, the Legislature expanded that voucher program to extend all the way through 12th grade. 
 The dyslexia therapy scholarship program is one of two active voucher programs in the state, which for now are limited to students with special education needs and dyslexia. The third voucher program offers speech-language therapy vouchers to students but the program is rarely used.
The Cleveland mother's story ended up being a plea for more options and access to needed services.
"I get mamas calling me every day crying. Crying because they can't get any help. ... They don't have any choice that they live in a ZIP code that doesn't provide that service or is willing to listen to their plea," she told senators.
"... I refuse to be told that 'you don't have a choice,'" she added.
The Push for Choices
Ferretti, along with representatives from EdChoice and the conservative Heritage Foundation, presented their support for "school choice" to senators in a Senate Education Committee meeting on Jan. 9.
EdChoice defines the vague phrase "school choice" as " allow(ing) public education funds to follow students to the schools or services that best fit their needs—whether that's to a public school, private school, charter school, home school or any other learning environment parents choose for their kids," its website shows.
The meeting foreshadows a potential fight this year in the statehouse over the expansion of vouchers in Mississippi, which means that lawmakers might allow more public funds to flow to private schools. Both Gov. Phil Bryant and Lt. Gov. Tate Reeves are vocal about support of various ways to give families ways to redirect their tax dollars into less-than-public education options. Supporters of allowing tax dollars to be used for education outside the public schools typically group the possible uses under the blanket phrase "school choice."
"I want to ask you again to expand 'school choice' for certain categories of children, offering special-needs scholarships to even more students," Bryant asked lawmakers in his State of the State address. "I continue to believe that parents should have the freedom to (use) their tax dollars to send their children to the school of their choice, not one decided by the government."
Lt. Gov. Tate Reeves told the Stennis Capitol Press Forum that he thinks public charter schools and education scholarship accounts (which are vouchers) are "better positioned now to be successful" in the Legislature. Reeves supports expanding ESAs, the state's highest-funded voucher program. ESAs are for students who have individualized education plans, called IEPs to receive special education in public schools. As long as a student has had an IEP in the last five years, they can qualify for an ESA.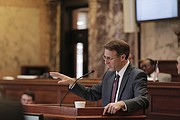 Sen. Gray Tollison, R-Oxford, plans to introduce legislation to expand the program because he believes a lot of Mississippi children are in communities across the state where the public-school system is not the best fit for them, he told reporters. He cites the state's special-education graduation rate (which was 34.7 percent in 2017) as one of the key factors in expanding the program.
The Oxford Republican—who switched from the Democratic Party in 2011—also points to poverty as a reason to expand the voucher program.
"What about a parent in poverty? They don't have the ability to go pay for a private school. Same thing here. A person of wealth can send their child to Jackson Prep or St. Andrews, they are making a choice, so it's no different than what a wealthy person can do with their wealth," he said.
Thirty states, including Mississippi and Washington, D.C., have implemented some sort of "school choice" measures, EdChoice's website states. Only six states, including Mississippi, have ESA vouchers.
Studies of voucher programs, even done by conservative-leaning groups, show that voucher programs that enable children to go from public to private schools has a detrimental impact on their academic performance, however.
The Education Research Alliance studied the Louisiana Scholarship Program, which enabled students to use public funds in private schools.
The Louisiana program is specifically designed for low-income students in the state, and roughly 87 percent of students with scholarships are black.
Researchers studied academic performance in math and English before the children switched schools due to vouchers and the two years afterward.
The results were shocking.
"Our estimates indicate that a ... scholarship user who was performing at roughly the 50th percentile at baseline fell 24 percentile points below their control group counterparts in math after one year and 8 percentile points below in reading," the research brief says.
The rest of the Education Research Alliance brief shows mixed results of the scholarship program for low-income students. While student academic performance in math fell, the researchers found that the program did reduce racial segregation. They also found no evidence that using vouchers improved "students' non-academic skills, such as conscientiousness."
Another study by the conservative-leaning Fordham Institute found that the Ohio EdChoice program meant students fared worse academically, too.
"The students who use vouchers to attend private schools have fared worse academically compared to their closely matched peers attending public schools. The study finds negative effects that are greater in math than in English language arts. Such impacts also appear to persist over time, suggesting that the results are not driven simply by the setbacks that typically accompany any change of school," the Fordham study says.
Tollison's bill would open up ESAs to more students and not just with special needs. "Priority will be given to special-needs students, and then if there are no special-needs students, then it will be students in poverty and then anybody beyond that," he said.
"My end goal is to allow a child the opportunity to get a good education, however that may be. There are other choices that many wealthy Mississippians take advantage of but poor folks can't because they don't have the resources."
Nearly 67,000 students statewide have IEPs, who receive special-education services from their school district. Even with more than $4 million directed to vouchers, the majority of students in the state continue to receive special-education services from public schools.
Funding for special education in the state is strained. In the efforts to re-write the Mississippi Adequate Education Program, lawmakers have expressed concerns about students in public schools struggling to get IEPs at all, let alone the services. The new education funding formula authored by House Speaker Philip Gunn, R-Clinton, proposes a new way to fund students with special education needs in tiers based on the severity of the need. IEPs will not go away under the proposal, however, because school districts must comply with federal laws and the Individuals with Disabilities in Education Act, called the IDEA Act, which requires them to provide tailored education for students with special education needs. They cannot always afford it, however.
Dyslexia Therapy Scholarships
Mississippi lawmakers authorized dyslexia therapy scholarships six years ago, and most recently expanded the program in 2017. Students in first through 12th grades are eligible for the vouchers, after the Legislature changed the grade levels in 2017, as long as they have been properly screened and diagnosed with dyslexia. Families can use the vouchers at six private schools statewide that the Mississippi Department of Education has approved.
While state law allows parents to move children with dyslexia diagnoses to different public-school districts, that school district has to accept the student, pending space and teaching resources available.
The Legislature appropriates $1.025 million to the dyslexia voucher program, which allows 209 students to attend the six private schools. The total scholarship per student is $4,909 based on the funding provided, less than most private school tuition, although schools like the Magnolia Speech School offer substantial scholarships to help families afford their services.
Last year, the Legislature authorized public-school districts to start screening kindergarteners and first graders for dyslexia, using MDE-approved tests. Robin Lemonis, director of student intervention services at MDE, said school districts can use two approved tests.
School districts are required to report dyslexia data this year. School districts must screen all first graders by mid-October and kindergarteners are supposed to be screened in late April. Districts will have to report how many students they screened, which test they used and how many students passed and failed.
There are not enough dyslexia therapists in the state to go around. Lemonis said there are 117 licensed therapists working in some capacity in the 148 public-school districts statewide.
"We have 117, but that doesn't mean that they are providing dyslexia therapy, they could just be in a classroom teaching a class (instead)," Lemonis told the JFP.
The six schools where students can use dyslexia vouchers are concentrated in certain pockets of the state. Magnolia Speech School and New Summit in Jackson, North New Summit in Greenwood, the 3-D School in Petal and Ocean Springs, and the Tide School in Hattiesburg.
Lemonis said Mississippi is now leading the country when it comes to dyslexia legislation, but noted that teachers need to receive additional training on teaching dyslexic students how to read in their college coursework.
"One of the areas we feel like we need additional support with ... in education programs, there needs to be an introduction to dyslexia because when you talk bout teaching reading, kids with dyslexia are the most difficult to teach reading," Lemonis said. "And it's important that they (teachers) learn that structure with the lessons of it before they are in the classroom."
MDE also gives grants to school districts to run their own dyslexia pilot programs. Seven districts have pilot programs, due to limited funds from the Legislature.
Sen. David Jordan, D-Greenwood, who listened to Ferretti's story in the education committee, pointed out that the public-school districts need to find and train dyslexia therapists in the state.
"Those schools or teachers in special education may not understand, so you can't be too hard on the school systems until you get the teachers trained for this genetic (dis)order, and that's what's been the (biggest) problem," Jordan said.
Education Scholarship Accounts
Education scholarship accounts are much larger and broader than the state's dyslexia voucher program.
Unlike the dyslexia vouchers, parents can use ESAs on any nonpublic school as long as it is accredited by a regional accrediting authority or by MDE. MDE must certify nonpublic schools where parents use dyslexia scholarships, but if parents receive ESAs, the list gets much longer. Students must withdraw from their public school to receive services, but the voucher may not cover the full cost of tuition at a private school. So far, families have used ESA vouchers at 88 schools this school year.
The Legislature approved $3 million for the program most recently, which amounts to about $6,494 per student. This is the third year of the program, and it has grown significantly since the Legislature changed the rules.
There are 404 active ESA accounts, with about 322 families that have asked for reimbursements so far this school year, Gretchen Cagle, state director of special education at MDE, said.
The department has reached out to the other 82 of those families to determine if they plan to use the scholarships at all.
MDE has not used all $3 million for ESA vouchers in past years, and so far, this year, it looks like they will not either.
Currently, MDE has appropriated out about $971,000, which Cagle said could be considered a halfway mark. Even doubled, that leave more than $1 million sitting in unused voucher funds.
"That still leaves about $1 million that we've got to figure out will the program end up using and that depends on the parents and what they request for reimbursement," Cagle told the Jackson Free Press.
The ESA program is set so that once a student is enrolled, they get to stay in the program until they opt out or graduate. Cagle said the initial legislation planned to increase funding in order to add more participants, but the increase never happened.
Families can use ESA funds on textbooks, curriculum, computers, tutoring or therapeutic services or transportation, among other things. The current law states that any child who has had an IEP in the last five years is eligible for the program, this potentially includes students already in private schools, although MDE does not track this statistic directly.
"(Initially, students) had to have an active IEP within the last 18 months, and we didn't have as many applicants, but when they expanded it to five years, we had a huge increase in the number of applicants," Cagle told the Jackson Free Press. "So I would say, you have a lot of people coming (into the ESA program) who are already in private schools, just based on that."
Last year in debates, Senate Democrats repeatedly made the point that public schools struggle to hire the appropriate teachers or have the resources to pay for special education because the state has underfunded schools for so long by not fully-funding the Mississippi Adequate Education Program. The state is still in the throes of a major teacher crisis, and Cagle said a lot of teachers coming from alternate-route programs, meaning they did not get a four-year education degree to teach but got to teaching another way, are not prepared to teach special education courses.
"We get a proportionately higher share that are coming through alternate-route programs," she said. "I hear from our deans and chairs in IHL that they're struggling to stay open because there's just not the traditional students who are wanting to go into special education."
Lots of school districts have to implement professional development for teachers to teach special education courses, instead, Cagle said.
Selling Choice
EdChoice CEO Robert Enlow said he was invited to speak to the Senate Education Committee, but his presentation sounded like a sales pitch for the vaguely named "school choice" umbrella. Enlow showed senators research that says parent involvement in their students' education went up drastically as a result of "school choice." He also showed parent research on programs from the state of Indiana.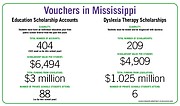 "Parents that get to choose are dramatically more satisfied than they were before," Enlow said. He also noted that once "school choice" is in a state, it grows.
"What you will find is that once states pass more choice for families, whether it's public or nonpublic or charter, they want more," he said.
No organization or group spoke to senators about the potential challenges of vouchers or expanding "school choice" at the Jan. 9 meeting.
Nancy Loome, with the Parents' Campaign, says vouchers are a way to privatize education, while subsidizing private schools. She said private schools are not required to accept students with vouchers, which might account for funds leftover in the ESA program in past years. Loome said those funds could go to public schools to pay for special education there instead.
"For the current year, special education funding in Mississippi public schools is underfunded by $26.5 million," she said.
Special-education funds are an add-on component of MAEP (which has been fully funded twice in its existence), and Loome said those funds cover the costs of special education teachers, not resources.
Vouchers in the Legislature are a largely partisan issue. The expansion of dyslexia therapy scholarships passed predominantly due to the Republican supermajority in 2017, with most Democrats in the Senate and House voting against the expansion.
Sen. Tollison's voucher legislation was not on the Legislature's website by press time, but Sen. Michael Watson, R-Pascagoula, has introduced two "scholarship" account programs this session. On the House side, Rep. Dana Criswell, R-Olive Branch, has introduced legislation to expand the dyslexia vouchers even more, allowing students to use them not only at a state-accredited private school but any regionally or accredited private school as well.
Rep. Jarvis Dortch, D-Raymond, who is on the House Education Committee, said questions the capacity of private schools to provide services outside of metropolitan areas like Jackson.
"A voucher to go where? Where am I going to go?" he said, emphasizing how rural Mississippi is.
"There's nothing that says that Jackson Academy is going to take me if I have a voucher, or Jackson Prep or Hillcrest (Christian School)... some of these private schools are not necessarily better than public schools," Dortch added.
Email state reporter Arielle Dreher at [email protected]. Follow her for breaking state tweets at @arielle_amara.
More stories by this author
Support our reporting -- Follow the MFP.