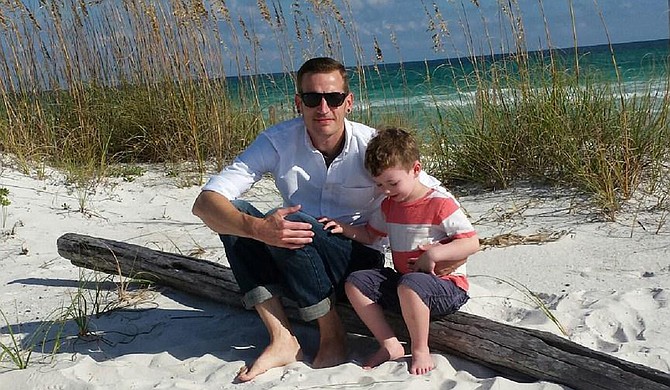 Ian Buckhalter will start first grade in a few weeks. His father, Josh Buckhalter, had him tested and diagnosed earlier this year: Ian has high-functioning autism. Buckhalter, who lives in Byram, wanted to have his son tested so they could get started on an Individualized Education Program, or IEP, that enables students with special-education needs to get extra help from public schools. Ian will attend Gary Road Elementary School.
"We decided we would give (public school) a shot, and if that doesn't work, we will begin to look at our other options," his father said.
One of those options could be the Education Scholarship Account or ESA program, which takes effect this coming school year. The Mississippi Legislature created the program with its Special Needs Act last session. An ESA is essentially a $6,500 voucher offered to families with children who require special education to take their child out of public school, using the funds to pay for a private education.
Ian would not have qualified for this year's application cycle, however, because students need to have an IEP to apply. Buckhalter said he and his wife would seriously consider the ESA program, pending the affordability of some private institutions that Ian could attend.
The state is still accepting applications for the voucher program from families who have established education plans. The application period began July 1, but as of July 14 only 261 families had applied.
Of those applications, only 178 applications are still eligible for the funding.
Open enrollment will continue through July because the halfway mark has not been reached.
Doing the Math
A fundamental problem with the ESA program is that $6,500 (the actual amount could be as low as $6,100 after administrative costs are taken out) is just not enough money to fund most kids who have special-education needs.
Families are beginning to weigh the options of joining the program—but access to services and funding are primary factors.
The $6,500 is barely enough to cover tuition at a private school, let alone books or additional counseling expenses.
A family like Buckhalter's will have to start from the beginning and see if they can draft an IEP with their school district that provides the therapy and services that their son needs, based on his diagnosis.
Buckhalter said a school such as Hillcrest Christian School in Jackson might work for their family, but tuition starts at $5,640 for elementary school students—not including additional fees for textbooks or registration. Such tuition rates would force Buckhalter and his wife to pay out of pocket for additional counseling and therapy their son needed if the private school couldn't provide it.
"We don't want to pigeonhole our son," Buckhalter said. "He needs occupational and speech therapy, but that's expensive if you're not getting it through the public-school system."
Buckhalter said he also heard that getting funding through school districts for additional services, like therapy for Ian, can be challenging.
While Buckhalter said he is grateful that any funding is going to special education at all, this voucher seems to skip over the population that might need it the most.
"Sixty-five hundred dollars will go a long way, but it doesn't go the whole way," he said. "It's not enough for somebody who can't afford private school (to begin with)."
The Public School Situation
Stacey Billger is a special-education teacher at Eastside Elementary School in the Clinton School District. She works with parents on IEPs, and said that communication is the key to helping special-education students succeed.
"(Parents) are encouraged to communicate with me as a teacher and are welcome to talk to administrators and meet and talk about what can we do to revise the IEP," she said.
With an IEP, a student should have access to all the services needed in the public-school system, and if the school district cannot provide those services, they must pay for the child to access them in other ways. That's how Randy Smith's daughter, Flannery, is attending New Summit School, a private school with a price tag starting anywhere from $8,760 to $7,296 depending on the child's needs.
Flannery's case is unique—and Smith is the first to admit that. It took Smith a year to negotiate with Jackson Public Schools in order to get the right services and educational resources for his daughter. In the end, JPS had to pay to send Flannery to New Summit because it could not provide the services her IEP indicated that she needs. Still, Smith says he would not have taken the voucher if it had been available before their IEP fight.
"If they're going to give you six thousand dollars because they can't educate your child, you still shouldn't have to sign away your rights to a free and appropriate public education because that's a federal right you have," Smith said.
Where Legislation Meets Policy
Even though the deadline for ESA applications was July 10, the department will continue to take applications, said Valecia Davis, an education program coordinator on the Special Education staff of the Mississippi Department of Education. The state is obligated to respond to an application within 21 days. With school starting in the beginning of August, parents interested in ESAs for the coming school year are going to need to apply soon.
Davis said families are allowed to change their minds at any point during the ESA program enrollment process.
"They can withdraw at any time if they are accepted," Davis said.
Critics of the program fear the wording of the legislation, Senate Bill 2695, that passed in the last legislative session. The kicker for the ESA program was in its ability to move students from the public- to private-education sector.
The bill requires the parent to sign an agreement promising "not to enroll their participating student in a public school and to acknowledge as part of the agreement that the home school district has provided clear notice to the parent that the participating student has no individual entitlement to a free appropriate public education (FAPE) from their home school district, including special education and related services, for as long as the student is participating in the program."
Forfeiting the individual entitlement to FAPE means that by taking the voucher, a family is foregoing the funding an IEP is supposed to provide families in public schools.
When asked if a family could go back to their public school if they decide to withdraw after receiving an allowance, Davis said, "They can withdraw at any time and return to public school."
Buckhalter is interested in looking at an ESA once his son gets his IEP, but so far, his research has been less than comprehensive.
"Hopefully, there will be somebody that can give us a clearer understanding on it (the ESA program) and put that out in black and white instead of it being all these gray areas," Buckhalter said.
Support our reporting -- Follow the MFP.