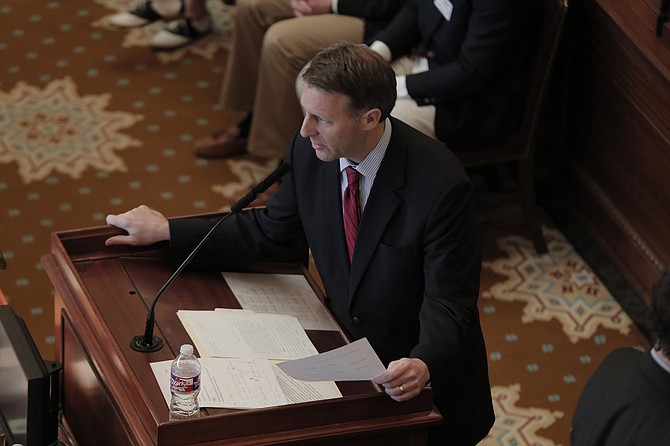 JACKSON — House Bill 1046 expands vouchers or scholarships, depending on whom you ask in the statehouse. Either way, the legislation advanced late on Wednesday night after more than two hours of debate.
The bill expands the state's current dyslexia scholarship program, which currently grants students who already have Individualized Education Plans and have been diagnosed with dyslexia close to $5,000 to attend another school if their current district cannot accommodate them with the services they need. The current state law only applies to kids through sixth grade.
House Bill 1046 would expand the age group, allowing students in grades one through 12 to apply for a voucher, as well as allowing them to take those funds out of state to use at accredited private schools if their school district does not provide services or they cannot get necessary services within 30 miles of their home.
Senators from both sides of the political aisle questioned whether this was the appropriate route to help students in the state get access to more services.
Sen. Hob Bryan, D-Amory, pointed out that some school districts haven't been able to hire their own dyslexia therapists because they don't have the funding to do so.
"The argument is made that there's money available to hire teachers if the districts would just do that, (but) it takes money to get a highly trained special-education teacher," Bryan said. "It takes money to employ teachers that the districts need, and, no, they don't have enough money."
Sen. Gray Tollison, R-Oxford, who handled the bill, said that most research shows that on average it takes three years to correct dyslexia with the proper therapy. He also pointed out that most private schools that offer services have tuition fees much higher than the voucher.
"All we're trying to do is get that child before a dyslexia therapist, and then get them back into a classroom," Tollison said.
Current state law says that the scholarship provides "the option to attend a public school other than the one to which assigned, or to provide a scholarship to a non-public school of choice."
Senators pointed out that if private schools do cost more than the voucher, the legislation creates a potential access problem—enabling only wealthy parents to use the voucher on private schools.
"Does that not create an uneven playing field?" Sen. Bill Stone, D-Holly Springs, asked Tollison.
Tollison pointed out another part of his amendment to the bill would require each school district to screen students between kindergarten and first grade for dyslexia, using a "screener approved by the State Board of Education." Catching students earlier would help the state find the 10 to 15 percent of the student population that statistics show are dyslexic, Tollison said, many of whom school districts don't know about.
The bill passed by a vote of 30-19 close to 10 p.m., just hours before the bill deadline on Wednesday night. It has a reverse-repealer in it, meaning that it will have to go to a conference to be worked out before and thenit will come back to both chambers for a vote before it becomes law.
Email state reporter Arielle Dreher at [email protected].
More stories by this author
Support our reporting -- Follow the MFP.