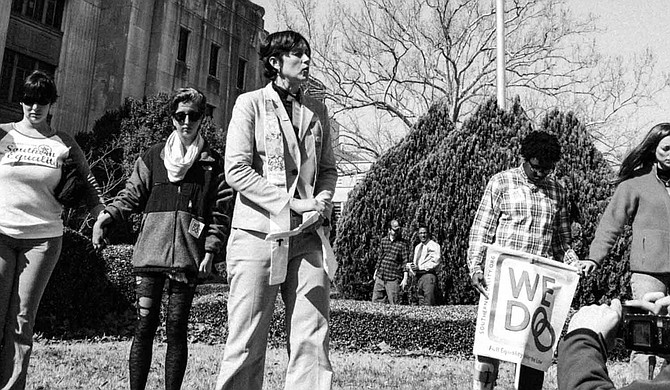 JACKSON — The Campaign for Southern Equality launched a survey on Wednesday, Aug. 22, that aims to help improve health-care access for LGBT southerners.
"The survey will help provide a better understanding of the experience of LGBTQ people living in the South related to their health and their access to healthcare," CSE Executive Director Jasmine Beach-Ferrara said in a press release.
The survey is part of the Southern LGBTQ Health Initiative, a joint collaboration between CSE and Western North Carolina Community Health Services.
"We hear a lot of stories about the challenges folks experience trying to access LGBTQ-friendly health care in their hometowns across the South," Beach-Ferrara wrote. "But there is very little actual data about LGBTQ Southerners and health care. We're working to change that through our new survey."
Accurate information, Beach-Ferrara wrote, "is a powerful tool in advocating for change."
CSE data show that by Wednesday morning nearly 1,800 LGBT southerners had already completed the survey.
In addition to an English version, CSE also launched a Spanish version of the survey.
LGBT individuals over 18 are eligible to take the survey if they live in Alabama, Arkansas, Florida, Georgia, Kentucky, Louisiana, Mississippi, North Carolina, South Carolina, Tennessee, Texas, West Virginia or Virginia.
An August 2017 report from University of Mississippi Medical Center found that gay men in Mississippi have limited access to healthcare and that the Jackson metro area has the fourth highest rate of HIV diagnoses per 100,000 residents among the nation's metropolitan areas. CSE's survey asks respondents about their HIV status, knowledge of treatment and prevention options, and whether they have access to local resources. The 2017 report found that LGBT men are often uncomfortable going to the doctor—a topic also addressed in the CSE survey.
UMMC offers some specialized healthcare options for LGBT people through its LGBTQ Health Program, which it describes as providing "an affirming environment for members of the LGBTQ community to seek culturally competent psychiatric care." It also serves as a training clinic for medical students "providing evidence-based teaching to promote cultural competence in LGBTQ health."
CSE is based in Asheville, N.C., and has advocated for LGBT rights in the South since it launched in 2011. In 2015, CSE took part in a lawsuit that struck down Mississippi's ban on adoptions by same-sex couples.
During the fight for marriage rights for same-sex couples, more than 200 same-sex couples joined CSE's "We Do Campaign" in direct-action protests, in which they applied for marriage licenses at courthouses across the South, including the Hinds County Courthouse in Jackson. Though the applications were rejected because same-sex marriage was illegal at the time, the protests drew national attention to the fight for equal marriage rights in the South.
Email Ashton Pittman at [email protected] and read related coverage at jacksonfreepress.com/lgbt and jacksonfreepress.com/hb1523.
Support our reporting -- Follow the MFP.