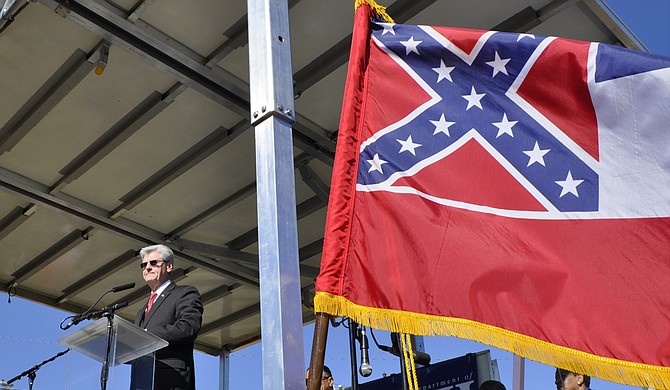 JACKSON — Offending black citizens is not enough to block the Mississippi flag, attorneys for Gov. Phil Bryant argued to the U.S. Supreme Court this week; they must instead show that the flag caused discrimination in order for a court to declare it unconstitutional. The governor's lawyers said the case failed to meet the same discriminatory test that same-sex marriage bans had done before the U.S. Supreme Court struck them down.
A legal team from Attorney General Jim Hood's office filed a brief this week to push back on attorney Carlos Moore's petition for the nation's highest court to hear his case against the Mississippi flag. Bryant's lawyers argue that while the state flag might offend Moore, who is African American, offense alone is not alone to create standing—he must prove that he was discriminated against.
"Standing" is a legal term for the need for a party to prove to a court that he or she was strongly connected to or harmed by the law or action to participate as a plaintiff.
"Petitioner alleges that he personally and deeply is offended by Mississippi's state flag—and the sincerity of those beliefs is not doubted," the brief filed on Oct. 18 says. "But ... standing analysis is not satisfied without an attendant allegation of discriminatory treatment. And standing does not vacillate based on the perceived importance of the claims presented."
Attorneys representing Moore asked the Supreme Court to address the interaction between state-sanctioned speech and the Equal Protection Clause of the 14th Amendment to the U.S. Constitution.
"Mississippi's state flag is alleged to be a state-sponsored endorsement of white supremacy, and the state's continual broadcasting of that message to its citizens cannot rationally be viewed as immune from scrutiny under the Equal Protection Clause," Moore's petition to the U.S. Supreme Court says. "The interaction between the government speech doctrine and the Equal Protection Clause is too important for the Court to allow the unprincipled and anomalous decision below to stand."
Lawyers for the governor, however, say that stigma is not enough to bring an Equal Protection Clause challenge.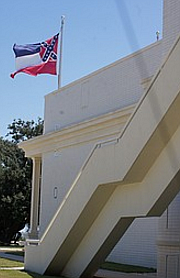 The Mississippi Sons of Confederate Veterans are fighting hard to keep the state flag to honor the Confederacy. Others are fighting back.
"Thus, while all courts have recognized stigmatic harm, the question presented by Petitioner is whether the Constitution permits plaintiffs to pursue an equal protection challenge based exclusively on stigma without any actual denial of equal treatment. This Court has long said 'no,'" Bryant's brief says.
In their petition, Moore's attorneys used the landmark Brown v. Board of Education decision, which demanded the integration of public schools, and Obergefell v. Hodges, which legalized same-sex marriage nationally, as support for his standing and right to equal dignity under the law.
"The landmark decision of Brown v. Board of Education emphasized by Petitioner ... says nothing about Article III standing—and for good reason. In Brown, there was no question about the actual denial of equal treatment," Bryant's brief says. "Each plaintiff in Brown was denied admission into white schools, causing real and concrete harm."
Similarly, Moore's attorneys argue that the Obergefell "equal dignity" argument does not work in the Mississippi attorney's challenge.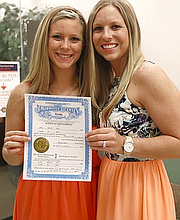 Read the JFP's award-winning coverage of the tough fight for LGBT rights in Mississippi.
"The case of Obergefell v. Hodges, emphasized by the amici and by Petitioner in the lower court, is similarly far afield. While no doubt a momentous decision, Obergefell involved a legal right guaranteed by the Fourteenth Amendment— specifically the right to marry," Gov. Bryant's brief says.
"Thus, in Obergefell, a litigant's rights had been infringed upon because they were actually treated differently than others. Petitioner here has alleged no analogous legal right or discriminatory treatment. Because of this—and as the district court put it—Petitioner's argument seeks to 'contort' Obergefell 'beyond recognition.'"
Bryant signed House Bill 1523 and appealed the lower court's decision to block the law to the 5th U.S. Circuit Court of Appeals. HB 1523 seeks to protect government employees who refuse to issue licenses for same-sex marriages, among other things, that go against their sincerely held religious beliefs or moral conviction that marriage should be between one man and one woman. Plaintiffs in the case against House Bill 1523 are also appealing to the U.S. Supreme Court.
Moore's attorneys will file a reply brief by Oct. 30. 
Email state reporter Arielle Dreher at [email protected]. Read award-winning coverage of the state flag debate at jfp.ms/slavery and LGBT rights at jfp.ms/lgbt.
More stories by this author
Support our reporting -- Follow the MFP.