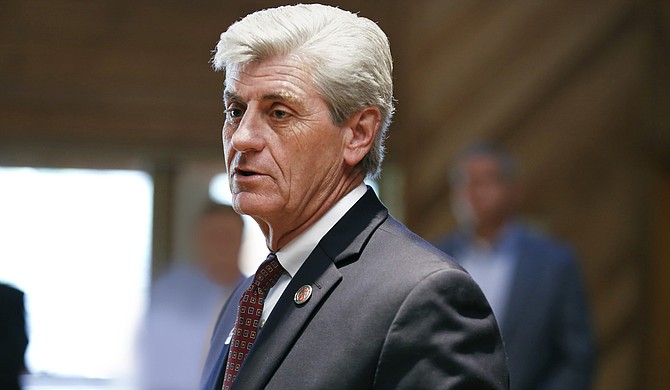 A black Mississippi lawyer is suing Gov. Phil Bryant for flying the state flag, which he says is unconstitutional and causes racial violence. Carlos Moore, a lawyer based in Grenada, filed the suit that says flying the Mississippi state flag on state and public property is tantamount to hateful government speech against himself and African American residents of Mississippi's rights.
Moore believes that his constitutional rights have been violated--along with all African American citizens of the state--because the current state flag contains a Confederate emblem "with a racial discriminatory purpose to subjugate African-Americans to second class status and promote the notion of white supremacy."
The lawsuit was filed in the Southern Mississippi U.S. District Court, and Moore said that he used some of the same language from the Obergefell v. Hodges case, which the U.S. Supreme Court solidified last June to legalize same-sex marriage nationally. Moore's lawsuit claims that the Mississippi state flag, with the Confederate battle flag in its canton, violates the Equal Protection Clause of the 14th Amendment of the U.S. Constitution.
"That (Obergefell v. Hodges) is the law of the land, and if it applies to same-sex couples, and they've got the right to be respected; surely African Americans have the right to be respected too," Moore said in an interview today.
Hoping that one of the 12 bills filed this session to change the state flag would go through, Moore had held off on submitting his lawsuit. Last week, however, all flag bills died in committee, and the Jackson Free Press reported that Gov. Bryant had declared April "Confederate Heritage Month" during Black History Month--for Moore, that was enough.
"That was the straw that broke the camel's back. I could not wait another day to file this lawsuit," he told the Jackson Free Press earlier today.
Other states have dealt with lawsuits regarding their state flags, and some have not been successful. Moore researched the failed 1990s-era lawsuit in a Georgia county court to change that state flag, in order to avoid the same legal mistakes.
"The plaintiff, an African American in that case, did not point out specific instances where the state flag was the cause of racial violence or disparate treatment of African Americans," Moore said.
Moore said he avoided this mistake in his own lawsuit and mentions the mass killing of nine African Americans in South Carolina as well as instances specifically in Mississippi, including a man who had photographed himself wrapped in the state flag before bombing a Wal-Mart store that stopped selling Confederate merchandise last November. Moore points out that even neighbor states like Alabama have taken the Confederate flag down from their Capitol following the South Carolina mass shooting last year.
"All the other southern states have seen the light--Mississippi can't seem to get it, but we're trying to help them see and understand that that's not acceptable," Moore said. "No civil rights have been advanced in Mississippi without federal intervention, so we expect the federal government to protect us in this instance."
Email reporter Arielle Dreher at [email protected] Read more coverage of the Mississippi flag, the Confederacy and the Civil War at jfp.ms/slavery.
More stories by this author
Like independent media outlets around the world, the Jackson Free Press works hard to produce important content on a limited budget. We'd love your help! Become a JFP VIP member today and/or donate to our journalism fund. Thanks for considering a JFP VIP membership or one-time support.