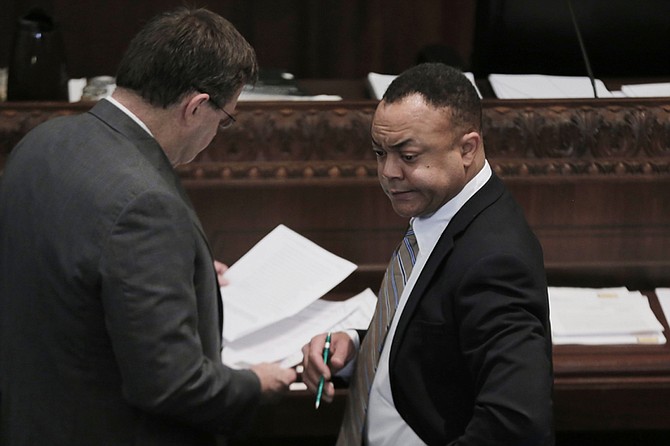 JACKSON — Mississippi Attorney General Jim Hood's office says Hinds County District Attorney Robert Shuler Smith is "mistaken" about claims that the attorney general "exceeded the scope of his authority" by prosecuting Smith in Rankin County when the district attorney there did not explicitly ask for their assistance.
Hood's office issued a response Tuesday to Smith's appeal to the Mississippi Supreme Court asking to vacate his charges for abusing a former girlfriend before his trial starts in Rankin County later this month, saying the trial would damage his reputation.
"To be clear, Smith attempts to argue that the district attorney's decision to consent to his prosecution by the Attorney General's office is violative of this Court's precedent as announced in Williams v. State," the attorney general's response reads. "Again, he is mistaken."
On Friday, Smith's legal defense filed a petition for interlocutory appeal—an appeal that takes place while a case is still active—drawing heavily from a 2014 Mississippi Supreme Court case, Williams v. State, which involved Smith.
Smith maintains that attorney generals need explicit permission from district attorneys when prosecuting cases in their jurisdiction based on the ruling in that case.
In the Williams case, notably handled by Smith in his capacity as Hinds County district attorney, Smith was asked to recuse himself so that the attorney general's office could prosecute Williams in an appeal because attorneys in the AG's office had originally handled his case when they worked as assistants to former Hinds County District Attorney Faye Peterson. Smith opposed the State handling the matter because he had previously issued an order of "nolle prosequi" not to re-try Williams.
However, Hood's office believes that the Williams case is "clearly distinguishable" from Smith's because Rankin County District Attorney Michael Guest had made it clear to the court that he is not opposed to the attorney general's office prosecuting.
Guest testified in Smith's dismissal hearing in Rankin County Circuit Court Judge John Emfinger's courtroom on Oct. 2 that his working policy is to have the attorney general's office bring forth cases in his jurisdiction even without his prior consent.
"It is common practice for the attorney general's office to bring cases in this district without requesting permission or seeking approval," Guest said in the Oct. 2 hearing. "But, no, I did not request, nor did I approve them going forward. But, that is, unless it is a conflict that our office has, the AG's office routinely brings those cases without contact with the DA's office."
Guest estimated that "90-plus percent" of cases that Attorney General Jim Hood's office prosecutes in his jurisdiction happen without his office's request or consent, but Guest defended this policy based on the attorney general's office's statutory right to prosecute felonies in his district.
This is not the first time Smith has tried to exert Williams v. State as a way to reduce the attorney general's power in certain cases. In March 2016, Smith showed up to a preliminary hearing for Christopher Butler to defend Williams v. State where he continued a pattern of asserting overreach by Hood's office.
The attorney general's office prosecuted Butler after Smith recused himself from prosecuting his case in Hinds County and later indicted Smith for actively helping Butler avoid prosecution. In that March 2016 hearing, Smith maintained that the Williams v. State case established that the attorney general's office knew "not to intervene in Hinds County cases," asserting that Hood does not have the jurisdiction to prosecute in Hinds County without Smith signing off on it first.
Williams v. State did not prevail in that instance, and Butler was ultimately sentenced to prison for 30 years without parole, although Smith was acquitted for trying to keep Butler out of jail in his second trial this summer. The first one ended in a mistrial.
If Smith's current trial goes forward, its earliest start date would be Oct. 31.
Editor's note: The JFP originally reported erroneously on Tuesday that the Mississippi Supreme Court had ruled against Smith's petition. We apologize for the error.
Email reporter Ko Bragg at [email protected]. Read more on cases against District Attorney Robert Shuler Smith at jfp.ms/dafiles.
Support our reporting -- Follow the MFP.