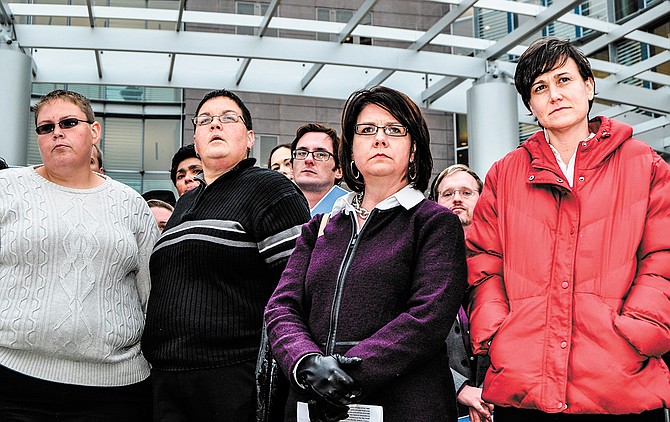 JACKSON — U.S. District Judge Carlton Reeves wasted no time in reviving the original case that sought to legalize same-sex marriage in Mississippi, after the 5th U.S. Circuit Court of Appeals denied a full panel hearing in the case against House Bill 1523 last week.
Reeves, also the judge who blocked HB 1523 from becoming law in another case, had issued a stay in the same-sex marriage case, pending what the 5th U.S. Circuit Court of Appeals decided to do.
Late last week, the 5th Circuit said it will not hear the House Bill 1523 case before a full panel of judges, and the law is set to take effect Friday. Accordingly, Judge Reeves revived the CSE v. Bryant case on Monday, setting up a telephone conference for later this month with attorneys.
Document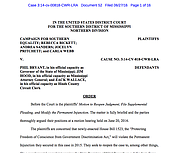 Back in the spring of 2016, when lawyers scrambled to file lawsuits against the newly signed "Protecting Freedom of Conscience from Government Discrimination Act," New York attorney Roberta Kaplan asked Reeves to consider re-opening her first case filed in Mississippi federal court: Campaign for Southern Equality v. Bryant. That case sought to legalize same-sex marriage and have the state recognize out-of-state same-sex marriages in Mississippi.
Reeves agreed to re-open the case due to HB 1523, under a limited scope.
House Bill 1523 contains a section that says circuit clerks, registers of deeds or their deputies, "may seek recusal from authorizing or licensing lawful marriages based upon or in a manner consistent with a sincerely held religious belief or moral conviction" that marriage is between a man and woman; sexual relations should be reserved for such a marriage; and that "male" and "female" refer to a person's immutable biological sex determined at birth.
Reeves wrote in his June 2016 order that the portion of HB 1523 that allows a clerk or officer of the state to recuse themselves from issuing marriage licenses to same-sex couples "significantly changes the landscape of Mississippi's marriage licensing laws." He reopened the case accordingly.
Lawyers representing the state argued that the legislation is legal because it says that "[t]he person who is recusing himself or herself shall take all necessary steps to ensure that the authorization and licensing of any legally valid marriage is not impeded or delayed as a result of any recusal."
Document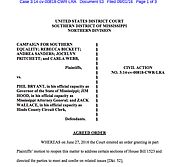 Reeves questioned that argument and allowed the case to be re-opened to amend the permanent injunction agreed to in July 2015 when the decision in the Obergefell v. Hodges case in the U.S. Supreme Court legalized same-sex marriage nationwide.
"(In House Bill 1523) the State is permitting the differential treatment to be carried out by individual clerks. A statewide policy has been 'pushed down' to an individual-level policy," Reeves wrote. "But the alleged constitutional infirmity is the same. The question remains whether the Fourteenth Amendment requires marriage licenses to be granted (and out-of-state marriage licenses to be recognized) to same-sex couples on identical terms as they are to opposite-sex couples."
Attorneys representing Barber v. Bryant plaintiffs in the case against House Bill 1523 plan to ask the 5th Circuit this week to issue a stay, keeping the legislation from becoming state law while they petition to the U.S. Supreme Court.
Read more about HB1523 and its journey from the statehouse to the courthouse at jfp.ms/hb1523. Email state reporter Arielle Dreher at [email protected].
More stories by this author