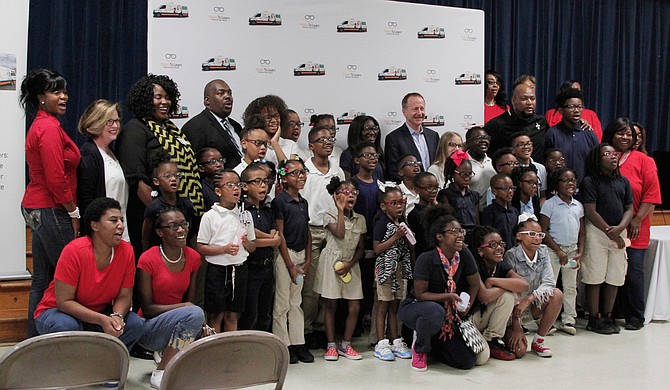 JACKSON — A group of elementary students sat in the Timberlawn Elementary auditorium, waiting for their names to be called. Their principal, Dr. Jamellah Johnson, stood up front next to a table covered with glasses cases. One by one, she called each student's name. In a sort of mock-graduation ceremony, Interim Superintendent Freddrick Murray and Austin Beutner, the founder of Vision to Learn, placed pairs of glasses on students' faces. The children had picked out the frames themselves.
Vision to Learn, a Los Angeles-based foundation that aims to screen all children for eyesight problems, has partnered with Jackson Public Schools to screen nearly 27,000 students in the district. Timberlawn Elementary School was its first stop in JPS.
On May 16, Beutner said 243 or almost two-thirds of the 388 students screened at Timberlawn needed additional eye testing.
"The data is clear—if a student can't see and that barrier is there, they will not be successful, so we appreciate Vision to Learn for removing one of the many barriers we have," Murray said last week.
Beutner said one in five students typically has a vision challenge. Principal Johnson said she expects that the glasses will have a major impact on student performance. Poor vision can also help explain some students' behavior problems, who might be acting out because they can't see to understand in the classroom, she said.
Glasses could also mean the difference in getting to fourth grade or being held back in the third for some students.
Failing Without Sight
The Mississippi Optometric Association offers eye exams at no cost to third graders who failed the third-grade gate reading test through July 31. 
 Linda Ross, the executive director of the association, said kids struggling with vision issues is very common but difficult to draw attention to.
"There are so many children struggling educationally, and for many of them it's an undetected vision problem—if we can get children seen earlier (by optometrists), I know it can change the trajectory of children's learning experiences," Ross told the Jackson Free Press.
Last year, 13 percent of third graders statewide failed the Third Grade Gate. In 2015 when MOA offered eye exams for third graders who failed, 88 percent of those children they tested did have a vision problem. In short, vision impairment may have been at least partially at fault for children failing the test.
Third graders who failed the test this spring can re-take the test after summer school in July and then again in August to be promoted up to fourth grade. Children who failed the test are eligible for a no-cost eye exam at more than 160 optometrists around the state (the full list is at 
msvisionfoundation.org). Children covered by Medicaid can receive eye-exam screenings as well as children without insurance for no cost.
Ross said her organization is pushing for children to have eye exams before they even start school, so they do not go through three or four grades before a teacher or an administrator catches it.
Improving on the Gate
Mississippi third graders improved on this year's third-grade gate from the past two years. Data from the Mississippi Department of Education show that 92 percent of third graders in the state passed and will advance to the fourth grade in fall. JPS third graders improved immensely on their third-grade gate test this year, too.
Dr. Margaret Wallace told the JPS School Board on May 16 that the district has individual reading plans for all third graders who are struggling with reading leading up to the test in the spring. She told the JPS School Board of Trustees that more than 88 percent of third graders in JPS passed the reading test the first time, and students who re-tested last week bumped that number up to 91 percent.
Students who failed the exam will get meetings with interventionists, Wallace said. "We are planning summer school for these students using data to design an individual program," she told the school board last week.
At Timberlawn Elementary last week, former New Orleans Saints running back and Mississippi native Deuce McAllister told the students he was proud of them, hugging the shy ones who did not want their picture taken in their new glasses.
"This is probably one of the missing pieces that a lot of people don't even think about, and you wonder why some kids may act out—they're not acting out, they just don't understand," McAllister said.
Email state reporter Arielle Dreher at [email protected] and follow her on Twitter at @arielle_amara.
More stories by this author
Support our reporting -- Follow the MFP.