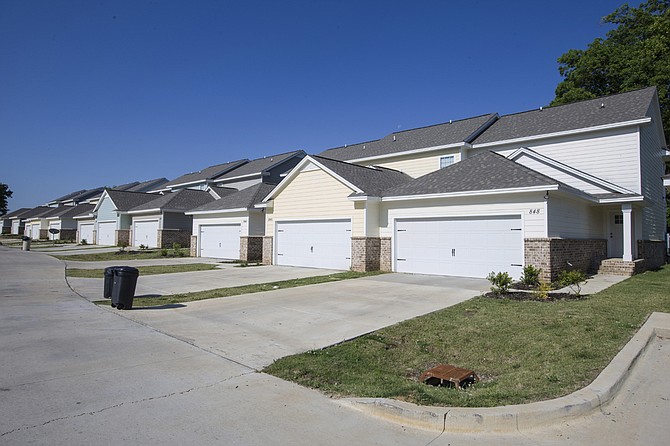 JACKSON — Clusters of affordable housing units line the blocks directly west of Greenwood Cemetery, in the heart of the Farish Street Historic District. Their Easter-egg hues stand out starkly in contrast to a few burnt-out and blighted homes and vacant lots around them.
One row of units off Monument Street, though, look like a movie scene of suburbia, with houses facing inward on a single lane lined with sidewalks. On a Wednesday morning, it is silent in the neighborhood. The community center, which sits at the entrance to this row of homes, is glaringly white and pristine.
The community, called Helm Place, is an 88-home affordable housing development enabled by a tax credit program and federal funding. The name "Helm Place" comes from Mount Helm Baptist Church, the oldest African American church in Jackson, which is also in the Farish Street Historic District.
Chartre Consulting Ltd., an Oxford, Miss.-based developer, built the property using a tax-credit program, and the group received two awards, one national, for the development in 2016.
On May 10, Gov. Phil Bryant visited the community center at Helm Place to congratulate Chartre owner Clarence Chapman and his team. The room, although not full, did not reflect the demographics of the community that lives there. Helm Place is a predominantly African American neighborhood; most of the developers taking photos with the governor were white.
Bryant called Helm Place a "cycle-breaking opportunity" for the 88 families that live there. "[W]e began the process of building this great community back. I think you've seen the award-winning homes, sidewalks that children can play on (in) hopefully a safer, nurturing environment now for this community that is a model," he said.
The development got the approval of not just Bryant but also now-deceased Mayor Chokwe Lumumba back in 2014, something that Rev. CJ Rhodes, who pastors Mount Helm, said helped convince him to support the project initially. It was not often that Lumumba and Bryant agreed, Rhodes said. "In fact, they were both at the church when we did the big dedication—they were both sitting next to each other," Rhodes told the Jackson Free Press.
The Tax Credit Benefit
In order to live in Helm Place properties, residents must make 60 percent or less of the median area income in Jackson. Residents signed up for annual leases, and Chartre is required to keep its rent restrictive to tenants in this income bracket for 15 years, tax-credit program information from the Mississippi Home Corporation website shows.
Tenants have an option to lease and then purchase their homes after they've lived there for a period of 15 years. 
 Chapman told the Jackson Free Press that at the end of the 15 years, the program allows Chartre to sell the home to the resident, for $50,000, with "no money down, no qualifying, no closing cost and we guarantee them a 15-year term at 8 percent interest." Residents do not accrue equity until they get to the end of first 15 years by federal law. After that time period, developers are not confined by rent-restrictive requirements and can lease or sell the properties as they choose. Rent-restrictive tenants "are protected against eviction or large rent increases for an additional three years," the Mississippi Home Corporation website says.
Residents at Helm Place must follow a specific set of rules to stay in the community and pay the about $650 a month rent.
"One thing that's unusual that we do is we require them to not break the law while they live there, and state law requires children 16 and under to be in school, so if they have a child drop out, it terminates their lease," Chapman told the Jackson Free Press. Chapman praised the option for families to purchase their home at the end of a 15-year lease at the press conference last week.
"Probably the most amazing thing we accomplish ... is we advance the emotional and mental maturity of the children in these homes by a generation versus where they would have lived for 15 years ... we are slowly helping put our communities back together," Chapman said May 10.
Rhodes said some of his long-time church members live in Helm Place, and he estimates that the community is almost entirely African American. He said it is generationally diverse, however.
"I think the biggest thing that's beneficial is that, at least to date, nothing about those fears of gentrification have panned out," Rhodes told the Free Press. "This has basically restored a sense of what Farish Street was in many ways with a generational mix and what not—and the fact that people are still central to the community."
Rhodes said he gets calls regularly from people wanting to live in Helm Place, and Chartre developers said they stopped adding names to the 300-person wait list.
Expanding Helm Place
Chartre has already purchased enough lots to expand a third phase of affordable housing in the Farish Street Historic District, using a different tax-credit program that requires Chapman to secure funding from other donors. (He said they are talking to the W.K. Kellogg and Walmart Foundations). He says most of Helm Place III will be built on lots Chartre bought from the state, which owned several parcels in the area that came into its possession after the original owners neglected to pay property tax.
"We are going to start demolishing the old houses that are on about 15 of these lots in the next couple of weeks, and we're going to clear all the lots we're dealing with—which will clean up the area drastically," Chapman said.
Construction on the 70 new townhomes will begin in about three months. Chapman said in building Helm I and II, construction crews found some homeless people living in abandoned homes, but said Helm Place, including Phase III, will not displace anyone.
"We have not displaced a single legal resident," Chapman said.
Chartre will make less money developing Helm Place III due to the specific tax-credit program they are using; the developer will have to pay the gap loan back. The company will make $70,000 to $90,000 per home when they sell Helm Place I and II homes, easily over $6 million. For Helm Place III, Chartre will not make those back-end sales.
"It's a significant commitment for us to do this," Chapman said.
Federal funds and tax credits make communities like Helm Place possible. The Mississippi Home Corporation administers federal HUD funds and tax-credit programs.
President Donald Trump's initial budget plans included cuts to HUD, which would affect construction of neighborhoods like Helm Place. Bryant does not seem concerned about HUD funding cuts, however. He told reporters on May 10 that he met with HUD Secretary Ben Carson in April and is confident that Carson understands how important HUD funding is to a state like Mississippi.
"One of the reasons I was there (in D.C.), and of course working with Thad Cochran and Roger Wicker's offices, is to let the secretary know what this funding is going for and what a life-changing opportunity it is for people," Bryant said. "Dr. Carson was raised in the ghetto by a single mom. He understands what housing can do for a young child and a family, so I think you're going to see funding for these types of projects where someone can lease and then buy a home."
Email state reporter Arielle Dreher at [email protected] and follow her on Twitter at @arielle_amara.
More stories by this author
Support our reporting -- Follow the MFP.