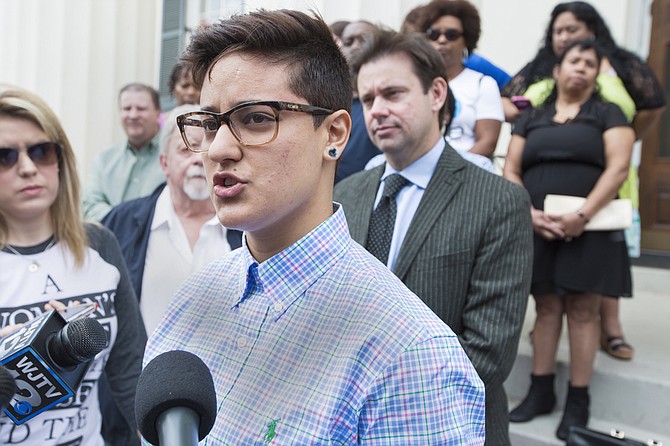 JACKSON — Daniela Vargas, a 22-year-old undocumented immigrant who grew up in Mississippi, is in Immigration and Customs Enforcement custody with no bond and will not get a hearing before an immigration judge, her lawyer said this afternoon.
Vargas had applied for renewal of her DACA (Deferred Action for Childhood Arrivals) status before ICE officers detained her on Wednesday, March 2, minutes after she spoke out at a press conference in downtown Jackson. It appears that immigration officers are not taking her application into consideration, however, her lawyer Abigail Peterson of the Elmore-Peterson Law Firm says.
"They (officials) don't plan on giving her a hearing with an immigration judge, and so she will be prepared for removal, so they'll prepare travel documents and set up a flight plan," Peterson told the Jackson Free Press.
Peterson said federal officials should consider the fact that Vargas was in the application process for DACA, which defers deportation for children of undocumented immigrants who entered the country at young age for two years at a time.
"I don't understand why, you know, she's paid for this application and mailed out this application and been twice approved before, and every indication is that it would be approved a third time. That is tremendous evidence in her favor… to let her stay here and release her," Peterson told the Jackson Free Press. "The fact that they are going to all of this trouble to deport her, through all this PR nightmare to deport her is incomprehensible."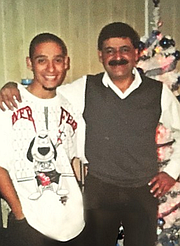 ICE took Daniela's father and brother from their home in west Jackson.
ICE spokespeople could not comment further on Vargas' case this evening. On Wednesday, ICE released this statement about Vargas: "Every day, as part of routine targeted enforcement operations, U.S. Immigration and Customs Enforcement (ICE) Fugitive Operations teams arrest criminal aliens and other individuals who are in violation of our nation's immigration laws. ICE conducts targeted immigration enforcement in compliance with federal law and agency policy. ICE does not conduct sweeps or raids that target aliens indiscriminately."
Vargas is being processed as a "visa waiver overstay," Peterson said, meaning that she does not get a hearing before a judge because her parents overstayed their visas back when they entered the country—when Vargas was 7 years old.
"How does a minor waive their rights? Well, probably their parents waive their rights for them, but now she's a 22-year-old adult that wants to assert her rights, so can that waiver when she was 7 years old carry over to now when she's 22 years old?" Peterson told the Jackson Free Press.
"I think that there's a strong legal argument to be made that no, the waiver that was given by her parents when she was 7 does not carry over to now when she's 22 years old."
If Vargas is not considered as a "visa overstay," then immigration officials would have to look at the whole picture, which as Peterson said, "she is about to be approved for DACA."
Currently, Vargas is at an ICE detention center in Louisiana.
President Donald Trump has made statements about DREAMers, implying he would not prioritize them for deportation. He told David Muir at ABC News: "They shouldn't be very worried. I do have a big heart. We're going to take care of everybody."
Vargas' story made national news, and today a reporter asked U.S. House Speaker Paul Ryan, a Republican, about her case and whether or not Congress could intervene.
"I think there's always a role for Congress under every instance in every administration to conduct oversight of the executive branch and how they perform in all of these cases. I can tell you this the priority of the Trump administration—and I spoke with Secretary (John) Kelly a couple days ago about this—is to secure the border and deport criminal aliens," Ryan said.
"Now sometimes people slip through the cracks, but the priority and the goal is not to go out there and deport DREAMers. The priority and the goal is to secure the border and deport criminals that are making our communities less safe."
Mississippi Congressman Bennie Thompson, a Democrat, released a statement this evening about Vargas' detainment.
"Our country must have immigration policies that are constitutional and remain true to our values. Ms. Vargas appears to have committed no crime and was only speaking out on behalf of her family, who is threatened by this President's misguided immigration agenda," Thompson stated.
"ICE's assertion that her detention is 'routine' is absurd and seems anything but. Clearly, ICE resources used in this case would have been better utilized to find and detain dangerous criminals and get them off our streets. As a DACA recipient she should be allowed to stay here. Those like Ms. Vargas just want a better life for themselves and their families and are true believers in the American dream - they should not be pushed further into the shadows."
Read more on recent immigration raids in Mississippi at jfp.ms/immigration. Email state reporter Arielle Dreher at [email protected].
More stories by this author
Support our reporting -- Follow the MFP.