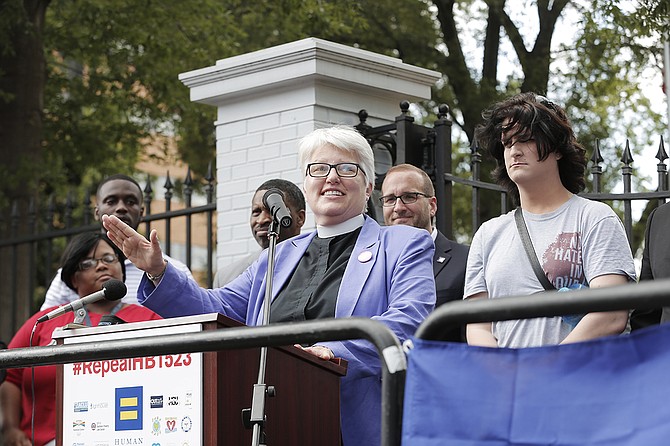 JACKSON — Both parties challenging House Bill 1523 filed petitions for re-hearing before the 5th U.S. Circuit Court of Appeals last week, asking the full court to hear their case after the three-judge panel reversed the lower court's injunction that prevented the "Protecting Freedom of Conscience from Government Discrimination Act" from taking effect in 2016.
As a result of the plaintiffs' petitions, the bill is not yet law. The 5th Circuit must issue a mandate before HB 1523 becomes law, and they cannot do that with outstanding petitions.
New York-based attorney Roberta Kaplan, who represents the Campaign for Southern Equality and Rev. Susan Hrostowski, plans to continue to challenge HB 1523. Kaplan said if HB 1523 went into effect, it would likely encourage other states to enact similar legislation.
In her brief, Kaplan, who recently left the large Paul Weiss law group to set up the firm Kaplan & Company, argues that the 5th Circuit's ruling, which states that plaintiffs are not personally confronted by HB 1523, is wrong.
"(S)tatutes, unlike displays or prayers, cannot be hidden in order to limit an individual's 'personal confrontation.' A statute like HB 1523 'speaks' to the broadest possible audience: the citizens of Mississippi whose rights and responsibilities are fixed by state law, given that 'every one is presumed to know the law of the land,'" the petition says.
Kaplan told the Jackson Free Press that if an Austin, Texas, resident had standing to challenge a cross in the seal of the City of Austin in the Murray v. City of Austin case because they might see it occasionally on a police car or on a utility bill, then surely the plaintiffs she represents have standing, too.
No other Establishment Clause challenge or case exists where a law has been considered as "confrontational" because, Kaplan says, no state has had the chutzpa to pass a law like HB 1523.
"For over 250 years, I think every state has rightly assumed that any laws like this would be prohibited under the Establishment Clause as unconstitutional," Kaplan said. "Sometimes the common-sense answer is actually the right answer. ... No state ever thought that passing a law like this was even possible or would be legal."
Kaplan's petition says that allowing HB 1523 to go into effect will open the doors for local and state governments to declare certain religious beliefs favorable to others.
"If the panel's decision is permitted to stand, state and local governments will be free to violate the Establishment Clause by officially declaring certain religions or religious beliefs to be favored without any meaningful opportunity for judicial review," the petition says. "Thus, under the logic of the panel's decision, a law proclaiming the official religion of Mississippi to be the Southern Baptist faith would be effectively immune from constitutional challenge—unless Mississippi decided to display the text of the statute on a granite monument outside the State Capitol in Jackson."
The 5th Circuit must rule on both petitions for re-hearing before they can issue a mandate saying the law can take effect.
Read more about HB 1523 at jacksonfreepress.com/hb1523.
More stories by this author
Support our reporting -- Follow the MFP.