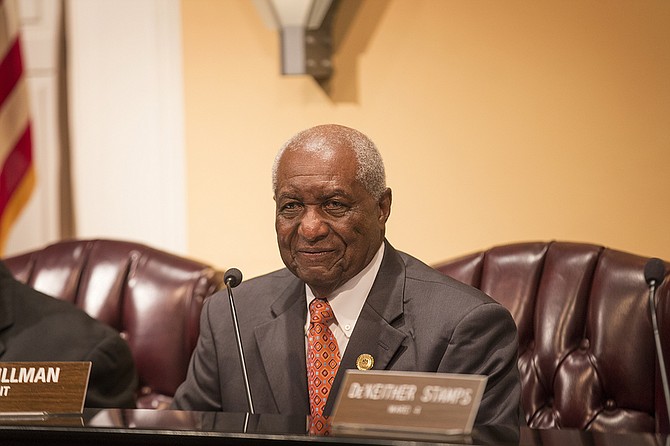 JACKSON — With a new mayor riding into Jackson with a strong mandate, returning city council members are predicting that much can change for the capital city—in a good way.
"This is really a brand-new era for the city," Ward 2 Councilman Melvin Priester Jr. said in an interview last week. How the era unfolds depends on the performance and unity of the elected city officials, Priester says, who are so far inspiring many residents. Mayor Chokwe Antar Lumumba and the revamped council took office July 3.
"I think one of the things that's very distinctive about Mayor Lumumba is ... he inspires hope. And that's something that's very important because hope makes people sacrifice, and it makes people work for long-term gain despite short-term challenges," Priester said.
Colleagues named attorney Priester, who ran against Lumumba's father for mayor four years ago, as vice president of the city council on July 6, alongside new council President Charles Tillman of Ward 5.
Both have held those positions previously.
Priester told the JFP that the new council is eager to work with the new mayor. "At the end of the day, the most important thing the council can do is work collaboratively with the mayor and try to help him have good people in the right places," Priester said. "We can try to make sure we have the best budget we can possibly have."
Tillman's responsibilities as president includes managing official council business and supervising the city clerk's office in City Hall. However, Tillman says that his "number-one plan is to really work with the new administration."
That might sound like a platitude, but after three years of tension between the council and Mayor Tony Yarber, that pledge is a bigger deal than it sounds like.
"(Citizens) want to see a minimum of fighting and a maximum of action. That's again why I think Charles Tillman is going to be a really good city council president for our current situation because he's an educator at his core," Priester said. "He makes us more civil."
Priester added: "He's the one person on the council that just makes everyone act better. And that's what the City really needs right now." Mayor Lumumba and the council must operate as one entity, as many of the mayor's decisions go through the council for approval. The council often bickered with Yarber's administration, often for bringing them into the loop too late.
Priester believes that Lumumba's willingness to listen is useful to Jackson, as it assists with the relationship between administration and the council.
"I think what the council has to do is not squander Mayor Lumumba's unique leadership skills by infighting or making the next several months about the individual council members or council agendas or the ward agendas," Priester said last week.
'The Mayor's Time to Shine'
Mayor Lumumba announced three key administration officials at the July 6 council meeting—all of whom Priester says he is excited about.
Lumumba appointed Dr. Robert Blaine as his chief administrative officer—essentially the person who keeps the city functioning. The former professor of music has held several academic administrative positions at Tougaloo College and Jackson State University. Blaine said that all City department heads will report to him.
Dr. Safiya Omari is Lumumba's new chief of staff, a position she held in his father's truncated mayoral administration. She has served as director of Jackson State University's Center for University Scholars and as a professor of social work. She is also the director of the Southern Institute for Mental Health Advocacy Research and Training.
Keyshia Sanders is the new constituent services director, and will coordinate communications between neighborhoods and city government. Sanders previously served in the administrations of Mayor Yarber, Chokwe Lumumba Sr. and Harvey Johnson Jr.
The mayor must submit nominees for his department heads as well as submit a proposed budget to the council. The council body can vote yes or no but are unable to recommend a different nominee for those positions.
Lumumba makes a big deal of vowing not to either appoint, or fire, someone because they did, or did not, support him politically. His father drew some criticism for making political appointments many did not believe handled the positions well.
"We have to see this as a collective work," Lumumba said at a Dialogue Jackson luncheon soon after he won the Democratic primary. "I really don't care whether you supported me or not. I want us all to work together and build together."
The fiscal year 2017-2018 budget for Oct. 1 through Sept. 30 is due, by law, on Sept. 15. Priester says Lumumba should submit it no later than August to give the council enough time to review it.
During the Yarber administration, the council often complained that his staff waited until the last hour to present items they needed to approve spending on, such as when Yarber submitted a 25-page, last-minute addition to the budget in 2014.
The new mayor will be able to appoint three new school-board members, although he has said that he plans to "have school-board members elected" down the road. Lumumba also said that he plans to include a young person on the board.
Lumumba indicated during his campaign that the leadership of the police department may change as well.
Still, Lumumba's power to hire and fire is limited. The mayor can only eliminate appointees in higher positions such as directors. Employees in City departments have civil-service protection, so it is important to put good people in the place from the start and manage them well.
"I think that he and his transition team really have been trying to get a feel for who's doing what and a feel for the finances," Priester said of Lumumba.
Priester added that Ward 6 Councilman Aaron Banks and Ward 7 Councilwoman Virgi Lindsay are eager to start working. "The new council members have talked a lot about wanting to focus on the city's finances. Focusing on crime. Focusing on education and infrastructure," the vice president said. "But at the end of the day, this is the mayor's time to shine."
Building Relationships
Council President Tillman says the young mayor's election season results are historic. "We get the message that people want stability, they want good leadership, and they want professionalism," he said in a recent interview in his City Hall office.
Tillman and Priester both say that the Ward 5 councilman was elected again as president to help balance out the difference in experience between the executive and legislative branches of city government, and to serve as a mentor of sorts for the 34-year-old mayor. "In this environment, it's particularly important that we rely and listen to people that have long-term experience and perspective," Priester said.
"(The council) realized how important the relationship needs to be. Especially that working relationship. Especially that genuine advice," Tillman told the Jackson Free Press.
Tillman stressed the importance of the mayor building relationships with the State of Mississippi, the federal government and other officials. "We can't run this city alone," Tillman said.
He hopes the new mayor has the ability to open doors. "You have to be transparent. Deals are made through building a relationship and being able to sit down and talk to one another," Tillman added.
The council president said that the city's revenue has decreased over his years on the council. One primary source, he says, is a shrinking tax base.
"You can't do anything without money. We can't pave the streets and tear the houses down and build better schools without money. Economic development is very important, and people need jobs. And if they have jobs, they pay taxes," Tillman said in the interview.
Still, Tillman is hopeful despite the difficult tasks the council and administration will encounter. "I'm really optimistic with a lot of great hope. I'm excited and willing to do whatever I can ... to work with the new administration for one goal and that's to make the City a better place," the new council president said.
See more stories at jfp.ms/lumumba.
More stories by this author
Support our reporting -- Follow the MFP.