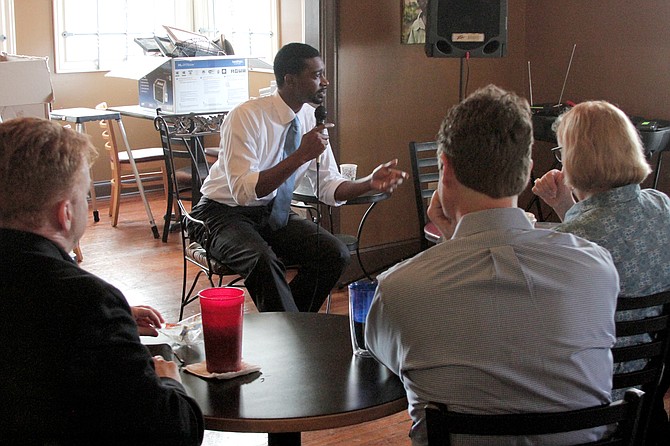 JACKSON — It is time to leverage Jackson's 1-percent sales-tax allocation to draw in funds to address the city's infrastructure, Council President Tyrone Hendrix of Ward 6 said this morning. In fact, it should have occurred years ago, he said.
"I'm sure that everybody heard that our bond rating dropped," Hendrix said. "I think that the time for us to go to the bond market would have been earlier, like two or three years ago, instead of now."
Hendrix said a lower bond rating makes it more expensive for the City of Jackson to put out bonds to raise money.
"At the same time, I think that we should explore the possibility of us going to the bond market, and the city council will put in place some internal controls that will increase our bond rating, hopefully, the next time we are rated," Hendrix said.
Hendrix addressed the breakfast group that meets weekly in the former Koinonia Coffee House's space concerning several issues he was currently watching as the both the Mississippi Legislature gears up its agenda and the mayoral race looms in the next few months.
The City has requested information from the Mississippi Department of Revenue to help it understand where the money originates, he said.
"One thing that we are looking at now and requested from the Department of Revenue is where are we receiving our sales tax from," Hendrix said. "If we happen to gain or lose an industry, what will the impact be?"
Information will allow the City to predict both the needs of businesses and the best place to implement infrastructure work, he said.
Hendrix, who chairs the City's Legislative Agenda Committee, traced back through the challenges the State created for Jackson last session, including the airport takeover bill. He also pointed to the Capitol Complex bill that would have provided an additional $25 million a year to the City. Lawmakers greatly altered that legislation, and it died late in the session. "At the very last minute, it was hijacked," Hendrix said. "We were this close to getting $24 million a year in diverted tax revenue to the City of Jackson, and it was hijacked."
Hendrix said he is confident that the City is able to talk to both sides to work on potential legislation but cautioned that it takes time, maybe years, but that one of the biggest advantages Jackson has is that the legislators, at least some, live inside the city limits during the session.
"The benefit that we have right now is that some of the key legislators and key staff members live in the city right now," Hendrix said. "So they can understand the problems we face."
Email city reporter Tim Summers Jr. at [email protected]. See more local news at jfp.ms/localnews. Follow him at @tims_alive on Twitter for breaking local news.