JACKSON — Mayor Chokwe Antar Lumumba and Jackson Police Department Chief Lee Vance are working to increase the number of JPD police officers as well as implementing additional solutions to crime in the capital city. Lumumba and Vance held a press conference on Tuesday, Aug. 22, following multiple homicides in the past two weeks.
Lumumba, whose own brother was a victim of gun violence in 1992, said his administration is firmly committed against violence in the city, saying addressing the issue of violence is not limited to increasing police involvement.
"We are looking at holistic solutions to crime, understanding ... that it's not just the issue of policing," Lumumba told reporters at city hall on Tuesday.
"Crime is not unique to Jackson; crime is not unique to majority-black populations. Wherever you find high poverty, you find high crime. So it's about making certain that we properly give all of the tools and recourses to the police department to do their jobs, but it's also about how we create opportunities within our city so that individuals are led away from those conditions which lead to it (crime)."
The mayor said his budget addresses the critical shortage of officers in JPD currently, by increasing funding for recruiting a new class of police officers. JPD now has 373 officers, although the department is budgeted for 419 officers, Vance said. Lumumba said his proposed budget will enable JPD to up their recruitment efforts.
The police chief echoed Lumumba, saying the solutions to violent crime are not limited to law enforcement.
"I've always been of the opinion that every time one of these incidents occurs, somebody in the community knows about it," Vance said Tuesday.
The number of homicides in the capital city is down from last year at this time, Vance said, and the chief said the city has a double-digit reduction in overall crime in 2017 so far. The back-to-back-to-back news of homicides in recent weeks, however, blurs that reality.
Vance classified the two most recent homicides as "random," with the caveat that his department knows a lot more on the cases than they previously knew. He could not reveal the progress JPD has made on the homicide cases, however.
The chief did emphasize that violent crime is rarely random.
"Random shootings in Jackson historically have basically been non-existent; most of the shootings we have, and even a couple of the shootings we had over the last six to seven days, are domestic," Vance said.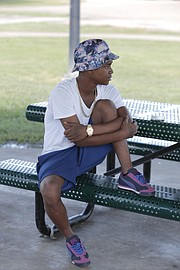 A full archive of the JFP's "Preventing Violence" series, supported by grants from the Solutions Journalism Network. Photo of Zeakyy Harrington by Imani Khayyam.
"They are disputes that people can't seem to find other ways to resolve other than deadly violence .... For people in this city to think, 'If I get in my car and go to the store, I've got a good chance of getting shot,' I don't think that's the case; there's nothing to indicate that."
The capital city is a part of the national Violence Reduction Network, which was renamed the Public Safety Partnership under Attorney General Jeff Sessions. Vance said his team is moving forward with that initiative, and he and some of his officers will attend an annual training in New Orleans next week.
The mayor outlined several initiatives his office plans to implement to address the poverty-crime connection. He said the city is looking to create an access center, using a Bloomberg grant, to create opportunities by pairing city services with recidivism programs, so people can access those jobs. Additionally, Lumumba wants to focus on youth programs.
"I believe that every block is going to be organized by somebody. It will either be organized by a positive force or a negative force, so we are going to make sure we put the proper emphasis on ... teen programs that allow us to decide that we're going to control the blocks," the mayor said.
Read the JFP's ongoing solutions-based "Preventing Violence" series at jfp.ms/preventingviolence.
More stories by this author
Support our reporting -- Follow the MFP.