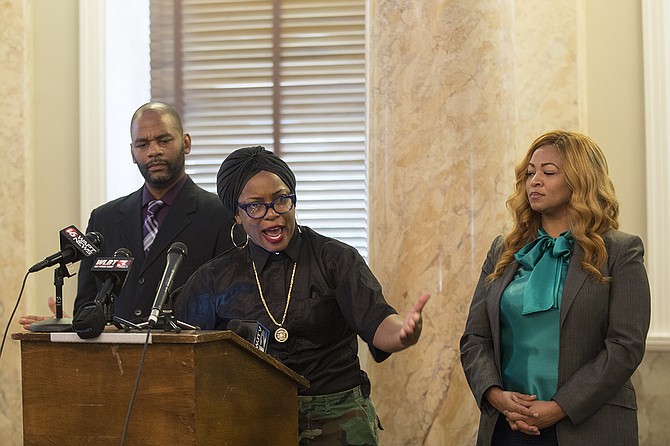 JACKSON — Actor and activist Aunjanue Ellis talked back to Mississippi Gov. Phil Bryant today to denounce his refusal to back changing the state flag to one without a symbol of the Confederacy.
"I think the governor should take it down; he has the authority to do that," Ellis said at the Capitol this morning. "I don't think civil rights should be given up to a (ballot) referendum. I think it is a civil right to not feel tormented and terrorized by symbols."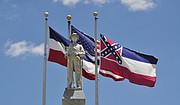 The JFP's archives of historically factual stories about slavery, secession and the Civil War in Mississippi, with lots of links to primary documents.
Ellis was with religious leaders, activists, Jackson officials and lawmakers who gathered at the Capitol this morning to denounce and respond to Bryant's comments about the Mississippi state flag's association with hate groups to WAPT last week.
"I think it's wrong to try to associate that," Bryant told WAPT about the flag that still has Confederate battle flag in its canton corner. "I think that's a political position some people are taking and shame on them for doing so."
Ellis, who has pushed for the state flag to come down for several years, said that if the state-flag change were to go back to a ballot vote, like it did in 2001, that white people would need to support the movement to change the state flag.
"If this referendum happened again, we would need white people voting for us," she said. "This can't be a one-sided fight: we need our fellow white citizens, our fellow immigrant citizens and ... other fellow citizens to create a groundswell."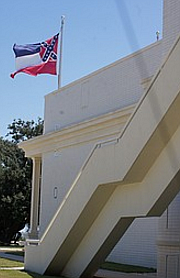 The Mississippi Sons of Confederate Veterans are fighting hard to keep the state flag to honor the Confederacy. Others are fighting back.
Hollis Watkins, a civil-rights veteran and native of Lincoln County, said Mississippians are not going to take it anymore and encouraged residents to take action, finding out where their elected officials stand on the state flag issue.
Rep. Kathy Sykes, D-Jackson, said lawmakers had productive conversations about the state flag on the coast this summer at the Southern Legislative Conference, but pointed out that for the state flag to change legislatively, the lieutenant governor and governor would need to be on board.
Both Lt. Gov. Tate Reeves and Gov. Phil Bryant both oppose legislative action to change the state flag and repeatedly have said the decision should go to the voters. Sykes has introduced a bill for two years in a row to change the Mississippi state flag to the flag designed by Laurin Stennis, who is the granddaughter of long-time Sen. John C. Stennis. But the legislation to change the flag died in committee both years.
For now, Sykes wants Mississippians to call on their local governments and municipalities to not fly the state flag. "We can do that without any legislative action," she said.
Ward 3 Jackson City Councilman De'Keither Stamps said the state flag is one reason young people are leaving the state. Later, Jackson Mayor Chokwe Antar Lumumba echoed Stamps' sentiments, saying the state flag costs the state business.
"We lose more money each and every day we fly the 'Stars and Bars' over our head," Lumumba said. (The Mississippi flag canton does not, however, contain the "Stars and Bars," which was the official flag of the Confederacy. The better-known Confederate battle flag of Virginia, also known as the "Beauregard Flag" and commonly referred to as the "rebel flag," is part of the official Mississippi banner. The rebel flag is the one also preferred by KKK and other white-supremacy groups and was a symbol of Jim Crow segregation.)
Stamps pointed to upcoming elections where changing the state flag should be a litmus test. "There are leaders in our state government who want to be governor next, but they need to be for taking down state flag too," Stamps said.
Email state reporter Arielle Dreher at [email protected]. See jfp.ms/slavery for a full archive of state flag and Confederacy reporting.
More stories by this author
Support our reporting -- Follow the MFP.