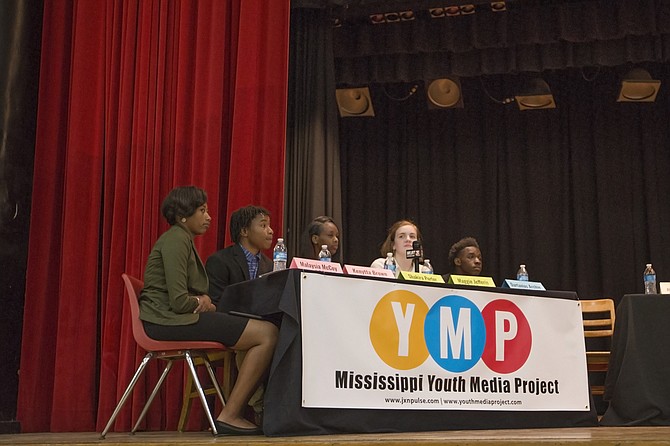 What does Jackson need? The most often griped-about, joked-about and discussed surface-level fix in this city are potholes. Potholes cause tire damage, dangerous road conditions and safety issues, but what if there's a more pressing need adults in charge have overlooked?
On Monday, April 17, less than one month away from the city primaries, Jackson teens questioned mayoral hopefuls in what will likely be their only direct interaction with the city's next leader.
"What will you do for sidewalks within a mile radius of JPS schools for students who walk to school?" one student asked. Kids and teenagers know what sidewalks are, and they notice when they're missing. It's easy to overlook the significance of not having a sidewalk, however, when you're hitting a pothole on your commute to work.
What about those children who must walk to school? Are their safety needs and concerns just as pressing than a Jacksonian's tire replacement? We think so. Community safety, especially for the next generation, is vital to helping children not only grow up safe but also stay in Jackson when they graduate. Kids can see a pressing need many adults ignore: Students who walk to school do so on the street, with a much higher risk of being hit by cars than they would if they were on a sidewalk instead.
Thinking of Jackson the way teens see it is not just a thoughtful exercise but a meaningful way of thinking about what the city needs. The city will need the next generation to believe in it, support it and ultimately lead it. If these students don't feel like they are being heard now, what will keep them from doing everything in their power to leave once they are able? And those who are not able to leave will be able to remember promises broken and low expectations that their predecessors had for them.
Taking care of the students who walk to school should be a campaign issue, not fear-mongering about "safety" or "experience." Is safety important? Absolutely. How the next city administration approaches safety, however, will be a test of their priorities and true concern about the city. Focusing on the needs of Jackson's kids and teens is the best way to predict and therefore prevent precursors to crime in the city, a state-funded BOTEC report on Jackson crime warned.
"Those involved in the juvenile-justice system are more likely to be criminally active as adults," one of the BOTEC reports says.
Researchers were able to identify which schools have students most likely to get into crime. The problems aren't secrets, but the solutions aren't, either. Jackson's next generation seeks better communities, proved as students quizzed mayoral hopefuls on resources in their communities such as afterschool activities. They understand what it will take to make the city safer in various ways; it is time for the adults to start listening. Instead of dwelling on the end-game, our leaders must start following kids to where the sidewalk begins: potential solutions.
Support our reporting -- Follow the MFP.