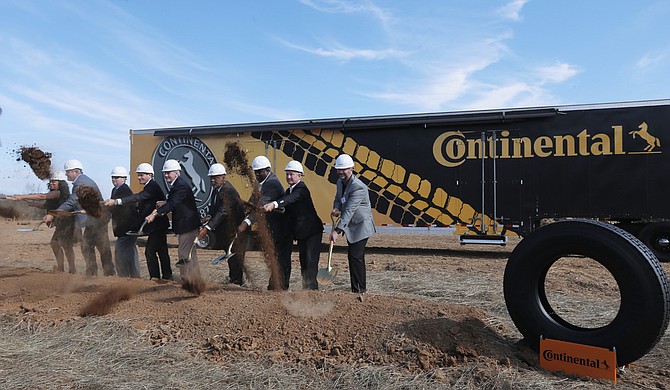 JACKSON — Lawmakers, business executives and almost everyone involved with bringing Continental Tire to Hinds County gathered at the almost 1,000-acre site outside of Clinton on Thursday morning to ceremoniously break ground on the site.
Work on the tire plant, which should bring 2,500 jobs to the state of Mississippi within the next decade, started back in October after the German-based corporation awarded a Georgia company, Brad Cole Construction, the clearing and grubbing contract for the site.
Continental Tire will invest $1.45 billion in the Hinds County tire plant, the largest investment in the corporation's history. The State of Mississippi gave ample incentives to the company, however, in the form of bonds and tax breaks that equal close to $600 million, an AP analysis found. The Mississippi Legislature pushed the incentive bill through the statehouse in a one-day special session on Feb. 4.
Gov. Phil Bryant called the plant "the most significant economic development package in Mississippi's history" on Thursday. Bryant praised lawmakers for passing the bill last legislative session.
"We know that we come together as Mississippi for economic development because we want those 2,500 people that will be working here to be able to live the American dream," Bryant said at the groundbreaking ceremony. "We want these to be generational jobs where a father hopes his son or his daughter will come to work here at Continental."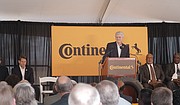 Bryant told reporters that the project should have a dramatic impact on Jackson and Bolton, saying the important part of the project is "what this plant will do to help lift this entire economy here in central Mississippi."
U.S. Congressman Bennie Thompson, whose district the plant will sit in, said he hopes more Mississippi businesses and contractors are able to work on the plant that going forward and encouraged the Hinds County Board of Supervisors and the Mississippi Development Authority to work to ensure they do.
"There's no greater economic impact than it is to buy from local people, to contract with local people because they live here that means that they will in turn buy groceries and do all those things that people who live in a community (do)," Thompson told reporters Thursday.
Bryant defended contracts going out of state, saying that businesses have to make decisions through their bid processes, and that Mississippi companies are going to have to do better at getting their bids in.
"We've been talking to Continental about how important it is that we hire Mississippians," Bryant told reporters. "Seven out of 10 subcontractors (so far) are Mississippians, so there's going to be plenty of work—clearing and grubbing is just the beginning."
Nikolai Setzer, who is the head of Continental's tire business, told reporters that his corporation has a transparent procurement process and several criteria must be fulfilled overall for a contractor to be successful. Setzer also said the procurement process has to remain competitive going forward. At the start of October, Continental had hired two employees so far, both Mississippians. Setzer said a third hire is in the works.
Continental has awarded two contracts so far: one to Brad Cole Construction and another to Embellished Events & Interiors, a female and minority-owned business based in the Jackson area. Tasha Rowe and Nicole Hardy co-own Embellished Events & Interiors, and they landed the contract to host the groundbreaking event on Thursday. Rowe and Hardy said the event was their largest event and largest contract their company has received.
"It means a lot for us," Rowe told the Jackson Free Press. "It opened up huge doors for us and huge doors for Mississippians."
Rowe and Hardy contacted Continental directly and went through the contracting process, submitted their bid, interviewed and received the bid. If the groundbreaking event is deemed a success, Embellished Events will have the opportunity to continue contracting with the corporation.
Email state reporter Arielle Dreher at [email protected].
More stories by this author
Support our reporting -- Follow the MFP.