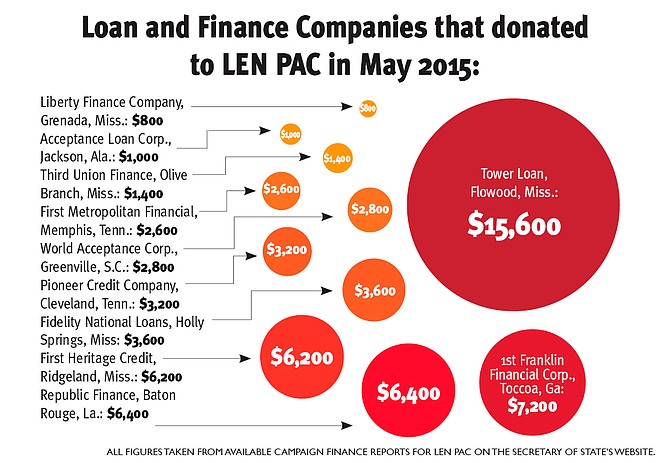 JACKSON — Payday and small business lenders are not always welcome business development on the municipal level, in no small part because of the cycles of poverty easy-to-obtain, high-interest loans can feed. In Jackson, Ward 4 Councilman De'Keither Stamps has recently introduced a one-year moratorium on such businesses to the city council. Other Mississippi cities have passed similar restrictions on lenders too—some using zoning regulations to keep them away. In the state, however, these institutions hold more sway.
The Hope Policy Institute monitors payday-loan legislation, and Chief Policy Officer Ed Sivak says one bill is still alive this session that does not seem to align with the state's current statutes on payday lending. The state's current payday lending and title loan statutes prohibit lenders to rollover and extend loans by charging a fee. A lender can charge no more than $20 per $100 on loans up to $250. For loans between $250 and $500, lenders can charge $21.95 per $100.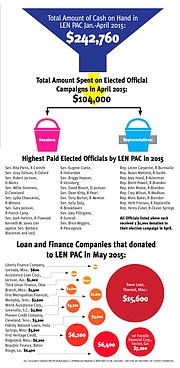 The Mississippi Credit Availability Act, which is now on the House calendar, Sivak says, does not seem to offer the same protection as the state's statutes that prevent those taking out loans from being stuck in a cycle of lending afterwards.
The Mississippi Consumer Finance Association does not support payday lending legislation and did not support the Mississippi Credit Availability Act.
The Mississippi Consumer Finance Association, a nonprofit that promotes and lobbies for its members in the personal loan business in Mississippi, donates widely to lawmakers' election campaigns with its political action committee—particularly Republicans and those lawmakers who sit on or chair both Senate and House Banking and Financial Services Committees.
The association's PAC arm—the LEN PAC—spent more than $100,000 on state official and legislator election campaigns in 2015, campaign-finance records show. There are only three LEN PAC campaign-finance reports from the 2015 election cycle available on secretary of state's website. When contacted, the association did not offer comment about their legislative priorities, PAC spending or annual convention details by press time.
The most recent campaign-finance report from the PAC shows that it had $217,607 on hand to spend as of July 28, 2015. Because campaign-finance reports were not filed after this date, there is no way of knowing how much the organization spent before the November election. The PAC's May campaign finance report shows that the association spent heftily on statewide Republican office-holders in April, disbursing over $100,000 to election campaigns:
•$26,000 on 36 Senate election races in 2015
•$39,000 on 69 House of Representatives races in 2015
•$10,000 each on Gov. Phil Bryant and Lt. Gov. Tate Reeves' campaigns
•$6,000 on State Treasurer Lynn Fitch's campaign
•$5,000 on House Speaker Philip Gunn, R-Clinton
•$2,500 on Insurance Commissioner Mike Chaney
•$2,500 on Transportation Commissioner Mike Tagert
•$1,000 each on Secretary of State Delbert Hosemann, State Auditor Stacey Pickering and Agriculture and Commerce Commissioner Cindy Hyde-Smith
Eleven finance and loan corporations donated more than $50,000 to LEN PAC by June 9, 2015. Six of those organizations are from out-of-state, but the PAC's largest donor, Tower Loan LLC based in Flowood, gave the PAC $15,600. Over half of the current Senate and House of Representatives (Republicans and Democrats) received donations from LEN PAC. More than 100 current legislators received $500 or more each from the PAC.
Clarification: This story has been updated to reflect that the MCFA does not support payday lender legislation or the MS Credit Availability Act. We apologize if the story seemed to associate MCFA with the MS Credit Availability Act or payday lending legislation.
Editor's note: these numbers are from the three campaign finance reports for LEN PAC available at press time. More reports were added to the Secretary of State's website last night, and this article will be updated to reflect those new reports today.
More stories by this author
Support our reporting -- Follow the MFP.