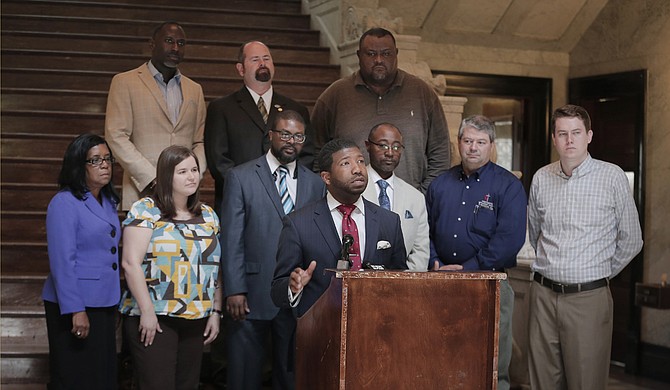 JACKSON — Rep. Joel Bomgar, R-Madison, stood with an interdenominational Christian group of clergy Wednesday at the Capitol, saying that mass incarceration serves none of his beliefs as either a Christian or as a Republican.
"As a Christian, I believe in the sanctity of the life of all humans. As a Republican, I believe in small government. Nothing about mass incarceration is small government," he said.
It was so noisy in the second-floor rotunda that you could barely hear the Clergy for Prison Reform call for private-prison and parole reform in Mississippi. Rev. CJ Rhodes, president of the CPR and reverend at Mt. Helm Baptist Church in Jackson, said it was a fitting illustration.
"The voices of those incarcerated, muffled by so many competing interests at the Capitol," Rhodes said.
CPR supports SB 2512, a bill calling for private-prison reform, and SB 2719, which would extend parole reform to those incarcerated before the passage of HB 585, which died in this session. The group also favors amending HB 705, which would add rehab facilities to "Drug-Free Zone Enhancement" and HB 783, which would allow DAs to distribute sentences shorter than the "Little" Habitual Offender enhancement.
Rhodes says the group's largest goal is building momentum and mobilization, and amplifying the voices of the incarcerated and their families who speak about the conditions of public and private prisons, from canteens to conjugal visits. He says that the incarcerated and their families say that they aren't feeling heard and valued.
CPR is seeking to work with the state's private prisons, to whom Rhodes says the CPR is philosophically averse but wants to see progress.
Rhodes said the group is also focused on front-end causes that contribute to mass incarceration, like poverty and failing schools. "What are all the contributing factors in neighborhoods, in families? If you don't deal with that, making prisons a nicer place to go to isn't going to deal with the issue," Rhodes said.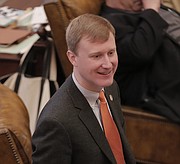 Bomgar talked about the negative effects that incarceration has on Mississippi's citizens, saying that in most cases, drug rehabilitation or mental health care would have served the needs of incarcerated people better.
"Incarceration is not the right tool a large percentage of the time," he said.
Bomgar says mass incarceration needs a paradigm shift, and that incarceration has been used to punish, rather than to rehabilitate.
"Any time you have a human being that is in control of the state—foster care, juvenile justice—when a human being is a ward of the state, it's very important that we treat them like a human being made in the image of God, which they are," Bomgar told the Jackson Free Press. "Unfortunately, I think, in numerous situations when the state controls people, it leads to abuse and all sorts of bad outcomes, and the greatest danger is people come out worse than when they went in. And society and that individual would've been better had they just skipped that whole experience."
"The worst thing is when we're trying to do something good, and it's not, and we could've just done nothing, and everybody would've been better off," Bomgar added.
Sierra Mannie is an education reporting fellow for the Jackson Free Press and the Hechinger Report. Email her at [email protected]. For more education stories visit jfp.ms/education.
Support our reporting -- Follow the MFP.