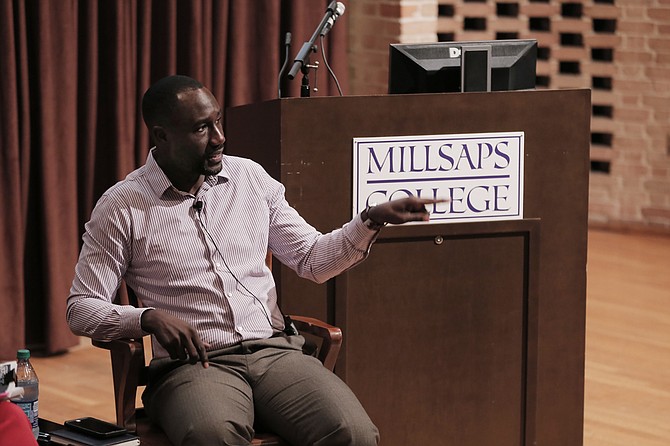 JACKSON — Mayor Tony Yarber sat down to discuss crime with Jackson Free Press Editor-in-chief Donna Ladd on June 20 at Millsaps, followed by answering audience questions, sharing stories that showed that for him that the consequences of crime were present from an early age.
"I can say that before I was 13 I had probably seen seven or eight dead bodies within 15, 20 feet," Yarber said. "So by the time I was in junior high, it was almost numbing the fact that people you knew could get killed or that the people that you knew could be here today, and you not see them anymore."
Yarber spoke about the loss of his childhood friend Lakenya to gun violence.
"This kid, funny kid, he was a teacher's worst nightmare, but a best friend's best friend," Yarber said, explaining how they both lived in the same neighborhood. "He was coming in, I was going out. He blew, I blew. " "When I was coming back home, there were cars parked all along Wiggins Road. You couldn't get in."
"I got out and walked down the street. Ambulances, all these cars were there, police," Yarber said. "Come to find out Lakenya had just got shot in the chest because he didn't want to give a guy his bag phone."
Yarber said he remembered it as the first time the violence hit so close to him.
"Lakenya was the first person who was killed who was my friend, who I loved, we shared stuff, we had played together, and somebody that I would literally miss because he was gone," Yarber said. "That day, it made it real. It made me really believe that it could happen to me.
Yarber said he was lucky enough to have parents who kept tabs on his whereabouts, with whom he associated. "But that's not necessarily everyone's testimony," Yarber said, emphasizing that the path children take is not always with the benefit of a solid family structure. "The way I see crime in the city is that it is multifold."
Blaming the Family
To Ladd, whose publication has recently made a focus of juvenile justice in a series of stories, the family is not the end of the chain of responsibility when it comes to the path that leads young people to a life of crime and incarceration.
"So often I think a discussion of crime, particularly that done by young people, begins and ends with the idea that their families aren't doing what they are supposed to be doing, and then that conversation just kind of ends because it is the family's fault," Ladd said of the role of the family, asking the mayor to address that preconceived notion.
Yarber recalled a story about his aunt, who used to say that the system, the schools and government that were supposed to provide an education, failed her children.
"Her point is valid," Yarber said. "… It is easy for us to say, well, the parents. That's a great way for us to pass it off, and then it isn't an issue of the village. Then it is an issue of who lives in the hut."
This routine over-simplification of the great diversity of familial situations and conditions allows for outside observers to make blanket assumptions about both the state of the household and the ability of the parents within it to manage or provide either leadership or stability, they said.
"We can't just get into this mode or idea of, 'where are the parents?'" Yarber said. "Their parents are there a lot of the cases, but (in) a lot of cases the parents just aren't us. And they don't have access to a lot of things we have."
"There are a lot of parental situations," Ladd agreed, listing as an example parents that are behind bars. "What is so bothersome is when the conversation ends there."
'I Didn't Get Caught'
Yarber said that for him, it was the neighborhood that helped keep him out of trouble, even from possible jail time, for selling drugs.
"The only reason I am the mayor is because I didn't get caught. And that's just me being real. It's not that I wasn't just so good, it's just that I didn't get caught doing stuff," he said. "It's just that when I was standing on Turner and Dewey (streets) holding crack in a Tylenol bottle, they didn't stop me. That's how come I am the mayor."
Yarber said that once he was caught up in a gang fight, and the police came to the school to get him, and the principal stood up for him. "When I go and I am talking and telling these stories and sharing these situations and then people realize, aw, the mayor is a real human being," he said.
These second-change moments kept Yarber from a life that might have ended in violence or incarceration, and he said that it was the role of community organizations to intercede in between youths and crime. "It is not necessarily the issue of the village, but it is definitely an issue of people who are in contact with you," Yarber said. "We just have to get to a place where we get out of our bubble."
Yarber spoke of the work of nonprofits and community groups, and their inability to coalesce into one effort. "They are doing great work, but the problem is that we are doing a lot of this great work in silos. And in a lot of cases we are dipping into a lot of the same pots for the same resources when ultimately there should be conversations about who is really doing what well," he said.
"And when you start talking about who is doing what well, then it loosens up some of the turf," Yarber said, sketching out a vision wherein groups like Salvation Army and others work together to address issues like crime. "Let's connect those dots so that way we are doing a more holistic, taking a more holistic approach to helping deal with ills."
Need to Reach 225 Young Jacksonians
Ladd brought up a Legislature-funded study performed by BOTEC Analysis Corporation, based in Los Angeles, for the state attorney general's office that studied the sources of crime in Jackson. She asked the mayor to address research within the study that narrowed down the number of potential at-risk youths within the city's public school system.
"They predict 225 young people in Jackson are at risk of violent crime," Ladd said, asking the mayor, "How do we figure out how to help these 225 young kids who are the ones that we as a community ought not to give up on?"
Yarber agreed with the numbers. "If you consider the fact that every year the City of Jackson sends about 250 people into the penal system, that number is statistically just about right," Yarber said. He added that with a relatively low number like that, it is necessary to start asking questions about where the cycle begins.
"You prescribe the intervention, and you monitor progress over time to make sure that you have exactly what you need," he said. "I will say that we have gotten pretty good at prescribing; we have not been so good at the progress monitoring because we have been more excited about saying we are doing good work than measuring the work we are doing."
"And who may be slipping through," Ladd added.
"And so those 225 that we are talking about, not only must they be identified here but also there must be strategic intervention in place," Yarber said, in addition to a structure to encourage and maintain the involvement in the lives of these at-risk youth.
Ladd mentioned that there were people in the community, "trusted messengers" like Timothy Liddell and John Knight, formerly incarcerated men who work with at-risk youth in Jackson. She also referred to a man, Kai Smith, with six felonies who now runs an anti-gang program in Harlem, N.Y., with a high success rate with young gang members.
"The problem becomes how much can these guys do on their own without additional training, etc.," Yarber said. "One of these ideas that seems to keep emerging is that we need people in these communities that are trusted."
"People trust them. But once they open up, they need to have the tools and skills to move the train down the rail," Yarber said. "That's training, that's giving them opportunities to be mentored by folks like the gentleman in Harlem, and giving them the ability to structure things in communities."
"So now they do not just win hearts of people who are in the community," Yarber said. "Now they win folks that have the ability and means to provide support to their efforts."
Follow the JFP's "Preventing Violence" series at jfp.ms/preventingviolence. Email city reporter Tim Summers, Jr. at [email protected]
Support our reporting -- Follow the MFP.