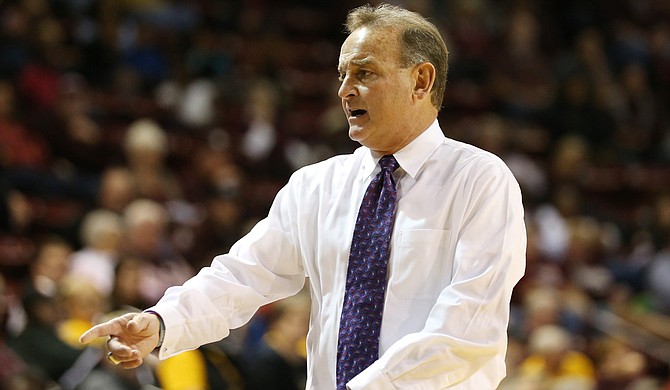 Most sports fans' eyes will be on the two NFL games this Sunday to see who reaches Super Bowl 50, which is not a surprise because professional football is the most popular sport in our country. But the two conference-championship matchups in the NFL won't be the only big events played Jan. 24. The Mississippi State University Lady Bulldogs basketball team will play a game that is not only an opportunity but also a measuring stick for the a rising program.
This Sunday at 4 p.m. on ESPN2, the Lady Bulldogs host undefeated No. 2 University of South Carolina, giving the former a chance to make a statement in the SEC and in women's basketball at large. This could also be MSU's best argument for a better seed when the NCAA Women's Basketball Tournament starts in late March.
Last year, the Lady Gamecocks reached the Final Four and were a one-point loss to the University of Notre Dame away from reaching the championship game. South Carolina is one of two undefeated teams left in women's basketball this season. They have had a few close games but have beaten all six ranked opponents that they have faced so far.
On the flip side, the Lady Bulldogs are currently 1-2 against top 25 teams. They have lost to No. 3 University of Texas and last week to the University of Missouri, ranked No. 23. The Bulldogs did manage to beat No. 15-ranked University of South Florida.
This will be the first game against a ranked foe that the Lady Bulldogs will not face on the road or a neutral site. The team not only gets a chance to show that it has arrived on a national level, but it also gets the best chance to do so with the home-field advantage.
A win would show just how far this team has come in short amount of time. A good game would help make MSU guard Victoria Vivians nationally known for the great player that we in this state already know her to be.
With a win, head coach Vic Schaefer could build this program even higher. He could use that victory to lure potential recruits, showing them that players who come to MSU can beat the biggest programs in women's college basketball. A win against South Carolina could propel the Lady Bulldogs to even greater highs in a season that is already on pace to be the best in the history of Mississippi State women's basketball.
The Lady Bulldogs will get a No. 18 Tennessee team at home in their next game on Jan. 28. In February, they will also face No. 9 University of Kentucky and get a rematch against Missouri at home, with one on-the-road ranked game against No. 13 Texas A&M University team sandwiched between their games against the Lady Wildcats and Tigers.
Beating the Lady Gamecocks could set the Lady Bulldogs up for something special down the stretch of this season. On the national level, a win could be the seen as the birth of a new women's basketball power. A loss, if a close one, would just mean the Lady Bulldogs haven't fully arrived, but a close blowout loss would show that this team has potential, even if they are not quite ready to face the top women's programs.
SPORTS FACT OF THE WEEK
NFL Hall of Fame tackle Turk Edwards' career ended when he twisted his knee during the pregame coin toss.
More stories by this author
Support our reporting -- Follow the MFP.