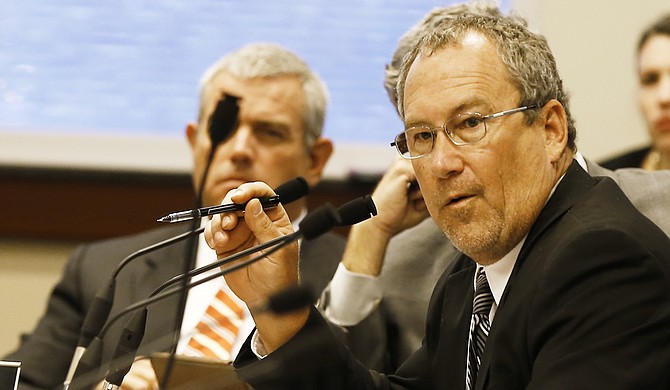 The Mississippi House of Representatives had a late night last night, after the Black Legislative Caucus decided to slow down the legislative process by asking that House Bill 14, which is 293 pages long, be read before voting on it. The reading took five hours and led Republican leaders to change their House rules by barring questions of privilege.
House members were previously allowed to ask questions about their rights, reputation and the conduct of House members - "personal privilege"—but the House voted in favor of striking those rights from the rules by a vote of 71-50.
The power move left legislators seething. "So, the Republican leadership JUST changed the rules of the house, which has taken away our right to personal privilege," Rep. Kimberly Campbell, D-Jackson, posted on Facebook after adjournment last night. "This has been a standard rule for hundreds of years. But now all of a sudden, we can no longer voice our displeasure with the process or wrongdoings. I'm just aghast at what's happening at this capitol now."
The Black Legislative Caucus decided to tow a hard line after four amendments failed to change the fate of a Mississippi Supreme Court re-districting bill on Wednesday that moved Simpson County into the first district with Hinds and Madison counties. Caucus members believe that the bill is a way to eliminate the state's only black Supreme Court justice.
Rep. Edward Blackmon, D-Canton, criticized the move, advocating instead for nine districts because there are nine Supreme Court justices.
"There is no good reason to be here talking about re-districting six years after the census," Blackmon told the House Wednesday. "That Supreme Court does not represent this state, and it's not good for this state either."
Rep. Mark Baker, R-Brandon, who authored House Bill 868, said his bill made sure that everyone's voice was heard in the state. He said given population numbers, including Simpson County in that first district equalizes the districts in a reasonable matter and does "no violence to the districts."
"We've fought long and hard to make sure everyone's voice is heard," he told the House. "This is a reasonable change, it's not a pretext, and it makes sure that everyone's vote is heard in the state."
After four failed amendments, offered by members of the Black Legislative Caucus, the re-districting bill passed by a vote of 71-50 in the majority-Republican House.
Early Thursday, Rep. Herb Frierson, R-Poplarville, presented House Bill 14, which would create a moratorium for superintendent salary increases for the next three years—but only apply to C-, D- and F-graded school districts, which tend to be majority black.
"If you'll get to a "B" level, we'll take you out from under it," Frierson told the House on Thursday.
While some Democrats were in favor of House Bill 14 (Rep. Stephen Holland, D-Plantersville, spoke in support of it), the Black Legislative Caucus was not.
Rep. Robert Johnson, D-Natchez, said the bill was putting the cart before the horse on education issues. "Let's not micromanage our local school districts and put all of the pressure on superintendents," Johnson said.
Frierson, who chairs the House Appropriations Committee, said his bill focused on student achievement because kids can show a progression of academic achievement even in a bad situation.
"If you want to improve outcomes in education, you spend more money in the classroom; work with me on this bill," he told the House Thursday.
The Black Legislative Caucus did not have a change of heart and asked that the bill be read, despite meeting with Speaker Philip Gunn, R-Clinton, to discuss their concerns.
Five hours later, when the bill reading finished, House Bill 14 passed anyway on a vote of 84-38.
The Black Legislative Caucus released a statement yesterday afternoon saying that the caucus has not changed its position to slow down the process "by which Republican lawmakers are passing bills we view as detrimental to Mississippians."
Speaker Gunn said in a press statement that he and the caucus were unable to reach a resolution, and that the caucus's plan to slow down the legislative process is a "waste of taxpayers' resources."
"As duly elected representatives on behalf of the people of Mississippi, we will utilize all reasonable parliamentary means necessary to advance and debate legislation in a meaningful way on the House floor," Gunn said in the statement.
"We invite the House members of the Mississippi Legislative Black Caucus to join us in this effort. Should they refuse our invitation and elect, instead, to continue these obstructionist tactics, we will not allow the people's business to go undone, and we will implement the necessary changes to move forward with the citizens' legislative agenda."
Today, the House has made moves on two bills, and went into recess and meetings after Rep. Willie Perkins, D-Greenwood, asked that the second bill be read. The House was supposed to reconvene at 1 p.m. but just went into recess again.
UPDATE: After the meetings, House Speaker Philip Gunn adjourned the House of Representatives until 2 p.m. on Monday. Speaker Gunn told the House, "We have made some progress."
Rep. Earle Banks, D-Jackson, agreed and told reporters Legislative Black Caucus leaders and Republican House leaders had good, open dialogue.
"I don't think we ever really lost trust, but I think we sometimes misunderstood the issues that the majority had, and they might have misunderstood some of the issues that the minority party had. I don't think we ever lost any trust," Banks told reporters after the House adjourned.
Email story tips to state reporter Arielle Dreher at [email protected]. Read more legislative coverage at jfp.ms/msleg.
More stories by this author
Support our reporting -- Follow the MFP.