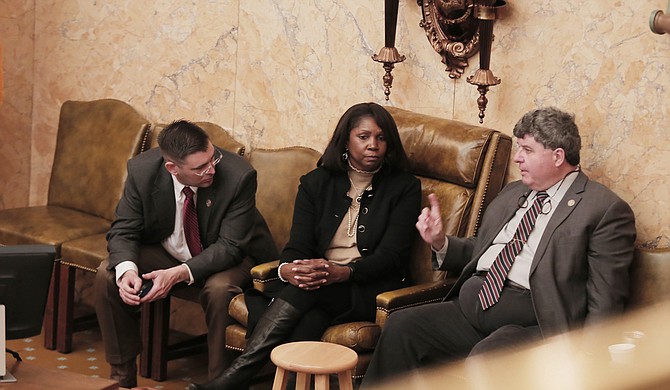 Human trafficking, domestic-abuse and breastfeeding bills easily passed through the Mississippi Senate last week. The House of Representatives, however, focused on legislation that caused uproars and stalls, including re-districting and superintendent salary bills, leading to heightened race tension.
Women, Children's Good Senate Week
Domestic abuse could be added as the 13th grounds for divorce in the state if the House makes Sen. Sally Doty's bill law.
In a previous interview with the Jackson Free Press, the Brookhaven Republican said she worried that the bill would spark a lot of debate on the floor, but she met no resistance last week, and the legislation passed through the Senate last Wednesday.
The Senate also passed a bill that changes the definition of an "abused child" to include a child who has been trafficked or sold. Doty told the Senate that the bill strengthens the state's human-trafficking laws by making procuring or promoting prostitution of youth under age 18 a "sex offense" as defined by state law. The bill will have to pass the House to become law.
The state's foster-care system could become its own department—out from under the Mississippi Department of Human Services if a bill authored originally by Sen. Dean Kirby, R-Pearl, becomes law. Sen. Hob Bryan, D-Amory, spoke on the bill last week, encouraging senators to vote in favor of establishing the Mississippi Department of Child Protection Services.
Bryan told the Senate about the Olivia Y lawsuit that has "dragged on and on." The bill would set up study committees and make recommendations about how to establish the new department, as well as allowing Gov. Phil Bryant to appoint a leader of the new department with a three-year tenure.
"The agency needs a head that's going to be there a while," Bryan told the Senate.
The 65-page bill has a reverse repealer in it, which allows lawmakers to kill the bill easily, and the Senate Appropriations Committee will have to decide how much money to allot the new department.
Dr. David Chandler, who runs the state's foster-care system as a division of the Mississippi Department of Human Services, said in January that the division needs $34 million in funding to get started and hire the appropriate amount of social workers to serve the state's children who are in custody.
A bill to protect and promote breastfeeding practices passed through the Senate last week—but not without some changes from the original bill. The bill that passed would give the Mississippi Department of Health several responsibilities including developing programs for employers to educate them on the "benefit of reasonable paid or unpaid break time for an employee who needs to express breast milk for her child" and the benefit of private, secure and sanitary rooms close to the work area where employees can express milk. An earlier version of the bill would have mandated that all employers provide those break times and have a room for employees to express milk.
The bill that passed through the Senate does instate a fine of $25 to $250 for any corporation, manager, agency or person who tries to stop a mother from publicly breastfeeding her child.
Re-Districting, Superintendent Bills Roadblock House
The House made little progress last week, largely due to the Legislative Black Caucus's displeasure with a bill that would change the Supreme Court districts by adding Simpson County into the first district with Hinds and Madison counties.
Caucus members believed that this bill would eliminate the state's only black Supreme Court justice.
Rep. Edward Blackmon, D-Canton, criticized the move, advocating instead for nine districts because there are nine Supreme Court justices.
"There is no good reason to be here talking about re-districting six years after the census," Blackmon told the House last week. "That Supreme Court does not represent this state, and it's not good for this state either."
Rep. Mark Baker, R-Brandon, who authored House Bill 868, said his bill made sure that everyone's voice was heard in the state. He said given population numbers, including Simpson County in that first district equalizes the districts in a reasonable matter and does "no violence to the districts."
"We've fought long and hard to make sure everyone's voice is heard," he told the House. "This is a reasonable change, it's not a pretext, and it makes sure that everyone's vote is heard in the state."
After four failed amendments, offered by members of the Legislative Black Caucus, the re-districting bill passed by a vote of 71-50 in the majority-Republican House.
Then on Thursday, Rep. Herb Frierson, R-Poplarville, presented House Bill 14, to create a moratorium for superintendent salary increases for the next three years—but only apply to C-, D- and F-graded school districts, which tend to be majority black.
"If you'll get to a "B" level, we'll take you out from under it," Frierson told the House on Thursday.
While some Democrats were in favor of House Bill 14 (Rep. Stephen Holland, D-Plantersville, spoke in support of it), the Black Legislative Caucus was not.
Rep. Robert Johnson, D-Natchez, said the bill was putting the cart before the horse on education issues. "Let's not micromanage our local school districts and put all of the pressure on superintendents," Johnson said.
The Legislative Black Caucus did not have a change of heart and asked that the bill be read, which they knew would stall progress on the over 200 item calendar.
Five hours later, House Bill 14 passed anyway on a vote of 84-38.
House Republican leaders then passed a rules change that bars House members from asking questions of privilege, which are ones about their rights as House members—not questions about bills.
After an icy beginning on Friday and the Legislative Black Caucus asking that a 22-page SNAP/TANF bill be read, House Speaker Philip Gunn and other Republicans on the House Rules Committee met with Democratic and Legislative Black Caucus leaders for several hours.
Eventually, the House adjourned until 2 p.m. on Monday. Speaker Gunn told the House, "We have made some progress."
Rep. Earle Banks, D-Jackson, agreed and told reporters Legislative Black Caucus leaders and Republican House leaders had good, open dialogue.
The peace treaty appears to be working, the House passed more than 70 bills on Monday alone.
Read more at jfp.ms/msleg; email reporter Arielle Dreher at [email protected] Get daily legislative coverage at jfpdaily.com.
More stories by this author
Support our reporting -- Become a JFP VIP.
The news business has changed dramatically in the past year, and we need your help more than ever to keep bringing you important stories about Jackson and the Metro. Become a JFP VIP with an annual membership or you can Sign up as a monthly supporter. Thanks for anything you can do to empower our journalism!