Revolution's Corner is a downtown destination that's living up to its name. Located in a sunny storefront at the intersection of Roach and Pearl streets, the corner bodega with cafe aspirations opened in September.
After five short months, the grocery concept has taken a back seat, while the cafe has evolved into a pizzeria.
"We originally opened as a bodega and cafe," co-owner Abraham Santa Cruz says, "but here there were delays with getting a food permit. Once we got it going, the cafe aspect took off. It seemed like people were looking for something different. That's how we came up with the pizza idea."
Revolution's Corner is a collaborative venture that Laura Manning, India Clark, James Rader and Santa Cruz co-own and operate. With half from New Orleans and half from Mississippi, they are a multicultural team that strives to represent and possibly redefine people's ideas about Jackson.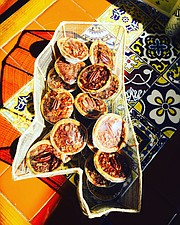 Working closely to create a distinct menu, their recipes are a fusion of city and country. Half the items on the menu, including the pizza, are team creations.
With four cooks in the kitchen, the process of creating the cafe's pizza recipe was a long and sometimes challenging process. Determined to get it right, they worked their way through 28 different variations before they nailed it.
"It's been tough at times, but the experience has bonded us as a team and has helped us to create products that we're really proud of," Manning says. "A lot of our menu items are not just one person's recipe but a combination of different approaches. The result is something better than any one of us could come up with on our own."
Santa Cruz says people are saying its thin crust and red sauce remind them of classic New York-style pizza.
Specialty pizzas priced from $9 to $25, mirror their sandwiches—pork, chicken and roast beef—seasoned and simmered for 10 hours. Veggie toppings include green peppers, grapes, onions, mushrooms, black olives, jalapenos, spinach and pineapple. Most are purchased from local sources, and all are prepared the same day they're served.
"We hit the farmers market every Saturday, and we go to the weekly market on West Street," he says.
"We make a point of buying local."
The other half of the menu is devoted to family recipes that have been passed along from a mother or grandmother. "Mama's Punch," a fruit drink that Santa Cruz's mother, whom people call Ms. A, created is offered by the glass for $3 or take-home jug for $18.
"Mama's Punch is like taking a cruise to the Caribbean," he says. "When you drink it, you just experience bliss and happiness. It's a recipe my mom created in her late 20s. She's 60 now. That recipe was passed down to me; no one else has it."
The menu it still evolving. A few Italian dishes that will complement the pizza are in the developmental phase. Mini pies—sweet potato, pecan and apple—are recent additions to the sweets menu. While brownies, cookies and homemade Rice-Krispies treats are popular staples with wide appeal, Revolution's team see the game-changing potential of the mini pies and punch.
"People come here with their preconceptions about Jackson and the South. Apart from fried catfish, chicken and the Blues, they don't have anything else to associate with Jackson," Santa Cruz says.
"We want to make and sell products that might help to redefine (the city)."
Revolution's Corner serves breakfast, lunch, pizza and sweets. It is open Monday through Thursday from 8 a.m. to 8 p.m., Friday and Saturday from 8 a.m. to midnight, and Sundays from 11 a.m. to 7 p.m. For more information, call 601-454-1228 or find the business on Facebook.
More stories by this author
Support our reporting -- Follow the MFP.