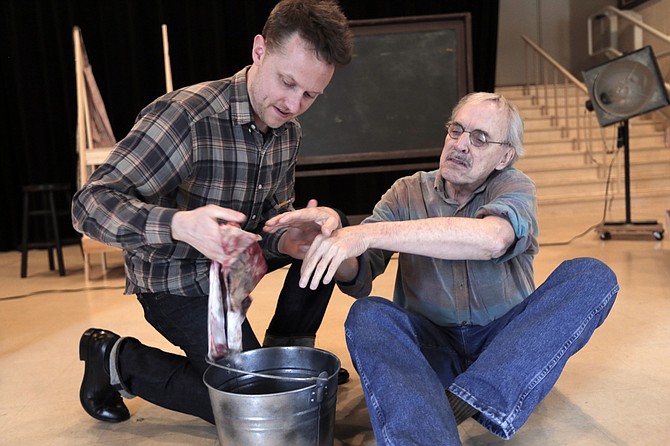 On the second day of rehearsal for "Red," John Logan's Tony Award-winning play about modern artist Mark Rothko, energies at New Stage Theatre (1100 Carlisle St.) are high. Props for the play—a half-finished chair, an electric hotplate and a large pot, paint buckets and rags, two sturdy worktables on rollers—make the rehearsal space feel like an artist's studio. At one point, New Stage Artistic Director Francine Thomas Reynolds and cast members John Maxwell and Cliff Miller take a break to talk about the play and the process of putting up the show.
"A two-man show is a lot of work for two people," Reynolds says.
"A lot of work for one person," Miller says. "It's Rothko's show."
"Maybe in a sense, but not really," Maxwell counters. "We both have to depend on each other."
It may be early in the three-week rehearsal schedule, but the process began months ago when Reynolds held auditions and cast Maxwell in the role of Mark Rothko and Miller in the role of Ken, Rothko's assistant in the play. More recently, she's been working on the set design for "Red." She's spent the last couple days researching and discussing it with Maxwell and Miller.
Reynolds says "Red" is based on real events, which she says makes it fascinating to research and to figure out what really happened and what was invented for the play.
"We've been talking about what's real and what's myth around this event in Rothko's career as an artist and how these actors will become these people," Reynolds says.
For his part, Miller, who lives in New York City, went to the Bowery to see the building that housed Rothko's studio in the 1950s. Now that Miller is in Jackson, he says he is appreciating the time and space to ground himself in the role. "For this play in particular, it's wonderful to live in New York and to be able to walk to 222 Bowery and see the space," he says. "Taking that tour, getting an understanding of the energy and pulse of the environment Rothko created in (and) then coming to Jackson is an ideal circumstance. There's space to think here—space you can't have in New York City. I'm really grateful for this opportunity."
Both actors have been studying the script and learning their parts somewhat ahead of schedule—there's a lot of work to do before rehearsals begin. They know their lines, but Maxwell says they may still need a little prompting; they aren't "cold off-book," as he calls it. "It's taken a while to enter into the world of this play," he says. "When actors talk about finding the role, they're finding the role in themselves. I'm working to realize the Rothko in me. We've done invaluable work so far because all of the research and saturation gives you texture and roots and tone, layers of richness. A play about a great painter has to have many layers."
A play about a great painter in his studio has to include paint and the act of painting, as well. Maxwell and Miller, in their respective roles, will take up brushes and paint a 6-feet-by-6-feet canvas during every performance. Reynolds says it's one of the great things about the play.
Maxwell says: "We started painting our characters yesterday; it's a different genre, but you're still painting. So we're mixing the paint and putting stuff together; we haven't started putting it on canvas yet—we'll do that tomorrow."
New Stage Theatre's production of "Red," which is April 12-24, is presented in partnership with the Mississippi Museum of Art and will accompany the museum's upcoming exhibition, "When Modern was Contemporary: Selections from the Roy R. Neuberger Collection," which will be on view at the museum from April 9 to Oct. 30. Show times for the play April 12-16 and 19-23 are at 7:30 p.m., and show times for April 17 and 24 are 2 p.m. For more information, visit newstagetheatre.com or call 601-948-3533.
More stories by this author
Support our reporting -- Follow the MFP.