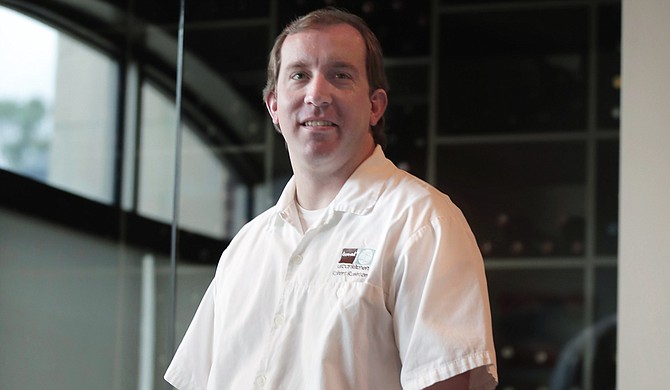 Experience and a passion for cooking has helped Robert Rushton get an executive position in his field. Beginning with a summer job, he ascended the restaurant kitchen ladder and is currently the executive chef at Local 463 Urban Kitchen.
As a boy, the Jackson native helped his mother shell peas and cook pasta, but he never imagined becoming a chef. After graduating from Jackson Academy in 2000, he studied at the University of Mississippi. He says he discovered his love of cooking and the "chaos" of restaurant kitchens because he had to work to support himself. "At first, I just needed a job during the summer," Rushton says. "A friend got me job at Proud Larry's because I needed the extra money. I just fell in love because it was fun. You're moving all the time; I like the chaos of the kitchen."
When school was back in session, Rushton continued to work while he pursued a degree in marketing. He says he "spent more time focusing on his job at the restaurant than school," so it wasn't long before he decided to follow a different career path. Working his way through various kitchen positions and management, Rushton stayed in Oxford for 10 years.
He met his now wife, Lauren, who was a fellow UM student, while working for the City Grocery Restaurant Group. He returned to Jackson in 2010 and worked in Ridgeland at Mint the Restaurant for a short time. He was hired as chef de cuisine at Walkers' Drive-In in 2011. Rushton worked there until chef Derek Emerson, who co-owns Local 463, Walker's and CAET Wine Bar, gave him a promotion and moved him to Local 463.
As executive chef, Rushton creates, cooks and manages the five-member kitchen staff during lunch and the seven-member crew during dinner. On a busy night, the restaurant serves 250 to 300 people.
"Talk about chaos, on a busy night, it's crazy back there in the kitchen," he says. "Everybody's moving. It's like a dance—if they go where they need to go, it all works out."
As chef at a fine-dining restaurant with the word "local" in its name, Rushton is a proponent of keeping it local—"owning your plate," he says—by cooking with fresh, Mississippi-grown produce. He believes in supporting local farmers, helping them get their name out there. One of his favorite summer dishes to serve is a crab-and-tomato Napoleon with basil vinaigrette, red onions and crab meat on sliced tomatoes.
"People know they're getting a tomato that was grown right down the road," he says.
Rushton's job is a full-time occupation. Fortunately, his wife works as a floor manager at Local 463. "We're together all day, every day," he says.
Married since October 2012, the couple resides in Jackson and spends their spare time at home with "their girl," a chocolate lab named Madison.
More stories by this author
Support our reporting -- Follow the MFP.