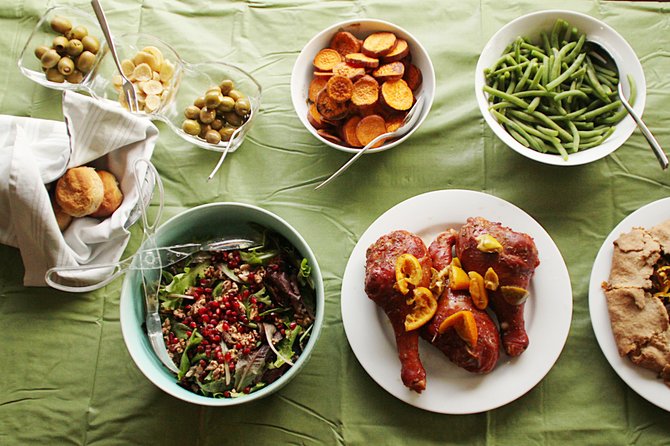 Thanksgiving should be a time spent with family and friends, being present in the moment and letting gratitude into your life. Part of the tradition of the day revolves around preparing and eating a meal with your loved ones—but if the prep part of that equation interferes with family time, why not make life a little simpler and pick up part or all of your holiday meal from one of Jackson's delectable local restaurants? Bon appetit!
Broad Street Baking Co. & Cafe (4465 Interstate 55 N., 601-362-2900, Fax number 601-362-2990)
Broad Street offers a catering menu of specialty bread, soup, side dishes, brunch items, main courses and desserts. Breakfast biscuits are half a dozen for $10, a dozen for $18; Monkey bread for $6.95 per loaf; Chicken and sausage gumbo for $30 per half gallon; Curried butternut squash bisque for $28 per half gallon; BRAVO!'s spinach and goat cheese salad to share for $17; Cranberry relish that serves six for $20; Spinach casserole—Chef Dan Blumenthal's specialty—for $20; Andouille dressing for $18; Fried turkey breast $13 per pound or $100 for a whole; Fall sugar cookies $30 for a dozen; Pumpkin spice cake $38 for 10-inch round cake; and more. Orders accepted until Sunday, Nov. 24, and will be available for pickup Wednesday, Nov. 27, by 2 p.m.
CHAR Restaurant (Highland Village, 4500 Interstate 55 N., Suite 142, 601-956-9562)
The menu includes cornbread dressing, cream spinach, butterbeans, smashed sweet potatoes, green beans and whole pecan pie. You can also purchase regular menu items in bulk; however, no modifications, please. Orders need to be placed 24 hours in advance. The restaurant will be closed Thanksgiving Day.
Crazy Cat Bakers (Highland Village, 4500 Interstate 55 N., Suite 173, 601-362-7448)
Desserts only: sweet potato pie, spiced apple cake with caramel glaze, chocolate chip bourbon pecan pie, caramel carrot cake and bread pudding with brandy-butter sauce. Crazy Cat will take orders until they can't take any more. Pick-up will be the day before Thanksgiving from 9 a.m. to 3 p.m.
Diamond Jack's Casino and Hotel (3990 Washington St., Vicksburg, 601-636-5700)
The hotel offers a $15.99 buffet special from 11 a.m. to 9 p.m., which features fried fish and chicken, baked salmon, sliced pork loin, mashed potatoes and gravy, macaroni and cheese, peel-and-eat shrimp, carved turkey and brisket, smoked sausage, and more.
For Heaven's Cakes and Catering (4950 Old Canton Road, 601-991-2253)
Cake and dessert orders will include gingerbread cupcakes and nut tarts. Open 10 a.m. to 5 p.m. the Wednesday before Thanksgiving. Calling ahead is encouraged.
Hilton Jackson (1001 E. County Line Rd., 601-957-2800)
The Hilton offers a buffet special at $27.95 per person from 11 a.m. to 2 p.m. Thanksgiving Day in the Westbrook Ballroom. Serving mimosas, Champagne, coffee, tea, turkey, sweet potato casserole, mud pie, apple pie and more. Customers can order classic or a la carte. Orders can be placed for premade meals with 48-hour advance notice.
Julep (4500 Interstate 55 N., Suite 105, 601-362-1411)
The catering menu includes a 10-12 pound turkey for $55, whole stuffed chicken for $20, herb crusted pork tenderloin for $18 per pound, and pepper crusted beef tenderloin for $35 per pound. Sides include dressing for four to 20 people for $15 to $41.50; pints of soup for $9 and quarts for $15; Julep yeast rolls, angel biscuits and corn muffins at $9 per dozen; and a variety of sides, dips, and desserts including cakes, pies and puddings. Available until Thanksgiving eve at 6 p.m.
McDade's Market (Multiple locations, Woodland Hills, 653 Duling Ave., 601-366-5273)
Bring in turkeys or hams to McDade's where they'll smoke it for you for only $14.95. For details, call and ask for the meat department. All locations also offer meat trays, dressing, various casseroles such as sweet-potato casserole, mashed potatoes, vegetables (collards, turnips, green beans, lima beans and peas), and various baked goods such as cakes, pies and rolls.
Primos Cafe (2323 Lakeland Drive, 601-936-3398)
Primos offers delivery of a buffet-style dinner package for $14.50 per person, which includes sliced white meat turkey, cornbread dressing, giblet gravy, two vegetables of choice, cornbread or rolls, cranberry sauce, desserts of choice, and tea. Vegetables include sweet potato, squash and green bean casserole, lima beans, mashed potatoes, and macaroni and cheese. Desserts include caramel, Italian cream, strawberry and red velvet cake, and lemon ice box and sweet potato pie. Dinner and dessert plates, cups, straws, cutlery napkin packs, extra napkins, ice, lemons, butter, sweeteners, serving spoons, tongs and pie servers included. Cakes serve 24 and pies serve eight. Extra desserts can be ordered. Extra vegetables are $1.65 per person. Chafers can be rented for $15 (must be returned by 10 a.m. the next day)
The Strawberry Cafe (107 Depot Drive, Madison, 601-856-3822)
The menu includes appetizers such as spinach and artichoke dip, hummus and the Strawberry Picnic, which includes baked brie, strawberries, salami, strawberry preserves and crackers. They also have apple and Vidalia onion, and apple and butternut squash soup. Cafe sides, entrees and desserts include sweet potato smash, baked apples, green-bean casserole, pork tenderloin, smothered chicken, beef tenderloin, glazed boneless ham, strawberry mascarpone cake, German chocolate cake, and bread pudding. Bread selections include pumpkin, banana, strawberry, blueberry, and cinnamon, as well as Mississippi spice and lemon poppyseed muffins. Order before 9 a.m. Monday, Nov. 25. The menu is online at strawberrycafemadison.com.
Grant's Kitchen (2847 Lakeland Dr., Flowood, 601-665-4764)
Grant's Kitchen will be open the day before Thanksgiving from 11 a.m. to 3 or 4 p.m., but will be closed Thanksgiving day. All catering orders for the holiday must be in by Sunday picked up by Wednesday at 2:30 p.m. The restaurant will serve its regular menu, along with Thanksgiving dishes such as turkey and dressing. Customers will be able to vegetables and sides in pints, quarts, gallons and half gallons. For pricing, go to grantskitchen.com.
Two Sister's Kitchen (707 N. Congress St., 601-353-1180)
Two Sister's Kitchen will take Thanksgiving orders from its regular menu through Friday. The restaurant will not be open on Thanksgiving.
Cookin' Up a Storm (1491 Canton Mart Road, 601-957-1166)
Cookin' Up a Storm will have a full holiday menu including stuffing with sausage, pecans and apples, $38.95; sweet potato casserole, $34.95; corn souffle, $24.95; vodka liqueur chocolate cake, $35; mini cinnamon rolls, $6.95/dozen; scalloped pineapples, $24.95. The restaurant will accept orders up to the last minute or until it runs out of food. Cookin' Up a Storm will be open Monday and Tuesday from 10 a.m. to 6 p.m., and Wednesday from 10 a.m. to 3 p.m. It will be closed Thursday through Sunday.
Sugar Magnolia Takery (5417 Highway 25, Flowood, 601-992-8110)
Sugar Magnolia Takery will have a full holiday menu including asparagus casserole, butter beans, turkey, spiral-cut ham, dressing and cranberry salsa. The restaurant will accept orders until the last minute. It will be open 10 a.m. to 6 p.m. Wednesday, and will be closed Thursday.
More like this story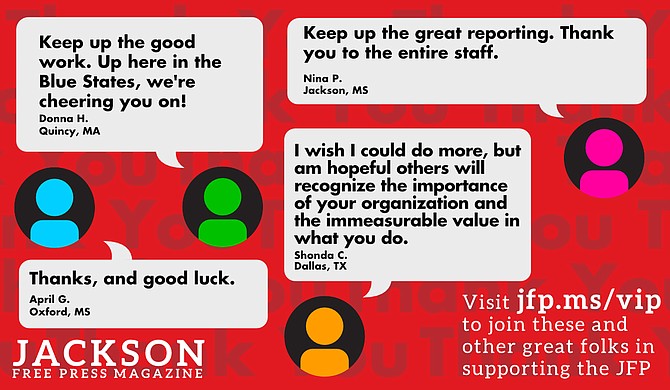 Thanks to all our new JFP VIPs!
COVID-19 has closed down the main sources of the JFP's revenue -- concerts, festivals, fundraisers, restaurants and bars. If everyone reading this article gives $5 or more, we should be able to continue publishing through the crisis. Please pay what you can to keep us reporting and publishing.