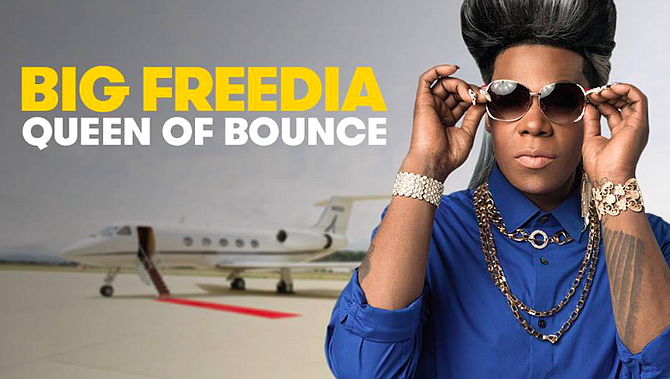 See updated story with interviews with the club owner and Big Freedia's manager here.
The Times-Picayune is reporting that New Orleans bounce artist Big Freedia's show at The Dollar Box Showroom, originally scheduled for last night, Feb. 12, was cancelled due to anticipated "gyrating" in the show. The newspaper reported that the club's owner, Ben Shemper, said he cancelled the show because a Mississippi Alcohol Beverage Control officer called him about two weeks ago, saying that the show was likely to violate Mississippi law due to what he had observed in a Big Freedia YouTube video, perhaps such as this one.
A post on the club's Facebook page Wednesday announced the cancellation: "For those of you that haven't heard the Big Freedia show was cancelled. ... Don't kill the messenger, the ABC warned us that they would 'show up in full force and fine us' if we allowed the show."
Shemper told the Times-Picayune: "The word gyrating was in there. He made it sound like it was some kind of strip show or whatever."
Big Freedia, known as "The Queen of Bounce," has captured wide mainstream attention since Beyoncé dropped her "Formation" song and video last weekend, the day before the superstar's Super Bowl performance of the same song, which is a celebration of blackness and a pushback on police brutality and continuing bigotry and discrimination against African American. In the instant hit, Beyoncé features Big Freedia, already a star in the New Orleans bounce scene. Just over a minute into "Formation," Big Freedia speaks the already-iconic lines, "I came to slay, bitch. I like cornbreads and collard greens, bitch."
The New Orleans artist talked about her experience with Beyoncé to Vibe: "She gave me a little history of the song, and I just lost it. I dropped dead in my own skin when she called.
"Formation" unabashedly included members of New Orlean's LGBTQ community, including Big Freedia and the late Messy Mya.
Big Freedia was less than thrilled, when she learned about her Hattiesburg show being cancelled, and possibly censored by a state official, because the way people dance in it. She wrote on her Facebook page:
"I would just like to apologize to all my fans in Mississippi for my show being cancelled tonight due to the state alcohol beverage control saying that my show violates some law out there when I have came numerous time to perform this is some twerkloose bulllshit and my team will be taking the necessary legal actions !! Once again I Love y'all Mtown stay strong fight for the Diva !! #bigfreedia #mississippinonsense #twerkloose"
Support our reporting -- Follow the MFP.