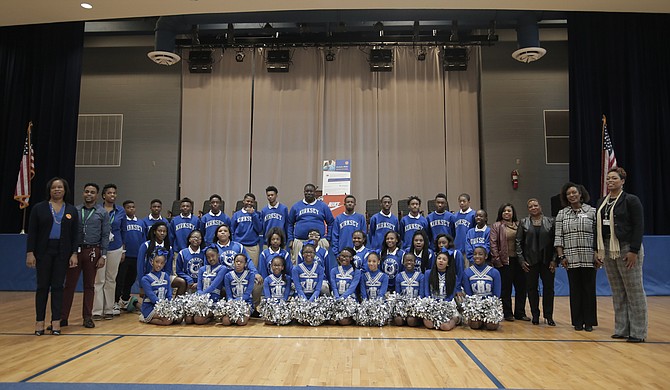 JACKSON — For many kids, going to the doctor for an annual wellness check can be a pain. But for Children's Health Insurance Program-covered patients who haven't gotten their check-ups yet, UnitedHealthcare Community Plan of Mississippi is incentivizing the trip with its Kicks for Kids program. Patients ages 6 through 16 who get their annual check ups between now and Dec. 31 will receive $70 gift cards toward Nike footwear, UnitedHealthcare Community Plan, announced at a press conference at Kirksey Middle School in Jackson yesterday.
The program does more than just get kids to the doctor. With the $70 gift card, students can better afford quality sneakers, which UnitedHealthcare Community Plan of Mississippi Chief Executive Officer Jocelyn Carter says can help them be more active.
"With Kicks for Kids, UnitedHealthcare is giving local youth the resources they need to get out there and be active," she said in a Dec. 7 press release. "We recognize that having the proper footwear is necessary for kids to participate in school sports and other activities, and we want to do what we can to make gym shoes more affordable for them.
Kenisha Potter, child health and wellness coordinator for UnitedHealthcare Community Plan, says it's important for kids to get annual wellness exams to keep up with not only general wellness, but also vaccinations. Sometimes, she says, it "falls off the radar" for parents after their kids enter kindergarten,
"What's really important about this particular program is making sure that kids are receiving their annual wellness exams," she told the Jackson Free Press. "Wellness exams are important for diagnosing conditions before they can be seen, and identifying any problems that cannot be seen or (kids and parents) might not be aware of. This is an incentive and reward."
Only 6- through 16-year-old patients who haven't yet gotten their annual wellness exam this year are eligible for the gift card, which they will send four to six weeks after their appointment. Then they would need to call UnitedHealthcare to confirm they'd had the appointment. Parents can call 601-718-6607 or 601-718-6946 if they have more questions.
Sierra Mannie is an education reporting fellow with the Jackson Free Press and The Hechinger Report. Email [email protected].
Support our reporting -- Follow the MFP.