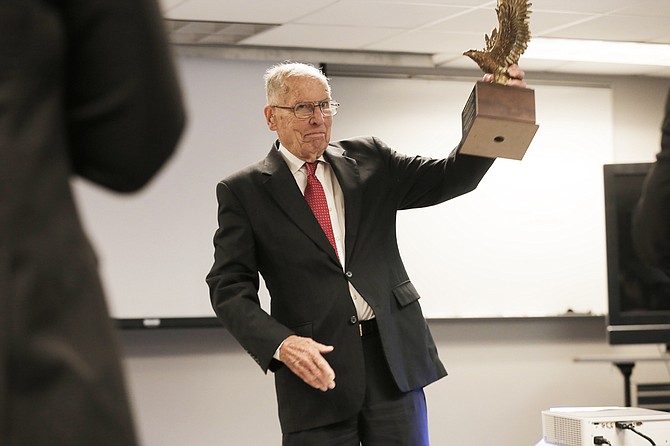 JACKSON — Even though the Jackson Police Department learned it is facing a $2-million budget cut as the City wrestled with cutting its budget this week, 60 officers gathered with stoic professionalism for JPD's weekly COMSTAT meeting Thursday.
The meeting started with Chief Lee Vance presenting the Lifetime Achievement Award to former Mississippi Gov. William Winter, 93, who held office from 1980 to 1984. Winter led a historic public-education funding effort, and has devoted his life to racial reconciliation in the state since leaving office.
"Today is a very special day for the Jackson Police Department," Vance said. "It was an award I thought we should give using the police department as a platform to people we feel are worthy, great people, and that especially have created a path for the rest of us to follow."
Winter, though a Grenada, Miss., native, has spent nearly three-quarters of his life living in Jackson. He and his wife, Elise Varner Winter, moved to Jackson 60 years ago, in April 1956, with their children attending Jackson Public Schools during segregation.
"I just have two words to say: thank you," Winter said upon receiving the award. "Thank you for this and (for) your recognition, but more importantly thank you for doing what you do everyday for us who live in the city of Jackson."
Winter said that the elimination of Jim Crow segregation, which Mississippi law required until the 1960s, is the greatest change that has taken place in Jackson and the state of Mississippi.
"When we came together," Winter said at the front of the meeting room of police headquarters in downtown Jackson, "when we finally came together as one people and said we are all in this together. That's how you build good communities."
Vance said Winter is one of the people who made it possible for a man like him to be chief of the Jackson Police Department. Winter also helped create a state where blacks and whites could legally be in the same room, like the one JPD gathered in, and everyone be comfortable with each other.
"I wouldn't want to live anywhere else. I wouldn't want to live in a community where everyone looks the same," said Winter, who lives near Fondren. "There is nothing more important than the work you do everyday to ensure that my wife and I can get up in the morning, get in our car, and drive around the city to do whatever we want to do in security and safety."
Winter says he knows Jackson is a good place to live, even when others have criticized and asked why he keeps living in the state's capital city.
"I say, first thing, it's my home, and secondly, because it has good people," Winter said. "So thank you, thank you, thank you for this and the way you represent my family and all the rest of us that live in Jackson. Thank you more than that for your friendship."
Vance said that although the city is facing some financial challenges, JPD will continue to grow and provide citizens high-quality police protection. He assured officers that they are not be in danger of losing their jobs. The cuts, at least so far, are not affecting current uniformed officers.
Overall, crime has decreased 15.7 percent year-to-date in Jackson, including violent and property crimes. Precinct 4, which includes the Fondren and Woodland Hills neighborhoods where Winter resides, still remains the only district to see a slight rise in crime in the same period.
Officer Caught on Tape, Fired
A recent investigation revealed that JPD Officer Daryl Stasher was suggestively flirting with an underage teenage girl while in uniform. The department announced that it has terminated Stasher.
A minute-long video of the interaction, seemingly taken by the minor herself, went viral after being posted to Facebook. The video was shared thousands of times and revealed specific quotes from Stasher: "Why you acting like you can't go to a room? Ain't nobody going to know what we do in a room," Stasher said to the minor. "I'm going to take care of you so."
At the COMSTAT meeting, officers were reminded to remain professional and that JPD has a zero-tolerance policy for such behavior.
Email news tips to [email protected].
More stories by this author
Support our reporting -- Follow the MFP.